Having chalked the Olympic Stadium off his 92 already blogger Michael Pilcher wasted no time securing a brace as the Football League returned. The East Midlands was the destination as Burton Albion started their maiden season in the Championship making the short trip to former European Champions Nottingham Forest.
Ground: City Ground (78/92)
Game: Nottingham Forest 4 – 3 Burton Albion
Date: 06/08/2016
I'd always had a bit of a soft spot for Nottingham Forest, I think mainly because their club badge 'shiny' in the Premier League '95 sticker album always looked so glorious; the side that finished 3rd that season was also pretty exciting to watch on MOTD. Although any soft spot I had for Forest evaporated the moment they scored against Gillingham in the 85th minute on the last day of '04-05 season to relegate the Gills – we've not been anywhere near to getting back to the Championship since.

I was extremely close to ticking off Forest for that game, my status as a poor student on the brink of graduation meant I decided against it at the last minute. It was depressing enough watching it unfold on the vidiprinter, so goodness knows how I'd have reacted if I'd been there. So some eleven years later, only now was I finally getting round to visiting the City Ground for ground number 78 (taking me back up to the number I was at before York & Dagenham's relegations last season). I'd been to Nottingham a good few times, but only for nights out & stag dos. I can speak highly of its nightlife, but what of its football stadia?
Of course Nottingham has two teams, and after walking out the station and to the top of the road, you can see both Meadow Lane and City Ground. I was surprised at just how close together they were. Meadow Lane is the one you see first, and I cast it a forlorn look as I passed it; I haven't ticked off Notts County yet either. I'll be back.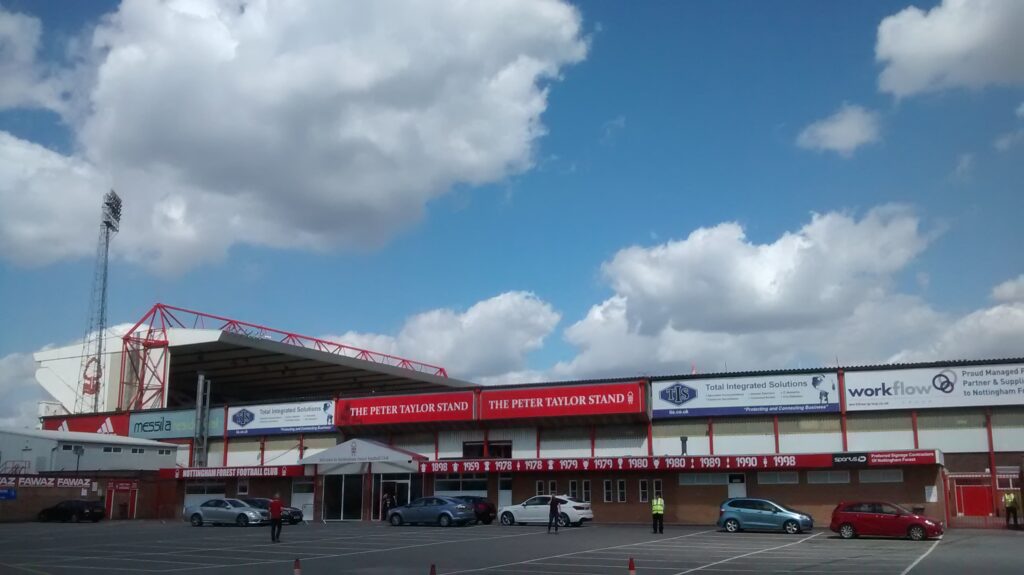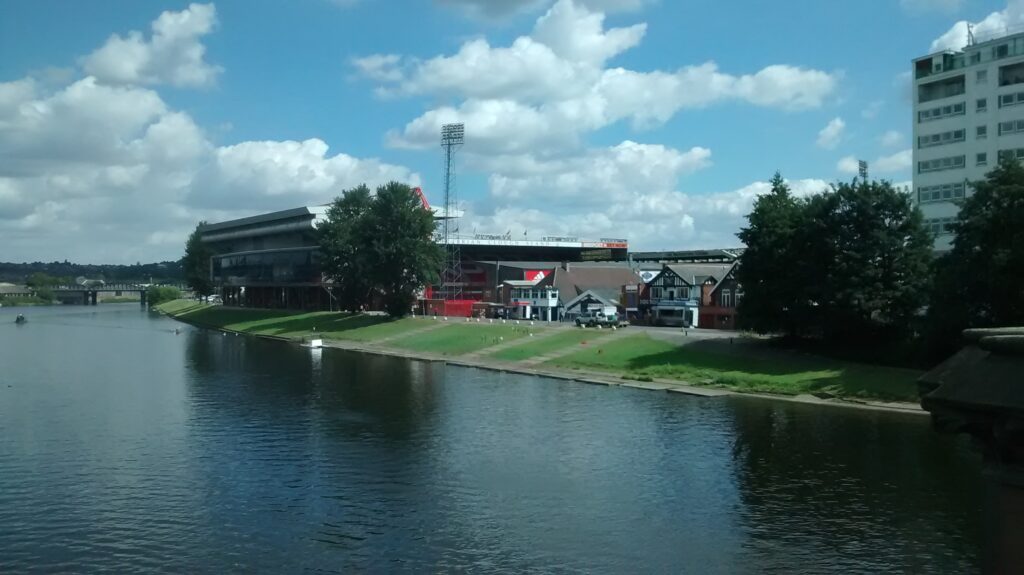 Further along as you walk past Hooters – the only one in Britain, people – and then along a bridge, you get a picturesque view of the City Ground standing proudly alongside the Trent. Even as I arrived a good two hours before kick-off there were swathes of fans making their way to the ground already, with long queues at both the ticket office and club shop. Certainly makes a welcome change from other grounds, which don't usually become a hive of activity before half two on a match day.
The ground itself appears to have undergone a fair deal of modernisation in recent decades, with the exception of the Peter Taylor Stand where I was seated, which is starting to look a bit tired in comparison. But it is a ground with plenty of character, and has the look and feel of a classic English football ground. For the second time in two days I was at a sold out match, although in Forest's case it was because the council had only given the club a health & safety certificate to host up to 24,000, resulting in sections of empty seats around the stadium. But no matter, it was packed enough, and with a decent Albion following to witness the club's first appearance at second tier level, the stage was set for a decent game.
And what a game it turned out to be. Not one for purists of defending, this was an open, energetic season opener. Britt Assombalonga gave Forest the lead, only for Burton to hit back with two quick goals through Akins and Dyer. Forests young centre back Lam curled in a great long range effort to level the scores just before half-time. "We've already had more entertainment in this one half than we had in all our home games from last season" commented the fan next to me. There was more to come in the second-half: Scotland international Oliver Burke was rewarded for his tireless display to grab the third, before Assombalonga claimed his second of the afternoon.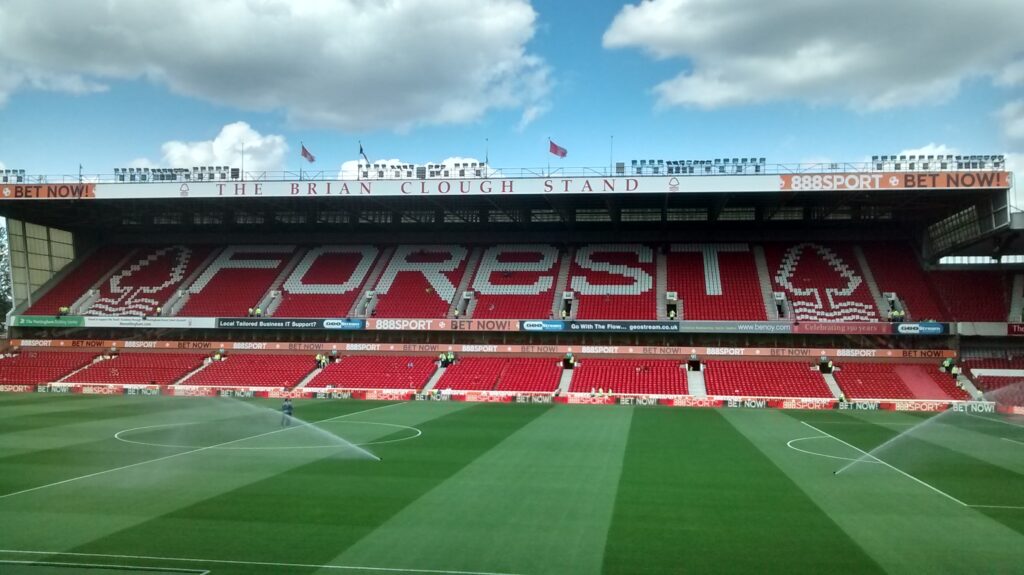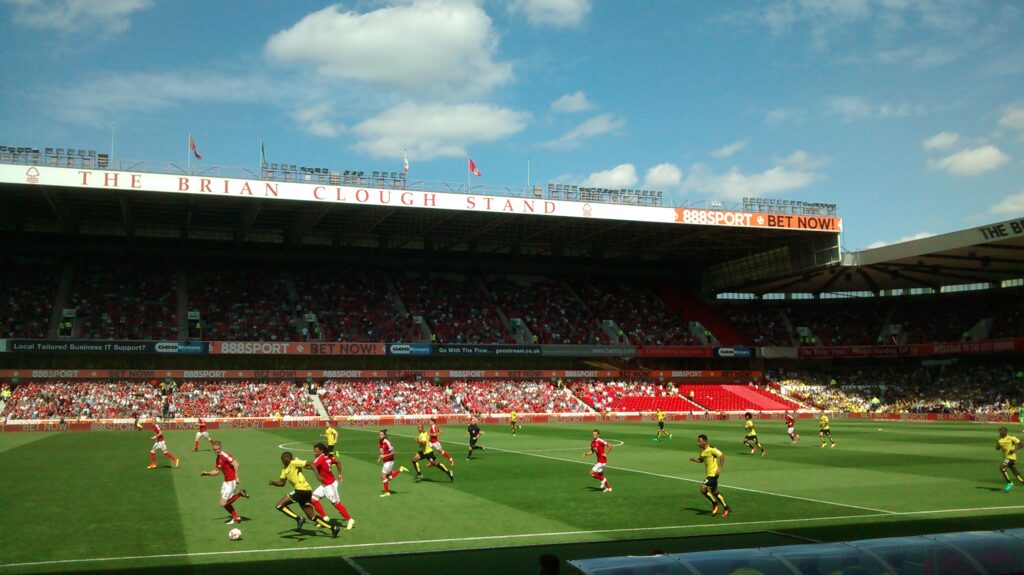 To be fair to Burton they didn't cave in; two brave defensive blocks from Forest denied likely goals, before Albion did claim a third through Naylor in the 90th minute to set nerves jangling in the home ends. A free-kick deep into injury time was well delivered, Ben Turner with a close range far-post header put it narrowly wide; it goes across the face of goal and Akins isn't far away from tucking it in for 4-4. Probably the best chance of the game and it was the only one that's missed. 4-3 the final score.
Atmosphere 4/5: Sold out, albeit with 6,000-odd seats having to be left empty. Both fans made plenty of noise, buoyed by fresh season optimism and encouraging displays from their respective sides.
Location 4.5/5: Comfortable walking distance from the train station, plenty of options for nearby drinking establishments, and the nearby city centre does a cracking night out if you wanted to make a weekend of it.
Programme 3.5/5: Well presented but lacking a little content wise.
Stewarding 5/5: No issues, and for the first time in memory I got into a ground without being searched. Huzzah!
Character 4/5: Fairly recent modernisation has done nothing to diminish the grounds character.
Value for money 3.5/5: £28 for a fairly decent seat just behind the dugouts. Probably about the norm for Championship these days, at least the atmosphere and game itself were decent.
Overall 4/5: A great game of football played at a classic football stadium, and another tick off the list. What's not to like?
Keep up with Michael's 92 here and follow him on Twitter @michaelepilcher. If like Michael you fancy blogging about your experiences doing the 92 league grounds drop us a tweet to @the92dotnet.
Have you made the trip to the home of the Nottingham Forest? If yes you can add the City Ground to your 92 or if not plan your trip there: