Being our second visit to the home of Chesterfield FC we are beginning to think the92.net on tour is a bit of a jinx for the Derbyshire side! Be it the B2Net or now the Proact, change the name and the Spireites still seem to under perform in our presence.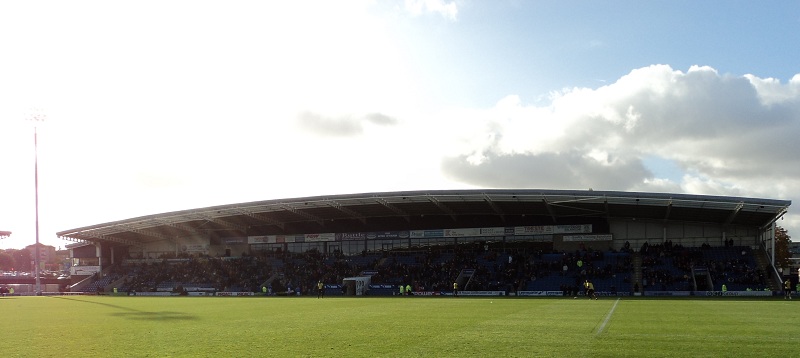 Our first visit was 2 years ago as Chesterfield were tearing up League Two, free scoring especially at home they were destined to go up. They did, but we witnessed a 2-0 home defeat by Morecombe in the Karen South stand with barely a decent effort of note on Barry Roche's goal.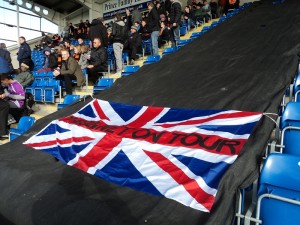 Fast forward 2 years and although circumstances are slightly different the curse struck again. Chesterfield had all the chances, mostly in the first half, with Barnet keen to defend, which they did well. Former Arsenal and Reading keeper Graham Stack pulled off 3 full stretch saves (may be two were slightly exaggerated for the cameras!). The Bees sat deeper and deeper and soaked up the pressure but then broke with the game in the last minute. Andy Yiadom was tripped in the area and Mark Bryne coolly slotted the penalty into the bottom right-hand corner. Edgar David's magic continues to work but on to the ground and our ratings.
Atmosphere – 1.5 : There was really none from the home fans, it may not be like this all the time granted, but there wasn't one song from the home crowd, only one cry of 'attack, attack attack, attack' with 10 minutes to play. The small gathering of travelling Bees supporters had a song on the go most of the game which made something but there was no banter unfortunately.
Location – 3.5 : Not bad, a 20 min walk from the town centre and train station. Plenty of amenities in the surrounding area, including the Derby Tup, a decent local pub with a fine selected of real ales 5 minutes up Sheffield Road.
Value for Money – 2 : £21 in the away end for League Two football isn't the greatest but a sign of the times I suppose. Didn't sample any refreshments inside but from a glance nothing was below £2.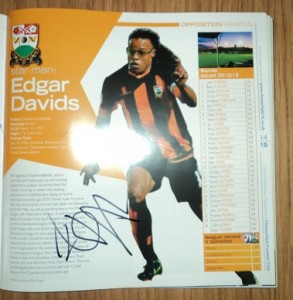 Pint Selection & Pie Rating – N/A
Programme – 3.5 : A decent read and a lot of info in especially on the away team, which is sometimes lacking. Picture of Edgar David's wasn't great but managed to get it autographed by the Dutch legend.
Overall – 2.5 : May seem a little harsh but largely down to lack of atmosphere, it was bad on our first visit, but really non-existent on our second from the home fans. The stadium is a little different to a lot of new stadia which is good but it doesn't feel like the Spireites have made it their own yet.