We catch up with 'know the92' creator Andy Campbell to find out a bit about what was behind the app and his future ground and app related plans. The app aims to sort out the part time supporters from the loyal groundhoppers giving out scores for correctly placing grounds from the 92 on the UK map.
Groundsman You've recently released 'know the 92' – how did the idea come about?
Andy: I wanted to learn the ground names of all the football league sides, I just feel it's something that football fans should know, a mark of respect to each club in the league. So I thought an app that people can play on the train to help learn all the ground names was a fun idea.
GM: Are you planning to expand the app?
Andy: I do not have any great plans to expand the app, I plan to update ground names as they change and if the app becomes popular I may add foreign leagues as well. I do not plan to add features, however if anyone has suggestions I'd like to hear them so people should feel free to drop me an email.
GM: Do you have plans for any football related apps in the future?
Andy: I am tempted to create a fantasy football app for fantasy.premierleague.com however I would need to find the time! I do not have any other plans for football apps however if I get ideas I may create some.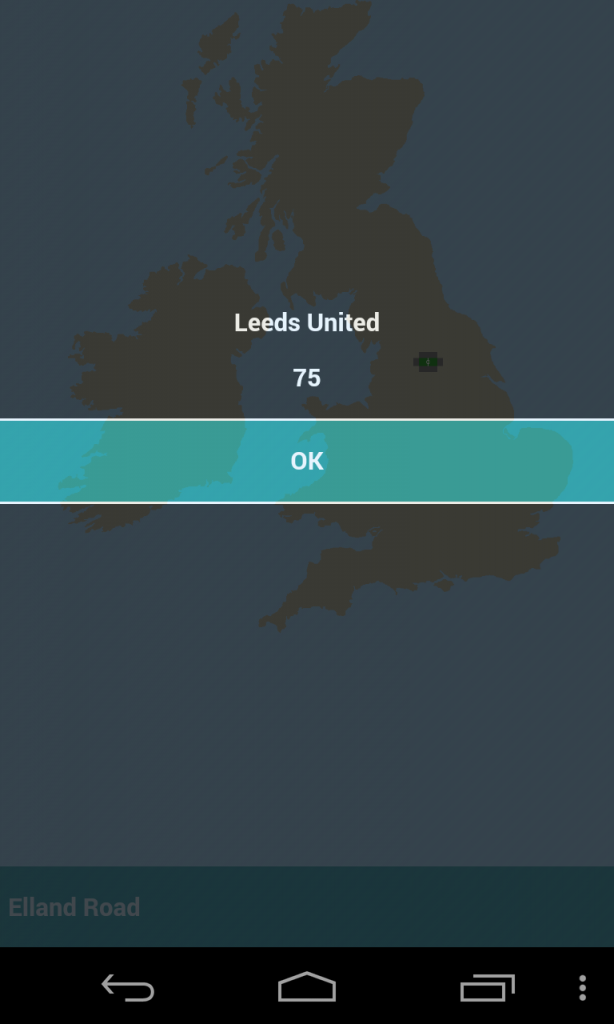 GM: How many of the 92 grounds have you ticked off your list?
Andy: I have 10 ticked off at the moment.
GM: What's your best / worst ground so far and why?
Andy: Not sure about the best but probably the nicest was Wycombe's Adams Park. Really friendly atmosphere and it was a sunny day when I went which always helps.
Worst was Bristol Rover's Memorial Stadium. I was in the away section which was a tiny little stand that was right next to the biggest stand in the ground, our row couldn't see when the ball went into one of the corners so someone 3 rows back did commentary for us when it did. Unfortunately Rovers dropped out of the Football League this year but I'm sure they'll be back soon enough. I have to say though that although the Memorial ground was technically the worst it did have a lot of character which I find some of the newer football league grounds lack.
GM: What's your best memory whilst doing the 92 grounds?
Andy: That's a tough one there's a few candidates but I have to say it was at Walsall. Again I was in the away fans we went one nil down very late on and came back to win two one. We went on to get promoted that season so it was a really key result was great to say I was there for that one.
GM: How many new grounds do you plan to tick off this season?
Andy: Not got an exact number but I'm moving down to London and the only stadium I've been to there is Wembly so I'm hoping to get quite a few ticked off in the area.
Thanks to Andy for sparing a few minutes to speak to us. Know the 92 is available to download free on Android: http://bit.ly/1iUfM6D & Windows Phone http://bit.ly/1pR4Bjy – plus to follow on Twitter @knowThe92.