Blogger Tim Dove heads to the Abbey Stadium as he enters the final furlong of doing the 92 league grounds.
Ground: The Abbey Stadium 83/92
Game: Cambridge United 1-0 Fleetwood Town
Date: 08/11/2014
Thoughts on the ground:
Having gained re-entry to the Football League and 'the 92' in May 2014 after a 9 year absence this first round FA Cup tie provided an opportunity to attend the Abbey Stadium, home to Cambridge United. Having allowed ample journey time to avoid Cambridge traffic congestion an early arrival allowed me to easily find nearby street parking within a two minute walk to the ground. This provided a good opportunity for a walk around the Stadium.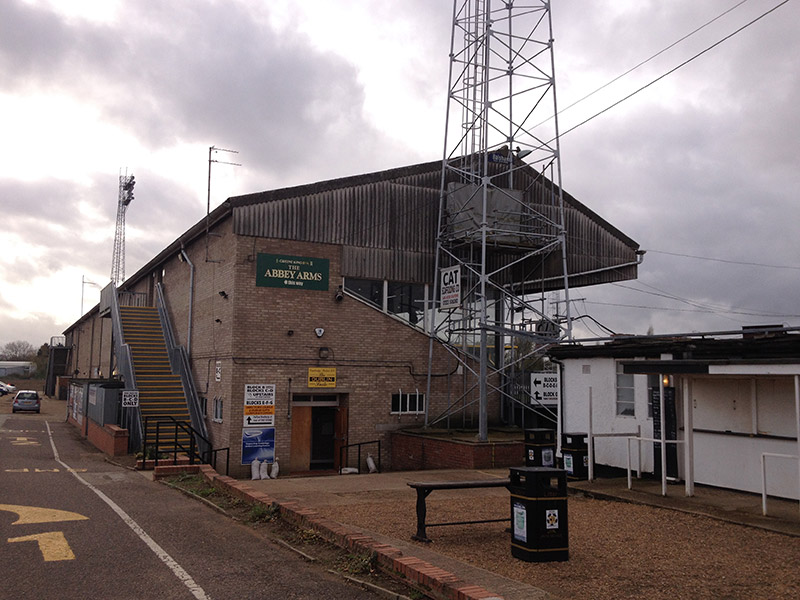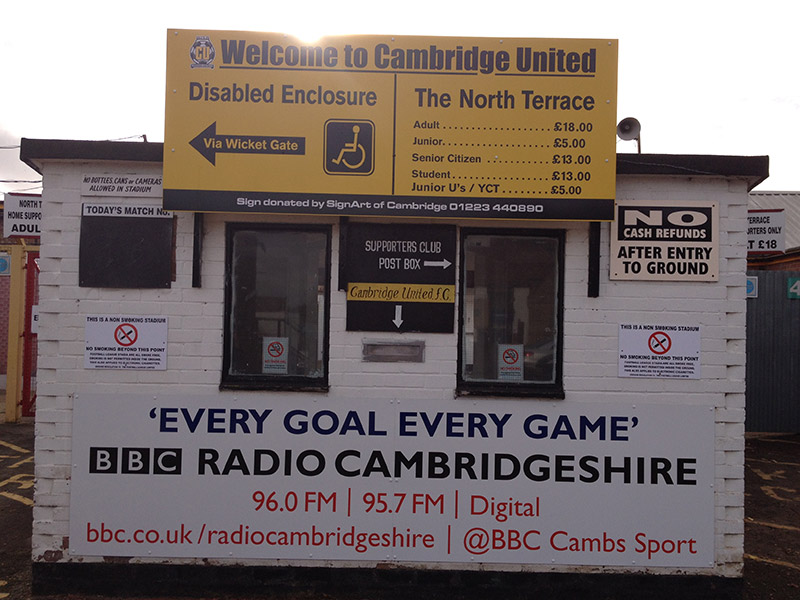 The ground is next to the A1134 Newmarket Road on one side and surrounded by Coldhams Common on two sides. The Abbey Stadium itself is comprised of four stands which are all different to each other which makes the ground worth investigating.
The Main Stand runs along one side of the pitch and is a covered all seated stand. A part of the Main Stand is used as a Family enclosure and the stand has a number of supporting pillars. The stand opposite is the Habbin Stand. This is a mostly covered terrace and this too has a number of supporting pillars. The Habbin Stand is split into a North and South Terrace. The North Habbin Stand is for home supporters, whilst clubs with large away support are allocated the South Habbin Stand. The North Terrace behind one goal is covered and only has a few pillars. This stand doesn't extend the full width of the pitch with a separate covered area next to it, but this is quite low and gives an open feel to that end to the ground. Behind the other goal at the opposite end of the ground is the South Stand, which is obviously the most recently added of the stands and was opened in 2002. This stand is a covered single tiered, all seated stand, with no pillars and can accommodate up to 1600 fans. It is this stand which was used for the away supporters at the time of visiting. The seating area is raised in this stand which means that supporters enter the stand via a small flight of stairs.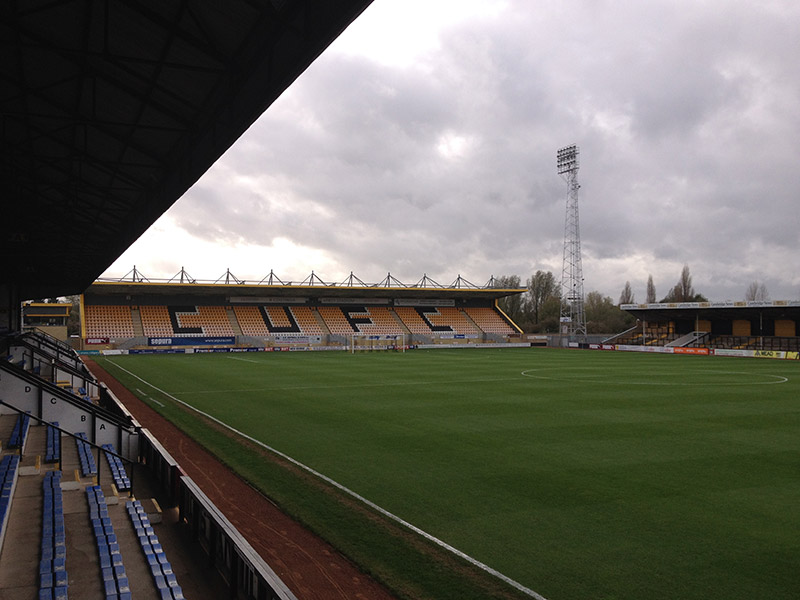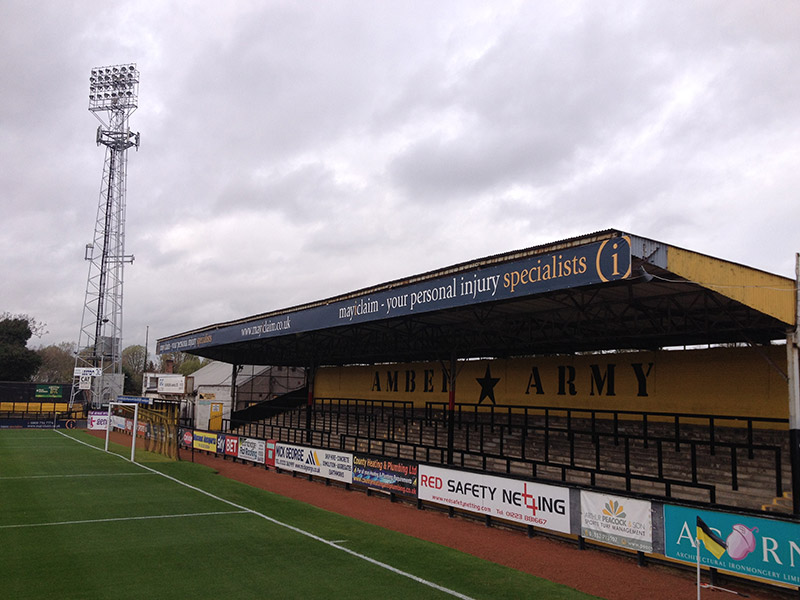 Thoughts on the game:
Kwesi Appiah's goal gave Cambridge United a shock victory against 10-man League One side Fleetwood Town in the FA Cup first round.
With 10 minutes left, Appiah started and finished the move for League Two Cambridge, finding Robbie Simpson in space then sweeping home a well taken first-time finish after Simpson had played the ball back into his path for his sixth goal of the season.
Cambridge chose to attack the Newmarket Road End in the first half and with a blustery wind at their backs they enjoyed the majority of possession without creating any chances of note. Fleetwood goalkeeper Maxwell had a couple of uncertain moments when dealing with back passes, one of which was charged down by Appiah but span away to safety.
Cambridge also enjoyed plenty of set pieces, with two free kicks from Hughes and one from Appiah being charged down by the wall, and a number of corners failing to find their targets.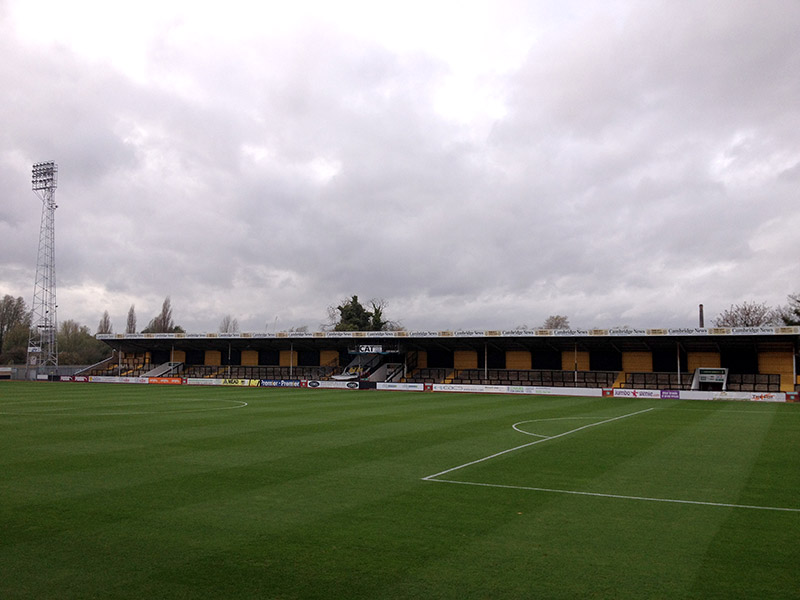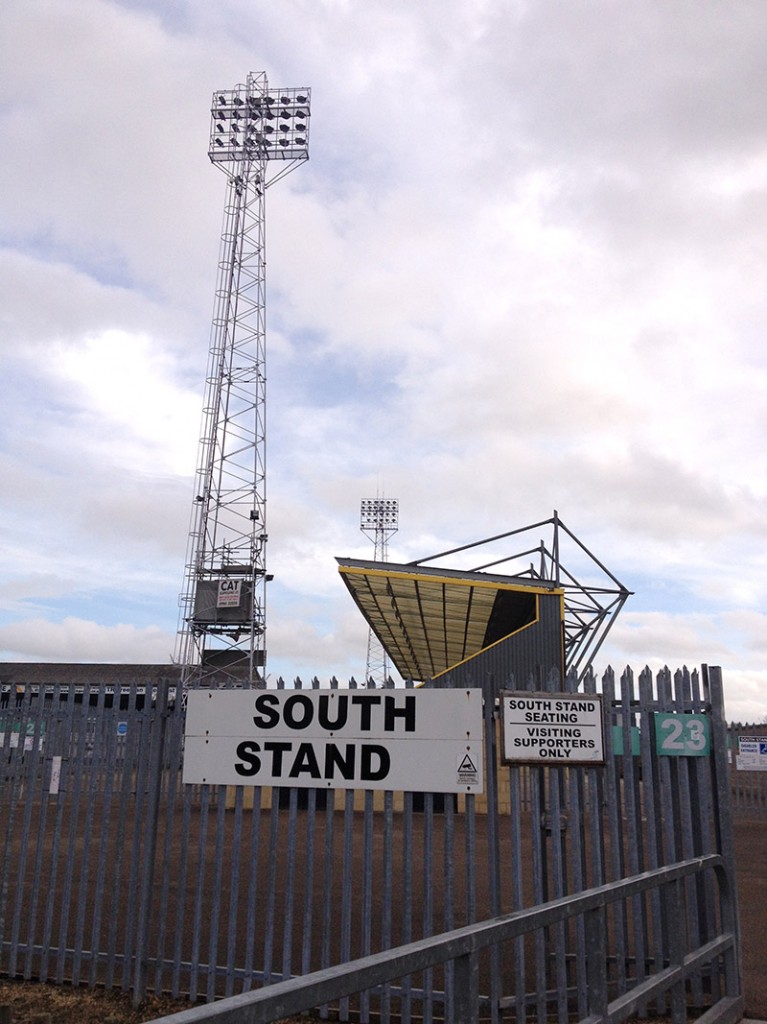 Fleetwood's only effort of note was a looping header from Stephen Crainey, who reached a Jeff Hughes cross ahead of Dunn but could only guide his effort onto the roof of the net.
After the restart, Cambridge continued to force the issue with little success. Then the match sparked into life when Fleetwood substitute Proctor was dismissed for raising his hands at Cambridge's Tait just 11 minutes after being brought on. Then followed a goal-mouth melee involving a number of players from both sides. This seemed to raise feelings in the game that inspired both teams to try and win the game.
Cambridge took full advantage of their extra man, breaking down the right. Appiah held the ball up brilliantly before finding Simpson, who strode forward and picked out the Crystal Palace loanee with a reverse pass. Appiah's first time finish was low and true, finding the bottom corner of Maxwell's net to send the Abbey Stadium crowd wild.
The visitors threw men forward in the closing stages, and Cambridge goalkeeper Dunn was forced into one fantastic save late on to parry Hitchcock's close-range header. United then saw out time fairly comfortably to book their place in the second round draw.
Overall it was a game of few chances, with Cambridge just about deserving of their victory.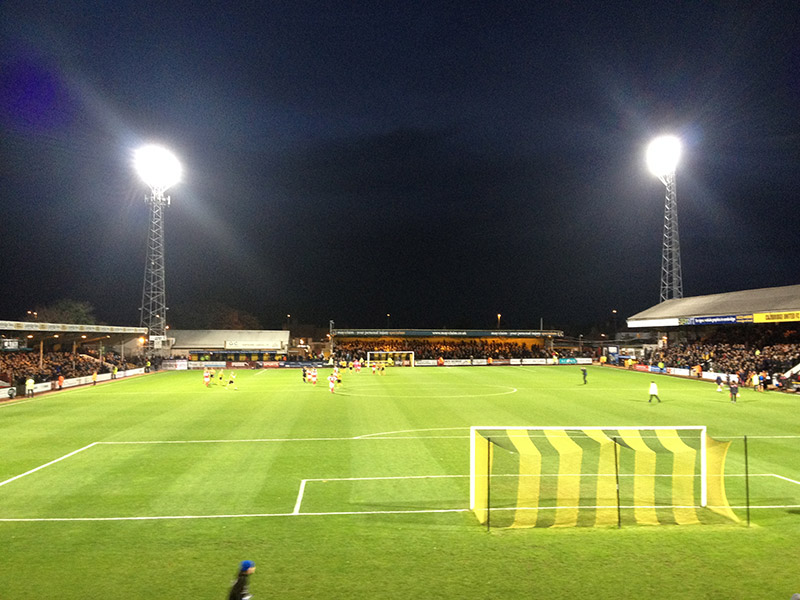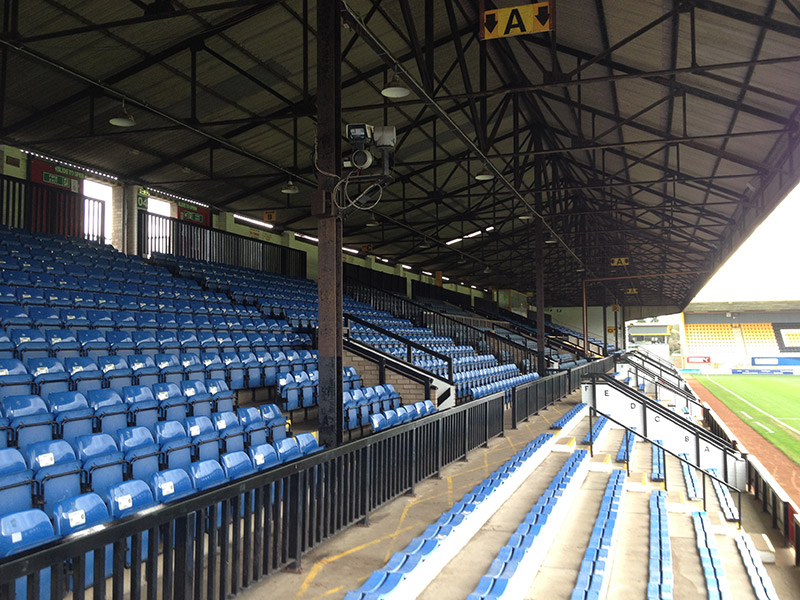 Atmosphere 3/5: A drum and encouraging home support throughout.
Location 3.5/5: Not far from the A14 for those traveling by car and for those that arrive early enough, free street parking is available within short walking distance of the ground.
Value for money 2.5/5: £17.50 for an average game without many goal-scoring opportunities.
Pie Rating n/a
Pint Rating 3.5/5 £1.50 to enter the supporters club which was warm and friendly with plenty of large screen televisions showing football. The pint was decent and served in a glass. Despite being busy, plenty of bar staff were serving so drinks were served quickly.
Programme 4/5: A thick and on decent quality paper. Above average quality features inside and not just full of advertisements either. A better than average programme.
Overall 3/5: An enjoyable day out all round and a visit to an interesting ground in a friendly atmosphere, only let down by a lack of clear-cut goalscoring opportunities in the match itself.
You can keep up with Tim as he nears the 92 club on Twitter @dovet1975 and view his 92 on his profile here. Have you ticked the Abbey Stadium off your 92? Add it to your profile and review your match day experience here or if it's still on your list plan your visit here. If you want to blog about your travels groundhopping the 92 drop us a tweet to @the92dotnet.