The second team promoted to the Football League, also making their return is Cambridge United. As we welcome the Abbey Road Stadium back to the 92 we speak to U's fan Andrew Pearson about the come back and what to expect over the new season.
GM: It has been long rebuilding road to get back to the Football League, you must be delighted to be back in the 92?
Andrew: Absolutely, it's been an incredible season, and probably came a season earlier than we'd realistically hoped. There was a lot of recruitment done last summer, and I think most Us were surprised at the calibre of players the club brought in bearing in mind there were the likes of Barnet & Grimsby in the league (and a few other wealthier clubs), but following the 2012-2013 season, it would've been madness to expect us to win the Conference out-right. Having then been top of the league for a decent stretch at the start of the season, the fear kicked in when we started losing matches, and the Play Offs are always nervy affairs.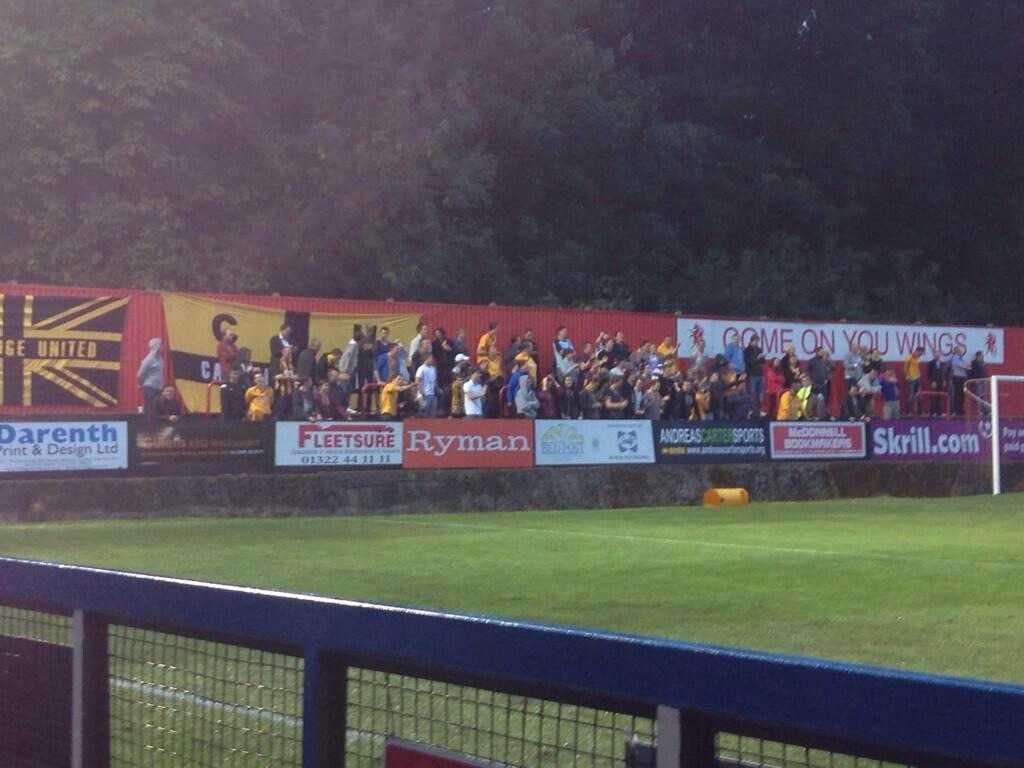 The players, management and staff have done exceptionally well to bring it all together and get the club back in the Football League, and even after a couple of weeks, it's not really sunk in yet. Getting promoted via a Play Off Final at Wembley is not the best way of doing it if you've got a nervous disposition, and I'm pretty sure I was close to exploding during the 10 minutes of injury time.
But in short, it's been a bit of a saga getting back to the Football League, but the club seems to be on the up again so hats off to everyone involved.
GM: Relegation from the league led to a number of financial problems – off the field are the club on a sounder financial footing now?
Andrew: The club is definitely benefiting from being much more financially restrained than a few years ago – it's true we've had some issues and it looked pretty precarious before, and it goes without saying over-spending and mis-management in non-league is a horrible mix, especially with the Conference being a such a competitive league, and only two places in the Football League up for grabs.
Credit has to go to the current senior team at the club, who've managed to instill stability and seemingly increase commercial revenue. They set Richard Money & Jez George a modest budget, and they've over-delivered in terms of promotion and an FA Trophy win to boot, and all whilst being conservative with the wage bill. I've not looked too much into it, but I'm presuming moving back to the Football League comes with various TV rights and financial perks, so I'm sure the bank manager will be pleased.
GM: Did you manage to get to many non league grounds?
Andrew: As someone who's moved away from the local area for work, I've been largely restricted to away games over the past few years, so I've been to as many grounds as possible. It's been a fascinating experience, least of all it's reminded me of why I love football! I've come into contact with so many people who clearly follow their club with the sheer determination of willing them on, or volunteering their time to keep it running. Plus you can't beat being able to wander round to the other end of a ground at half time, and being able to hear the players shouting at each other.
GM: What your best / worst memory from your non league travels?
Andrew: Losing 5-0 to Histon in 2006-07 was a fairly heavy kick in the nether regions, and was quite symbolic of the then fall from grace! The worst memory for me was losing for a second time in the Play Off Final, and it led to a fairly miserable set of results for a while after that.
My favourite memories are largely based around some of the bizarre scenes you get at some non-league grounds. Woking's ground will stay with me for the rest of my life – I've never seen anything quite like it, and watching someone throw a big yellow bin onto the pitch at Welling after a goal from Ryan Donaldson was quite surreal.
When the whistle blew at full time at Wembley this year, though, that sense of relief and sudden optimism is pretty difficult to beat.
GM: There has been talk of moving to new stadium – what's the latest on this?
Andrew: It seems to be an ongoing saga, with plenty of local opposition to it, and no signs of progress one way or another. The teams progress and success this season has probably put the new stadium idea to the back of a lot of peoples minds, but it seems like the city council, Grosvenor (the landlords of our current stadium) and the local residents all want different things.
GM: How many of the current 92 grounds have you ticked off?
Andrew: I've counted 15 so far, as I've got connections to the North East so have been to watch Newcastle quite a lot over the past few years, and due to slowly migrating further and further south in the country, have tended to go and watch random teams in the FL. It's fair to say that my enjoyment of watching Premier League games has waned massively recently. I don't see the attraction of spending £50+ for a ticket, when the atmosphere is terrible and you're treated like garbage.
GM: Which grounds will you be looking to cross off your list over the coming season?
Andrew: Plymouth, Portsmouth and Carlisle, personally. There are some clubs in League 2 that quite simply shouldn't be there, so they'll be great days out. Everyone I know who's been to Fratton Park as an away fan has said it's a fantastic atmosphere, so that'll be one of the first fixtures I look out for. There are some very familiar, local faces as well, so it'll be enjoyable to visit the likes of Northampton and Southend. Also, for the first time in my life, I'll be looking forward to visiting Stevenage – it's been way too long since we played them!
GM: What can fans visiting the Abbey Road Stadium next season expect?
Andrew: A warm welcome, I'm guessing. Opposing fans have always said that it's a nice experience coming to the Abbey (there are going to be exceptions, obviously), and you can hardly be intimidated walking towards the ground when there are occasionally cows grazing in the field behind the Habbin stand. Visitors can also expect some amazing bacon sandwiches, a lot of Us jumping up & down, and a wave from our mascot Marvin The Moose (who I personally find a bit sinister).
GM: Finally a few quick fire questions, please answer yes or no:
GM: Would you like to see Safe Standing introduced?
Andrew: Yes
GM: Are you in favour of B teams entering the football pyramid?
Andrew: No
GM: Would you like to see your team have a strategic loan partnership with a team in a higher league?
Andrew: Yes
GM: Should there be 3 up, 3 down between the Football League and the Conference?
Andrew: Yes
Thank you to Andrew for taking the time to talk to us. You can keep up with Andrew over the new season on Twitter @AndrewPizzle. Have you ticked the Abbey Stadium off your 92 list? If you have please rate / slate your experience here, if not you can plan your trip there using our new away day planner.