It has been anything but plain sailing for Luton Town over the last half decade. Relegations, administration and points deductions led the Hatters out of the Football League. It's not been an overnight process, but they've regrouped, rebuilt and after romping to the Conference title they're back! We speak to Town's official match commentator Simon Pitts about their journey.
Groundsman: It has been a long and difficult road to regain your Football League status after 5 years, how did it feel when you clinched promotion?
Simon: It was an amazing feeling, I thought it was going to happen in previous seasons but was ultimately disappointed. After 8 games of the season I'm not sure many Luton fans expected us to finish so far clear at the top. A fantastic unbeaten run put us in top position and we never really looked back. It ended up being a case of when and not if, but only when it actually happened were we able to celebrate, and also breathe a huge sigh of relief!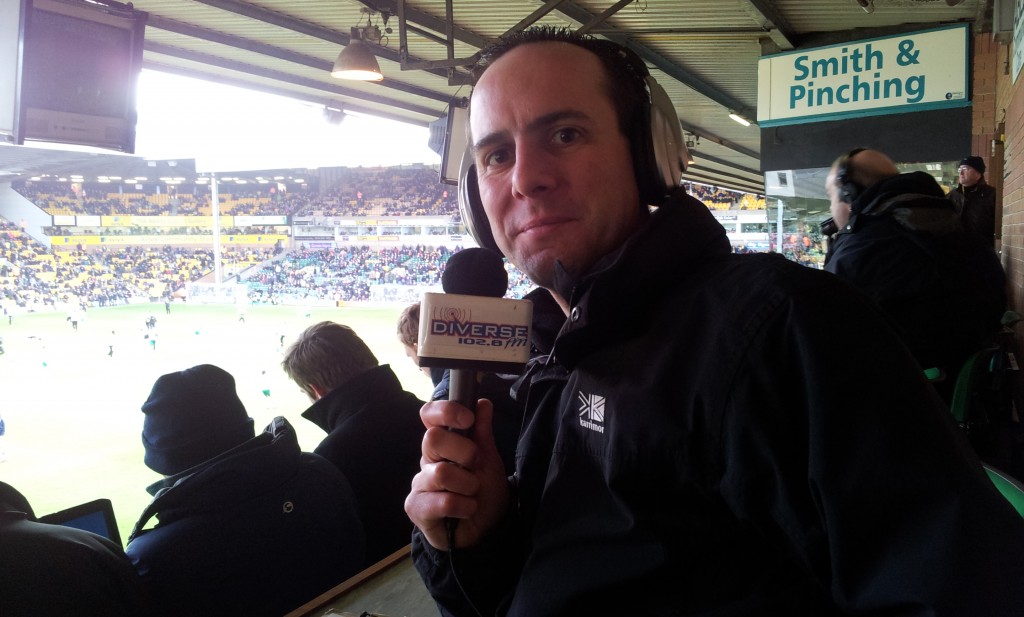 GM: Did you manage to get to many non league grounds?
Simon: As the Commentator for Diverse FM, the official broadcast partner for Luton Town Football Club, I was fortunate enough to be able to attend every Conference Premier game, all 228 of them (only 44 games counted in one season as the results against Chester were expunged!) With FA Trophy and FA Cup games I managed to get to over 50 non-league grounds in the five years.
GM: What your best / worst memory from your non league travels?
Simon: Best memory from non-league travels would have to be the FA Cup 4th Round tie at Carrow Road, am I allowed to use that one? Norwich City were a Premier League team beaten by a Conference side for the first time and it was an incredible day out as well. 4000 Luton fans were there to witness history, and what a celebration when Scott Rendell scored! ( Catch Simon's spine tingling commentary here )
As for worst memory, would have to be the two play final defeats, against AFC Wimbledon in 2011 and then against York at Wembley the following season.
GM: Are club moving in the right direction off the field too after the well publicised financial problems that led to relegation from the league?
Simon: Most definitely, the Club is probably in the strongest position off the field that I have possibly known as a supporter. It's certainly a case of onwards and upwards both on and off the field for the Hatters.
GM: There have been rumours of a new stadium or possible redevelopment of the ground over a number of years – what's the word on this at the moment?
Simon: Haha yes this has certainly on-going saga, with numerous different potential new stadiums over the years. There is a lot of work going on behind the scenes, and Kenilworth Road continues to under-go ground improvements to continue to accommodate the tremendous support that we get week in week out. Whether we'll still be at the ground in 5-10 years is a question that has been asked since the 1950's!
GM: I heard recently (not from the greatest source mind) that Kenilworth Road was the first ground to have corporate hospitality boxes – have you heard this and is it true?!
Simon: I'm not sure I had heard that previously, but our Executive boxes were installed in 1986 so perhaps someone can confirm if their Club had them before then?
GM: How many of the current 92 grounds have you ticked off your list?
Simon: 83, and I've seen Luton play at 75 of them including the reserves playing at Colchester's "new" ground.
GM: Which grounds will you be looking to cross off over the coming season?
Simon: Of the nine remaining only two are in League Two, Globe Arena and Fratton Park. I'll then be keeping fingers crossed for away Cup draws at least one of the other seven Clubs!
GM: What can fans visiting Kenilworth Road next season look forward to?
Simon: Well Luton fans can hopefully look forward to 3 points! 🙂
As for away fans, for some a new ground, and for most one of the biggest attendances they'll see all season! We've already sold over 5400 season tickets which was enough to reach 7th in last season's League Two average attendance table, without any other tickets bought or away fans included!
GM: Finally a few quick fire questions, please answer yes or no:
GM: Would you like to see Safe Standing introduced?
Simon: Yes
GM: Are you in favour of B teams entering the football pyramid?
Simon:No
GM: Would you like to see your team have a strategic loan partnership with a team in a higher league?
Simon: No
GM: Should there be 3 up, 3 down between the Football League and the Conference?
Simon: Yes
A big thank you to Simon for taking the time to speak to us. You can keep up with Simon on Twitter @SimonStattoP and on match days by tuning in to Diverse FM. Have you ticked Kenilworth Road off your 92 list before? If so please rate / slate your experience here, if not you can plan your trip there using our new away day planner.