Blogger pb1uk reports back on a trip to the blue half of Merseyside as his journey to the 92 club continues. Yeovil Town were the visitors, making the long midweek trip from Somerset for the EFL Cup tie.
Ground: Goodison Park (60/92)
Game: Everton 4-0 Yeovil Town
Date: 23/08/2016
 
The early rounds of the Cup competitions are a great way for groundhoppers to see their teams at grounds normally out of bounds. Due to family and work commitments usually i'd be unable to take advantage of this as the 33 grounds left on my 92 are each probably at least a 2 hour drive away. So when Yeovil were drawn away at Everton I didn't give any thought to going, but things began to fall into place. As it was the school holidays my wife and daughter were off to visit family for a couple of days, the dogs were staying at the dogsitters and I had a couple of hours of lieu time to use up…in the words of Alan Partridge "JURASSIC PARK!". With a starting allocation of over 3000 a ticket was no problem at all and a midweek trip to Merseyside was on!
As I was going passed the door I thought best to make the effort to make a flying stop at Anfield to take a look a the new stand. Despite being pretty much complete the area was cordoned off so I couldn't get too close. However it certainly looks an impressive structure, which will add an extra 8500 seats to the ground. With new hospitality boxes and the premium "Anfield Dugout" on offer the Reds will be looking to rake in an extra £20 million per season to help them get back to competing for the title. It's certainly a big change for the Anfield I saw on my first and only visit back in 2003.
A short drive down the road and I had arrived at my intended parking destination, the Walton Lifestyles Sports Centre. Not being familiar with area I thought best to keep off the streets and recommended for a quick getaway on the Football Ground Guide I thought this was worth a go. About a 15 minute walk from the ground and via a decent Chinese Chippy it was ideal, however £7 for the privilege (of just the parking) was a bit of a shock.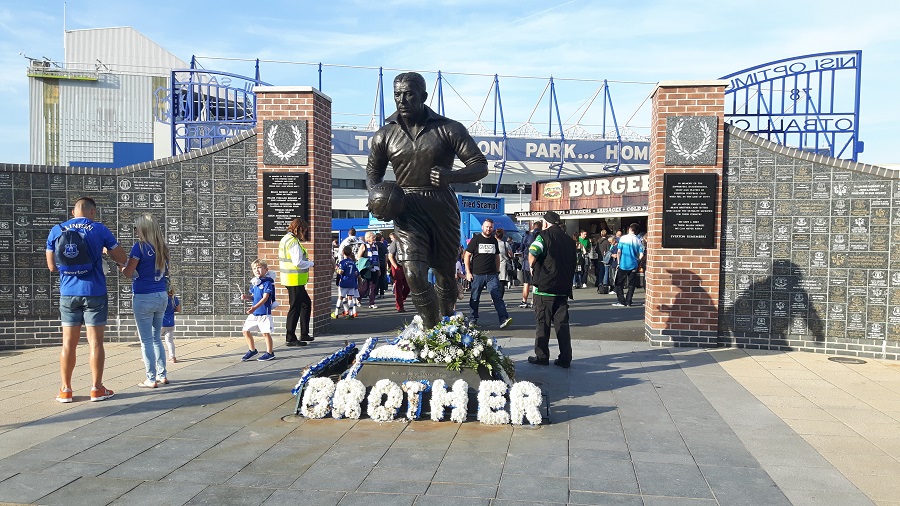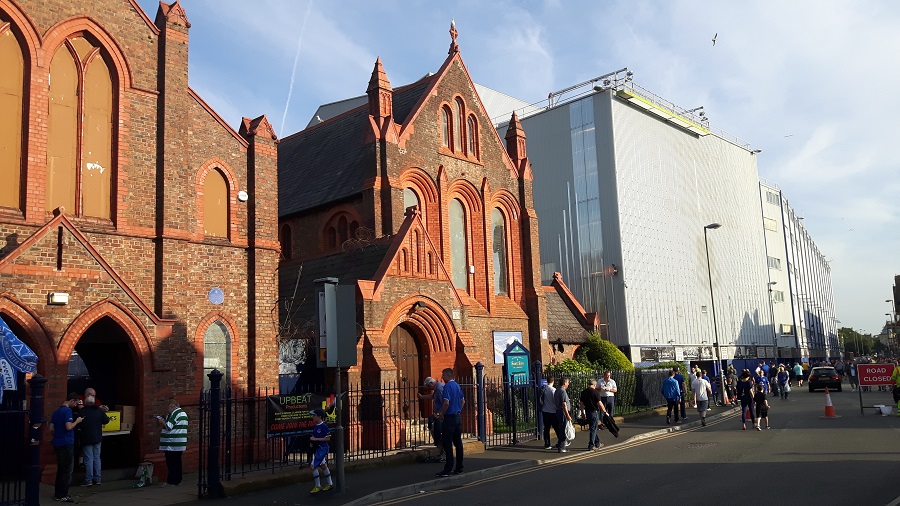 It was great to finally get to explore Goodison Park in the flesh. Nowadays many top flight grounds are out of town or at least away from residential areas, but Goodison is right in the thick of it. From turnstile to front door in 20 paces. Walking around the ground there are plenty of traditional and indeed quirky features, including the ever mentioned Gwladys Street end which leads up to St Luke's Church, the Dickie Dean Statue and an interesting banner about Goodison firsts (see below).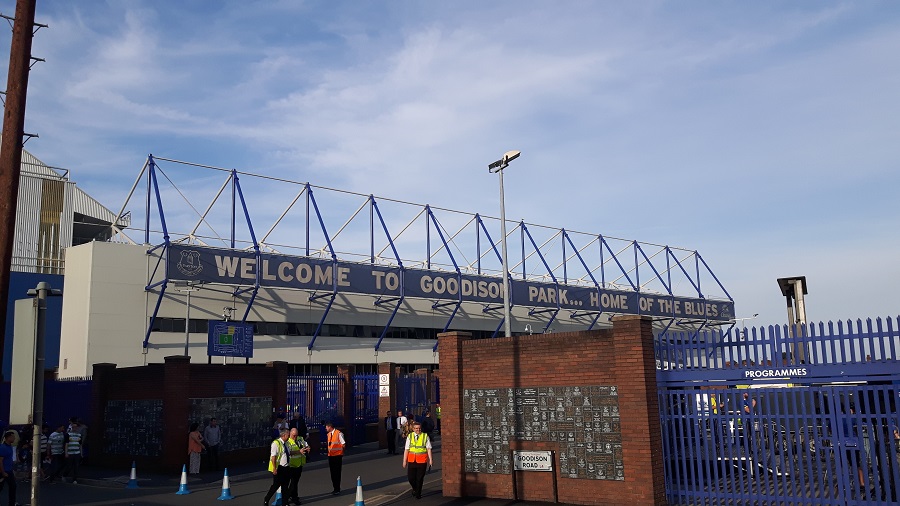 The away fans were housed in the Bullens Road Stand lower tier, which is now one of my favourite stands i've had the pleasure of watching a game in. If on a Channel 4 property show it would be described as "packed with period features" including original seating in parts, wooden floor boards, pillars and exposed brick work. These coupled with the narrow old fashioned turnstiles and low ceilinged concourse give the stand a real feeling of nostalgia. Modern stadia is neat, clean and often spacious, but for my money it can't come close to the match day experience in a stand like the Bullens Road.
On to the game and as a League 2 side away at Premier League opposition in all honesty we were there for the evening out. After seeing Yeovil limp to a 1-0 away defeat at the One Call Stadium the previous week, against a Mansfield side that had 10 men for over 80 minutes I wasn't hopeful. But there is always that thought in the back of your mind….'what if?'. That thought was some what made more distant when the home sides starting line was revealed. Koeman clearly meant business including the likes of messrs Yannick Bolasie, Ashley Williams, Ross Barkley and Romelu Lukaku. This was an interesting change from the Dutchman who a couple of years previous I had witnessed leave Pelle and Tadic out of the Southampton squad altogether in a League Cup quarter final at Sheffield United (i'm not still bitter about that 1-0 defeat at all! – For those who are new to the site I support Southampton and Yeovil). Naturally the Glovers were at full strength with a spine of Tom Eaves, Matty Dolan and Nathan Smith ready for the challenge.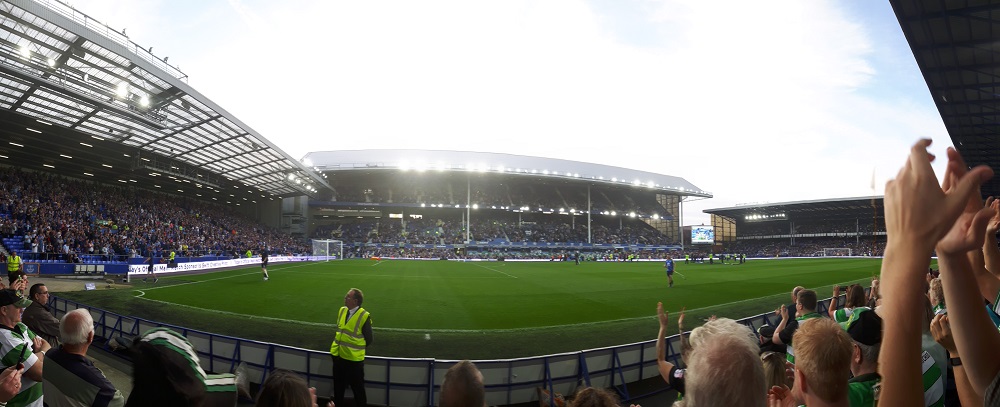 As could be expected it was pretty much one way traffic. Everton had plenty of the ball but were frustrated by some dogged Yeovil defending. Indeed the away side could have taken the lead in the first couple of minutes; a miscommunication in defence gave Otis Kahn a chance to nip in but Stekelenburg in the Everton goal got there first. Had it been the 6ft 5 frame of Tom Eaves as opposed to the 5ft 9 of Kahn jumping against the Everton stopper it would probably have been a different outcome. Aside from that an Eaves header was about as good as it got for the Glovers.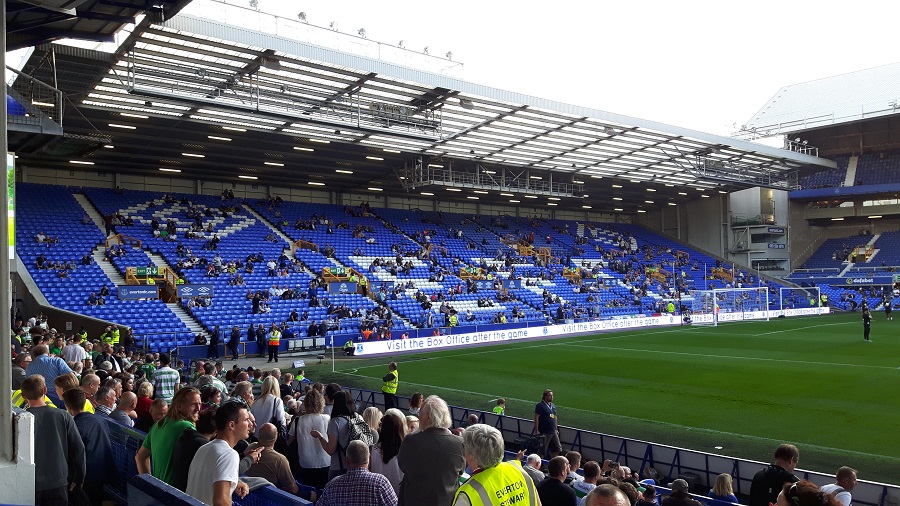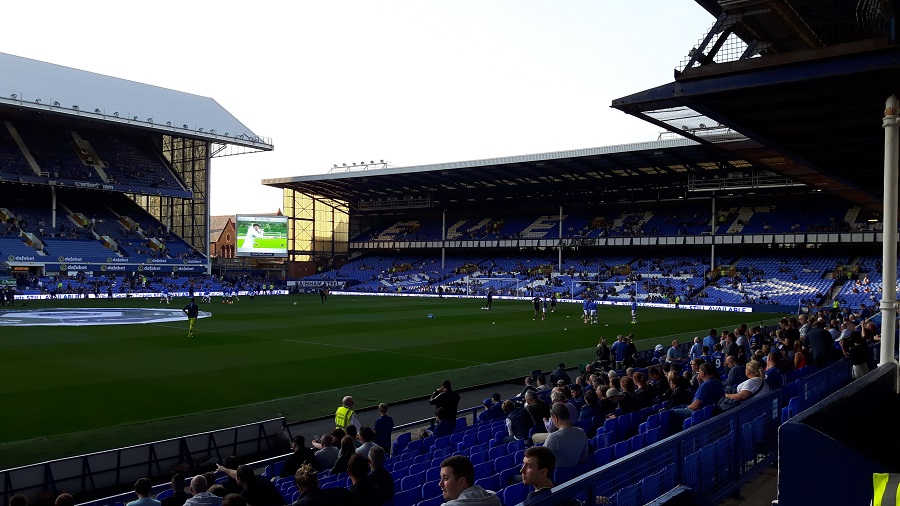 Town almost lasted the half hour before they were made to pay. A slick passing move saw James McCarthy break to the by line, which drew the keeper. The Irish International cut the ball back for the on rushing Aaron Lennon to finish neatly into the unguarded net. This didn't open the floodgates however as Yeovil defended manfully. But any time they managed to get the ball they just couldn't keep hold of it as the Everton midfield, in particular Gueye were on them in a flash. With a single goal in it there's always a glimmer of hope, but on 69 the home side put the game to bed. Ross Barkley with a nicely taken freekick.
For the lackless Lukaku the night didn't get any better as he continued to be wasteful. And the Belgian international was shown how it was done by substitute Arouna Koné. The Ivorian coming off the bench to apply the gloss to the scoreline with a brace after entering the action in the 79th minute. On a similar note to Lukaku the £25 million man Yannick Bolasie had a night to forget as well. Seeing plenty of the ball and looking lively throughout the end product wasn't there. In the closing stages a sliced shot from 18 yards went closer to the corner flag than the goal, resulting in yet another "what a waste of money" chant from the away support. No doubt he has talent. His pace and power will terrify defences, but it seemed like he was trying too hard.
Atmosphere 1/5: The atmosphere in the away end was fantastic, the 904 away fans backed their team pretty much throughout. The home fans were non-existent though. I appreciate there may have been a smaller crowd and lower league opposition but come on, at least some kind of attempt to sing and have a bit of back and forth between the sets of fans would have been nice.
Location 4/5: In the heart of the community, backing onto terraced houses and the odd chippy; where a ground should be, as opposed to out of town surrounded by car dealerships and industrial units. Good also to be able to enjoy the evening sunshine in Stanley Park before heading into the ground.
Programme 3.5/5: Pretty standard Premier League offering.
Stewarding 5/5: Good banter on the turnstiles, makes a change from jobsworths screwing off your bottle caps!
Character 5/5: Bags and bags! Think i've mentioned it above enough.
Value for money 4.5/5: £15 to tick off a Premier League ground.
Overall 3.5/5: A thoroughly enjoyable evening in a classic ground, some noise from the home fans and a consolation goal would have been nice.
You can keep up with Peter's 92 on his the92.net profile and on Twitter @the92dotnet.
Have you made the trip to the home of Everton? If yes you can add Goodison Park to your 92 or if not plan your trip there: