With hopping the Easter bunny would have been proud of blogger Adam Thurston had an Easter Bank Holiday weekend to remember using the extended weekend footballing bonanza to tick a quadruple of new grounds off his 92.
Grounds: Greenhous Meadow 11/92
iPro Stadium 12/92
Old Trafford 13/92
Vicarage Road 14/92
Games: Shrewsbury Town 2-0 Dagenham and Redbridge
Derby County 2-2 Watford
Manchester United 3-1 Aston Villa
Watford 2-0 Middlesbrough
Dates: 03/04/2015 – 06/04/2015
What a weekend. I always knew I would have to make the most of a 4 day weekend, but I didn't contemplate one such as the one I had. It all started on a cold, wet Friday morning in Bristol where a friend and I woke up early to begin the drive up to Shrewsbury Town, which was to be part of a double header Good Friday as we were also attending the Derby County vs Watford game that evening.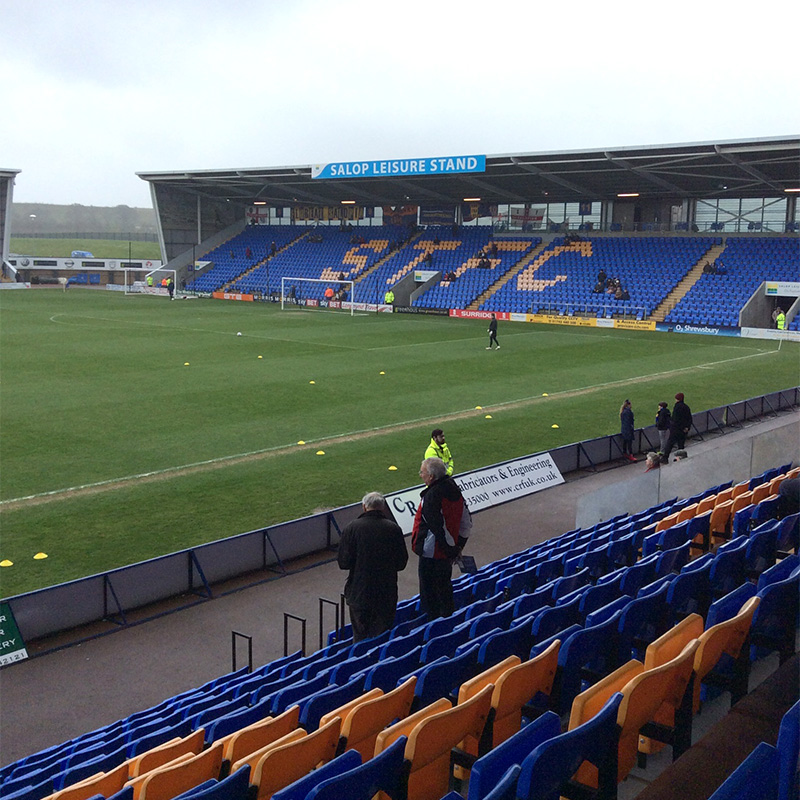 It was a very easy drive with no traffic, we got into Shrewsbury around 12 so stopped off in a Nandos about 5 minutes away from the ground (going to Nandos is becoming all to familiar whilst doing the 92). We parked easily 10 minutes walk away in a pub car park for £5 before arriving at the stadium, which for a League 2 club is very smart. All seater ground with massive potential to expand should they need it to. Having said that, the ground wasn't anywhere near selling out but for the level of match that is expected.
The game itself was a normal League 2 game, fairly dull with lots of kicks up field and in the air rather than on the floor. Shrewsbury were on the back foot for the first 10/15 minutes until the opening goal. A header from a corner from eventual 2 goal hero, Connor Goldson. The second goal was a brilliant one. A free kick which was floated in by former Sunderland man Liam Lawrence and headed in, again by Goldson, over and across the keeper to make it 2 goals in 5 minutes for the defender.
The second half was fairly dull which very limited openings which prompted us to leave after 75 minutes as we had a trip across to the East Midlands for the evening promotion clash between Derby County and Watford.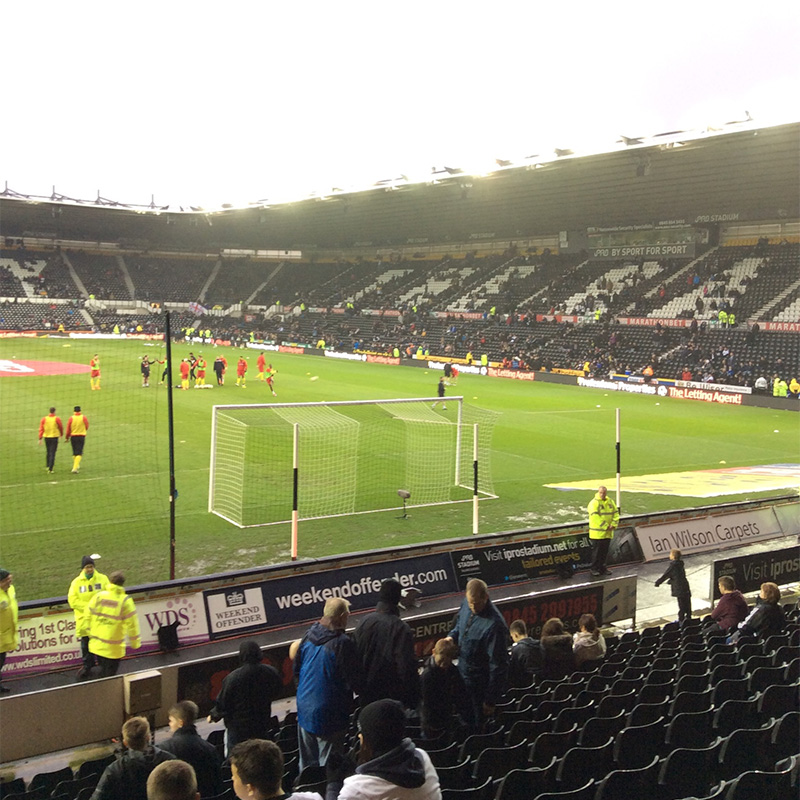 So after another easy drive across to Derby, I was not sure where all the bank holiday traffic was to be honest, I assumed going down south as there was a lot of traffic going in the direction of Devon/Cornwall in the morning. My first view of the iPro Stadium was amazing. A stadium with the Premier League written all over it, there was even a Starbucks located in the stadium, I'm guessing this is an attempt to tempt people away from the beer and towards the caffeine.
So after collecting my tickets and picking up a programme for £3 it was into the ground to see our seats. I knew I'd paid for behind the goal next to the away end but I either selected some poor seats or I was moved, but either way, they weren't good. Bottom row, without cover in the pouring rain, pretty much behind the goal. However, luckily, I didn't realise it was a standing part of the stadium so it was no problem at all. It actually became a brilliant place to stand once the rain had stopped, I was in the group that celebrated with Darren Bent with the penalty equaliser to make the scores 1-1 deservedly after Matty Vydra's opener for Watford following some terrible defending by the Rams. We even managed to get onto the Football League Show in all the replays of the goal.
Following the goal by Darren Bent and the sending off that occurred in the foul that led to the penalty, the atmosphere within the Derby fans got even better! It was already brilliant but it only spurred on the players, most notably Tom Ince. He picked up the ball on the edge of the area and somehow squeezed through a couple of players and smashed the ball into the far corner to send the fans and players of Derby into raptures. This encouraged the typical football chant "you only sing when you are winning" from the Derby to the Watford fans, well, for 18 minutes anyway before Watford pulled it back to 2-2 after some neat play by the Watford forwards before playing it through to Ighalo who placed it past the keeper who got a slight touch but not enough to prevent it from tricking into the net, by the looks of things, in slow motion. So the game finished 2-2 but in terms of the atmosphere, the game itself, the stadium and the overall enjoyment of the evening I have voted it my best game since beginning doing the 92. I would highly recommend all groundhoppers to do Derby County as quickly as possible, especially under the lights.
After a very comfortable night stay at the Days hotel (about a 25 minute walk away from the iPro) for just £33.50, we began our next leg of our Easter Weekend journey to Manchester for the game at Old Trafford between Manchester United and Aston Villa. This was our first game as away fans, which in some ways; we actually were fans of the Villa. Over the course of the 92 so far we have been to 4 games at Villa Park with the FA Cup game against Blackpool followed by a "Hat-Trick Offer" for Liverpool, Chelsea and Stoke City games at Villa Park, in which all 3 finished as losses. At least the form has begun to change now, with work still to be done though.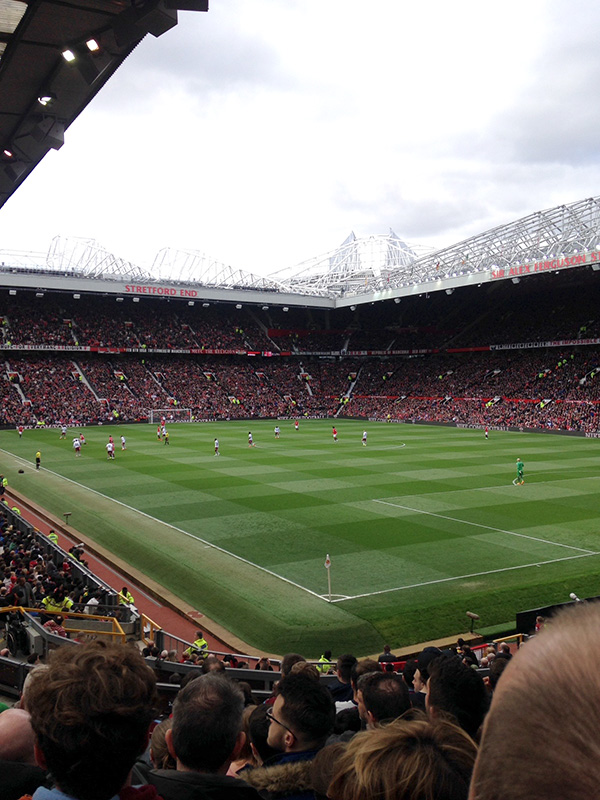 A quick stop at the Etihad Stadium and another Season Review DVD bought to add to my vast collection. Their review of the 13/14 season when they won the Premier League for the 2nd time. £6, which I thought was a bargain. Following this, we made our way to Old Trafford for our 3rd game in the space of 24 hours. Parking was easy, in the Lancashire Cricket Ground, which itself is very impressive. £10 was a bit expensive but it was what I expected outside the Theatre of Dreams.
There was certainly a level of optimism amongst the Villa fans who were only dreaming of a shock result at Old Trafford, but it wasn't to be. United weren't at their best but they did more than enough to win the game, they absolutely dominated the possession stats and made the most of their chances, goals from Wayne Rooney and 2 from Ander Herrera was enough to beat a basic Villa who did score a consolation goal through Benteke, who finally seems to be getting back to his best after a below-par season.
One thing noted about Old Trafford on the two occasions I have been this season, for one of the biggest clubs in the world, with 73,000 home fans every week, their support is very poor. Virtually silent for the entire 90 minutes, apart from the odd "united, united, united" chant alongside some celebrations on each goal.
So, that was another game over, 3-1 to the hosts which was disappointing but expected. Then onto the drive home for the night in Bristol before a drive on the M4 to London for a Chelsea stadium tour and Watford vs. Middlesbrough on the Monday.
Sunday came about which was the day of my Chelsea stadium tour which was a birthday present from my girlfriend which I finally got around to doing and used it as a perfect opportunity to keep the 92 going with the Championship title fight match between Watford and Middlesbrough the following day. Just a quick note as I know it doesn't count towards the 92 but what a stunning stadium. One thing that was a shock to the system was the point made that a seat in the area with Roman Abramovich costs £2.5 million for 10 years (only available on a minimum 10 year lease). Wow.
The final game of an amazing weekend was at Vicarage Road. We started in a café just outside the ground for a hot chocolate and ended up sharing a table with two Watford fans that had been season tickets since 1970. We had a good, 25 minute conversation over our drinks, explaining that we were doing with the 92 and it really showed an example of the good side of football. They were an asset for Watford Football Club and welcomed us in extremely well.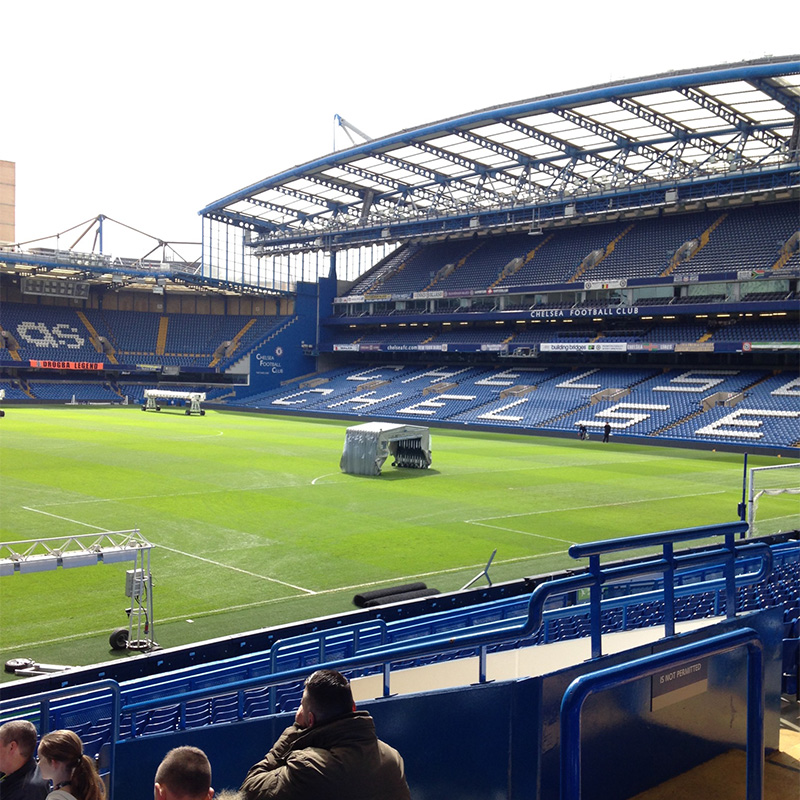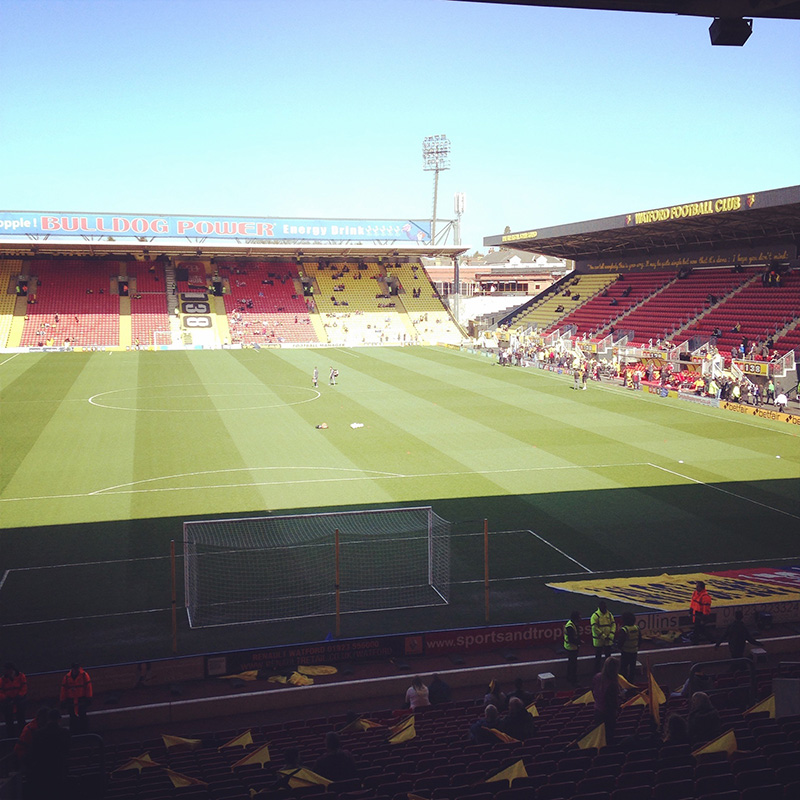 Another game which backed up my point that the Championship is the best league to be a fan of. Brilliant atmosphere from the off and an excellent match. Middlesbrough started the game on the front foot with a few good chances but once Watford got into it, there was only one winner. Especially when you have strikers such as Troy Deeney who has now scored 60 goals in the last 3 years and Odion Ighalo. Both of whom were on the score sheet in the eventual 2-0 win for the hosts. Ighalo's standing out as a real peach of a goal, cutting inside before hitting a rocket into the top corner just below me. Watford thoroughly deserved their victory with a solid performance as well as making the most of their chances which is more than can be said about Boro'.
Vicarage Road itself from the outside doesn't really look much like a stadium due to, by the looks of things, having flats in the stadium (I may be totally wrong about that) but once you get in there through the confusing signs, it's a beautiful ground full of colour, flags were all over the seating in the Rookery Stand which made for a stunning atmosphere when the teams made their way out for the game. The weather made it one of the brightest and more eye-opening stadiums, probably why Watford's kit is one of my favourites in the Football League.
What an unbelievable weekend of football and bring on Reading and Leicester City in the coming weeks. Please feel free to follow my twitter page @athurston_1996 and our instagram account @adamliamgroundhopping to keep up to date with photos and videos on our journey through the 92 football league stadiums.
You can keep up with Adam and his 92 through Twitter @athurston_1996 and his the92.net profile here. Also check out Adam and fellow groundhopper Liam's instagram account @adamliamgroundhopping to keep up to date with photos and videos on their journey through the 92 football league stadiums. To add grounds to your 92 head to our grounds section here www.the92.net/grounds and if you're new to us you can register for FREE and create your 92 like Adam. If you're thinking of ticking off a new ground plan your away day using our planner here www.the92.net/plan-your-away-day.