Blogger and the92.net co-founder Pete headed South to tick a final ground off doing the 92 for the year.
Ground: The Lamex Stadium (Broadhall Way) (70/92)
Game: Stevenage 3-4 Doncaster Rovers
Date: 03/12/2016

Starting the season on 58/92 I set myself a target of hitting 70 before the end of 2016 (apologies if I may have mentioned this once or twice before on Twitter!) With 12 new grounds to chalk off in a little under 5 months with work and family commitments I knew planning was key. Thanks to a hat trick of 2-in-1 weekends and an understanding wife, with a month to spare I had one to go to hit the 70 mark. On my last designated free Saturday before Christmas this was my chance…
A choice of 2
As for the destination I had narrowed it down to either Kenilworth Road where Luton welcomed Solihull Moors in the 2nd round of the FA Cup, or the Lamex Stadium where Doncaster Rovers were the visitors to Stevenage. After days of deliberation I went for the latter. I remembered my old man telling me Luton was the first game he ever went to as a kid in the mid-fifties. I it would be fitting therefore if we took in a game there together to tick it off my 92. Turns out I could've seen 8 goals had I picked Luton, but the game at the Lamex wasn't far behind!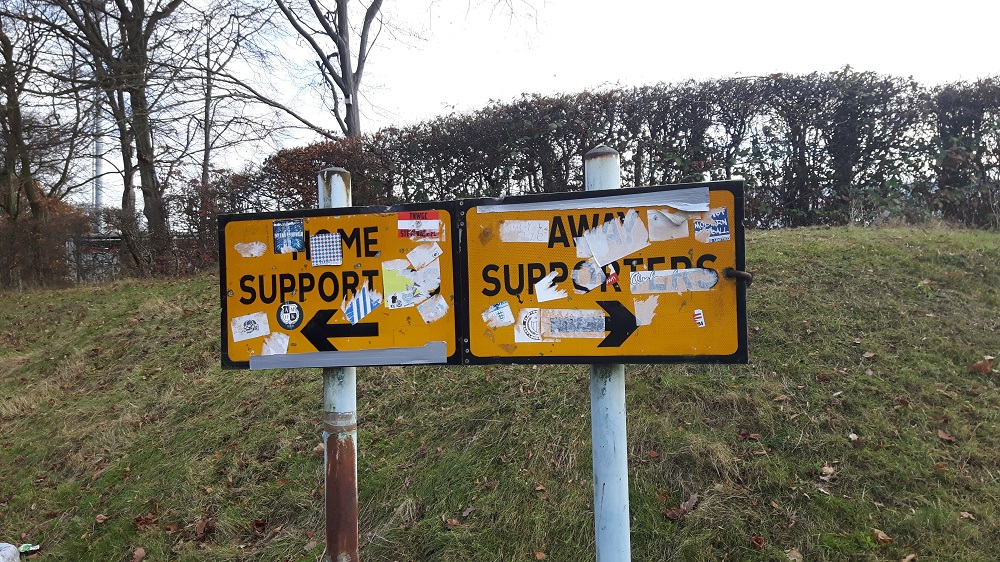 Getting there
Driving down from the East Midlands the 2-hour journey to Stevenage was painless. There is a large car park at the ground that I believe is free. However, I found a spot about 10 minutes' walk just North of the ground on Elder Way, which leads into some housing. There's plenty of street parking within that estate with an easy post-match getaway too.
The ground
The Lamex Stadium, or Broadhall Way to give it its unsponsored name, is a small compact stadium, but still maintains an element of charm from the clubs non-league days. The Main Stand which houses the club shop, ticket office and offices was renovated in the 2011-12 season and gives a modern first impression. Opposite the Main Stand is the East Terrace which stretches the length of the touchline and would be my stand point for the afternoon. At the north side of the ground is a quirky terrace, two thirds of which is roofed. The remaining third, open to the elements, was littered with a handful of hearty souls.
Behind the goal at the other end is the South Stand, which is where the away supporters are located. It was built in 2001 and brought the ground up to Football League standards after Boro were denied entry in 95/96. After reaching sufficient capacity and facilities, it took the best part of a decade for Stevenage to win promotion again and finally take their place in the 92.
Paths crossing
Through the92.net and the beauty of Twitter I've had the opportunity to connect with many fellow ground hoppers who are also chasing the holy grail of the 92 club. As our paths crossed at the Lamex it was great to meet Donny Rovers fans, siblings Adam (@AdDaws) and Emma Dawson (@dawsoooon) for a pre-match chat. On 80 / 77 respectively and in their early 20s they are a few steps ahead of me and well on their way to the magical 92. From an idea that started off 4 years ago as a spreadsheet between 3 mates it was nice to hear they enjoy keeping track of doing the 92 using the92.net.
Game time
On the pitch it was 2 of the form teams in the division meeting. In the form table of the previous 6 matches they sat 3rd and 4th both on having won 4, drawn 1 and lost 1. For the first 25 minutes the game was a cagey affair with both sides cancelling each other out. Notably both teams' centre forwards were booked for shooting and therefore kicking the ball away after the whistle had gone for an offside. In an age when the officials' every decision is picked apart we had some consistency!
And so the madness began. Stevenage didn't heed the warning from an earlier corner as Doncaster's Andy Butler headed narrowly wide. On 28 minutes the centre half was given the freedom of the area to plant a header home from a free kick. Under 10 minutes later and Rovers had doubled their lead. A neat move involving Coppinger and Rowe was finished by young striker Mandeville as he clinically fired the ball low into the far corner, bagging a double nutmeg en route. Boro were rattled, but they came a whisker away from pulling a goal back. A header from a freekick on the right was scrambled on to the post by Marosi in the Rovers' net. That save proved crucial as moments later Donny scored their 3rd in just 13 minutes. A ball into the box was nodded down to Matty Blair, who adjusted his body well to send a magnificent half volley flying into the net.
Second half, more of the same…
Stevenage began the second half with a double change as they looked to stage a comeback. They started well too with Schumacher having a shot blocked and Well's volley dropping on the roof of the net. As they went in search of a life line there were inevitably gaps left that Rovers began to exploit with Marquis and Blair both wasting chances to put the game to bed. Straight after the latter's chance, the pendulum swung through as Boro got back in the game thought Pett. Again though Rovers had chances on the counter; Rowe sliding in must have been a whisker away from making it 4 and Marquis wasted another chance scuffing wide.
72 minutes on the clock and it was game on with the goal of the game. The home side's left back Fraser Franks ran onto a diagonal ball on the edge of area, set himself with a neat touch off his thigh and thundered an unstoppable volley past Marosi. However, the game was in the balance for all but a minute as Rovers restored their 2 goal cushion. Fair play to Rovers' striker Marquis for sticking at it as he finally got his goal, heading in from a freekick.
A nervy finish
With normal time all but up it was game on again as Stevenage made it 3-4. Marosi in the Rovers' goal flapped at a corner. The ball was fired back into the box and was turned in by another sub, Liburd. And they so nearly went on to claim a point. With 3 of the 4 minutes of injury time played, Pett curled an effort from the edge of area what must have been centimetres past the post.
Rovers go top
As you can tell from the scoreline it wasn't a day for defending or indeed goalkeeping. With 12 shots on target in the game and 7 scored that says a lot. Going forward Doncaster looked a very well-oiled machine. Darren Ferguson likes his teams to play on the front foot as his Peterborough side of a few years back demonstrated, and it appears he is getting things together at the Keepmoat. Coppinger is still a class player at this level, Matty Blair was excellent and young Mandeville looked very lively. Had Marquis had his shooting boots on it could have been 5-6. Marosi in their goal was poor though and played his part in 2 of the 3.
For me, Stevenage's problems started from the front. Leading scorer Matt Godden was a big miss and his replacement Harry McKirdy seemed very lightweight for this level. I felt for their backline who were often exposed as the visitors' quick passing and movement cut through the midfield. They do have something about them though and their second goal is definitely worth a watch.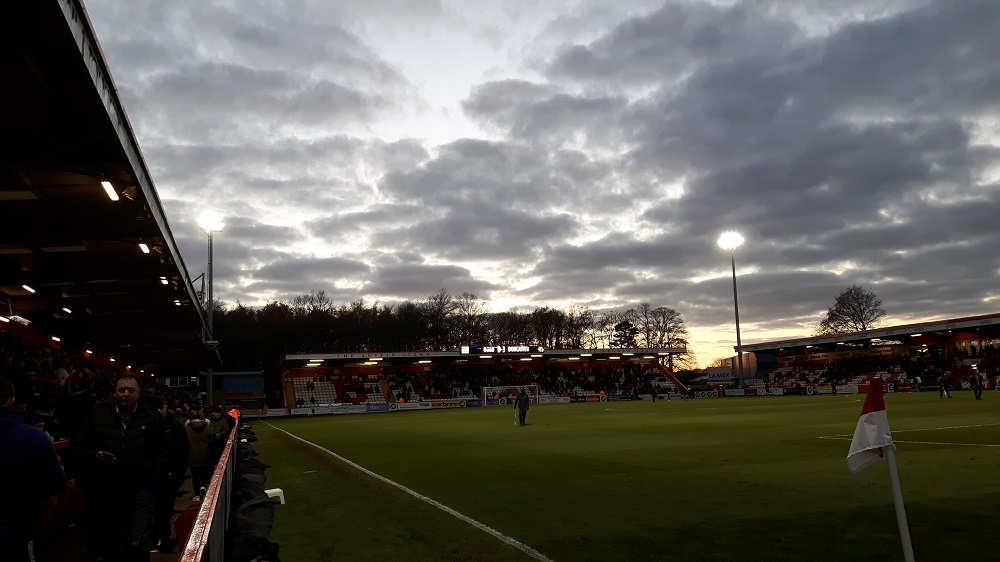 Atmosphere 3/5: Decent noise from both sets of fans in periods, helped by a humdinger of a game.
Location 4/5: By car easy to get to and plenty of free parking around the ground.
Programme 3/5: £3, a pretty standard Football League offering.
Pie/pint rating n/a
Character 4/5: Plenty of terracing, of which the North Terrace gives a nod to the club's non-league days.
Stewarding 5/5: Friendly, chatty and didn't screw the top off my bottle!
Value for money 4/5: £18 on the East Terrace (£16 in bought in advance), £2 for a coffee and a Snickers.
Overall 4/5: Naturally a thriller of a game helped me thoroughly enjoy every aspect of ticking the Lamex off my 92. The club has a real community feel and everyone from the bloke in the ticket office, to the man on the turnstile, to the lady serving the coffee were all very friendly and welcoming.
You can keep up with Peter's 92 on his the92.net profile and on Twitter @the92dotnet.
Have you made the trip to the home of Stevenage? If yes, you can tick the Lamex Stadium off your 92 checklist or if not plan your trip there: