It was 91 down 1 to go for the92.net regular Michael Pilcher at the One Call Stadium. The Gills fan picked an 8 goal thriller to chalk off his 91st ground leaving plenty of time to reach the 92 for the first time this season.
Ground 91/92: One Call Stadium
Mansfield Town 4 – 4 Accrington Stanley
14/02/2017

Ah, Mansfield. I was slightly annoyed when they got promoted in 2012/13, only because they're in a kind of "no-man's land" for me – not near my home in Kent (184 miles) nor near my in-laws in Preston (103 miles). It was one ground I was putting off and putting off, either hoping Gillingham got them in a cup game or the Stags came up to League One; now, with two grounds to go, I wanted them done before the 16/17 season was out. Home fixtures were running out, and none of them particularly stood out, so there didn't really seem an optimum time to go.
 
Then I had a brainwave.
 
My other half goes stir crazy during half-terms, so I hatched a plan – take a few days holiday in the February break and suggest spending a couple of days away with her and the kids, sneaking away on the Tuesday night for some football. I was 95% certain she wouldn't be able to resist the prospect of me having three days off, even if it did mean I wasn't around for one evening – Valentine's Day evening at that – surely my absence was a small price to pay for me taking charge of the children for three whole days. Thankfully she went for it, and so a half-term trip up to the Midlands was on.
 
A detour to Derby
 
Because it was Valentine's Day, most hotels in the area were either fully booked or had ramped their prices up significantly. By far the cheapest place within easy driving distance of Mansfield was the Travelodge at Derby Cricket Ground. A 30-40 minute drive to the One Call Stadium, but there was a massive bonus with this one – Pride Park was close by, and was one of the few grounds I'd visited yet had no photos of. When I visited in 2005 I had no camera-phone, and didn't want to be weighed down by my brick of a digital camera.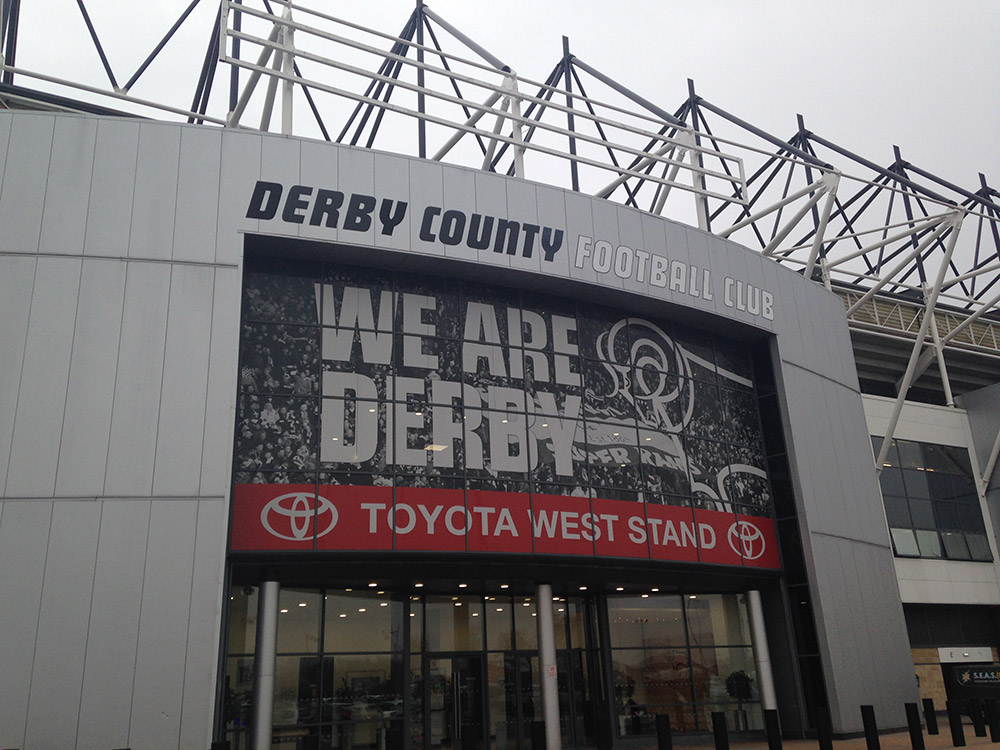 I wasn't allowed inside for photos – they were getting the stadium ready for that evening's game – but I did manage to grab some external shots for the collection and pay a quick visit to the club shop. Just Stamford Bridge and Elland Road to go now on my Visited-But-Photoless grounds list. I don't remember much about my trip to Pride Park, other than that Gills lost 2-0, but I certainly don't remember there being a Greggs or Starbucks in the stadium then as there is now. What a world.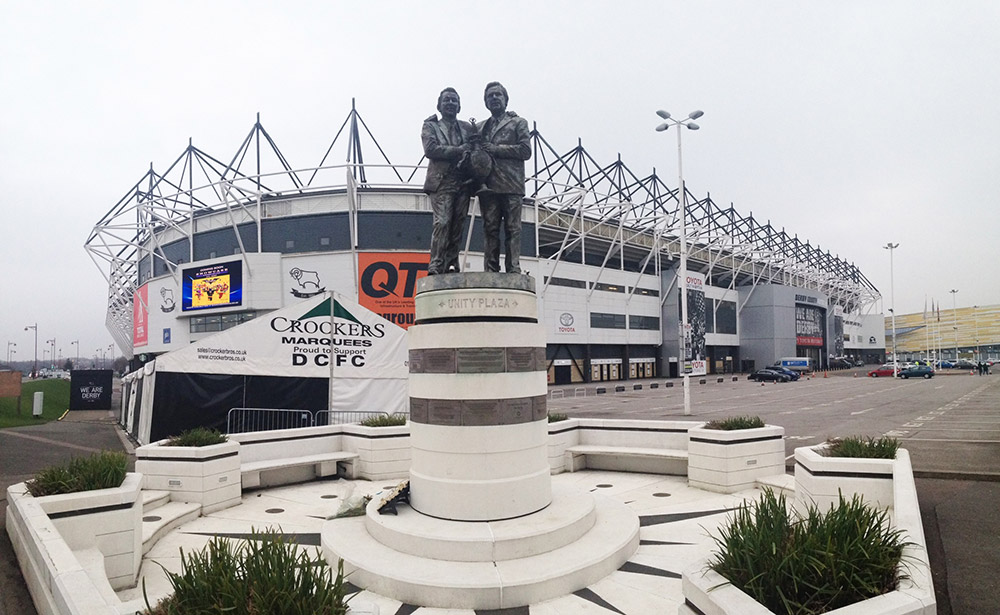 One Call calling
 
The children suitably entertained after visiting Wrest Park on the way up from Kent, I left the family at the Derby hotel with some fast food and then attempted to navigate my way through the maze that was Derby centre. Luckily I'd given myself plenty of time to get there, a blend of horrendous road layouts plus bad traffic caused a fair old delay. Once I'd escaped Derby it was an easy and comfortable drive over to Mansfield itself. Parking was a doddle, the car park on Victoria Street charging a not-unreasonable 50p an hour, undercutting everywhere else in Mansfield including the train station next door with its 70p an hour – win! The Victoria St car park is particularly ideal for away fans being five minutes to the away end entrance…and, tonight, I was an away fan.
 
On my ground-hopping adventures I tend to consider myself 'on loan' to whoever is playing at home, so I'll sit in with the natives, the exception being my trips with Gills or Grecians. However when I was booking tickets for this game, I thought that one or both of my six-year-old daughters were coming and they both prefer to be in quieter ends. I assumed Accrington weren't going to take a big away following. Unfortunately a freezing cold trip to Meadow Lane three days before had put my daughters off – "I never want to come to football ever again", one said – and so I now found myself in the North Stand with 57 hardy Stanley fans.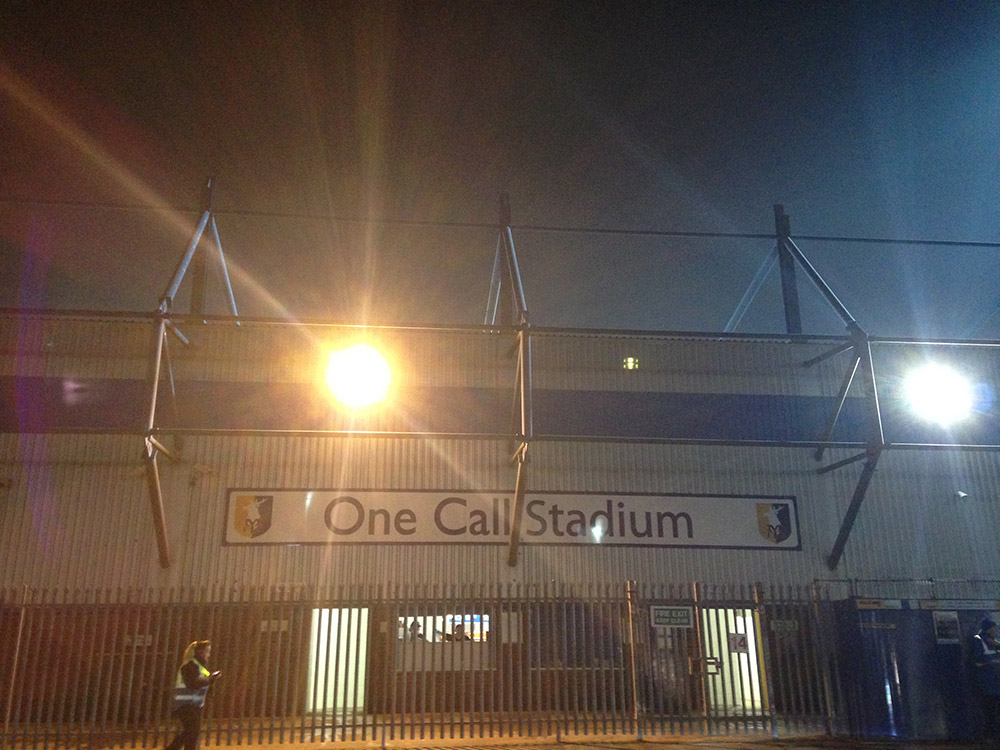 From watching the world's oldest professional team on Saturday, by Tuesday I was at the world's oldest professional football ground. At least that's what a sign at the top of the Quarry Lane End proclaimed; Field Mill aka One Call has been a football venue since 1861, pipped to the title of the oldest ground in the world by Hallam FC's Sandygate Road (1860). Although sadly there wasn't anything else to indicate this historic fact, nothing at all around the ground to indicate or celebrate its age, just three modern stands that have clearly been built within the last two decades.
I say three modern stands as sadly the small Bishop Street stand is condemned and has been closed for safety reasons. Only running half the length of the pitch, it has fallen into a state of disrepair, and the club have covered it in advertising hoardings in an attempt to hide its shame. Odd to think that up until earlier this season, the dugouts were on this empty side. The contrasting ends looked great – MTFC spelt out in blue on yellow one end, STAGS spelt out in yellow on blue at the other – and the blue/yellow striped two-tiered Ian Greaves Stand is an impressive beast by fourth tier standards. The facilities were top notch, views were excellent and there was a definite friendly air around the game before the game. Overall the appearance of the ground is very smart, if you exclude the sorry state of the Bishop Street side.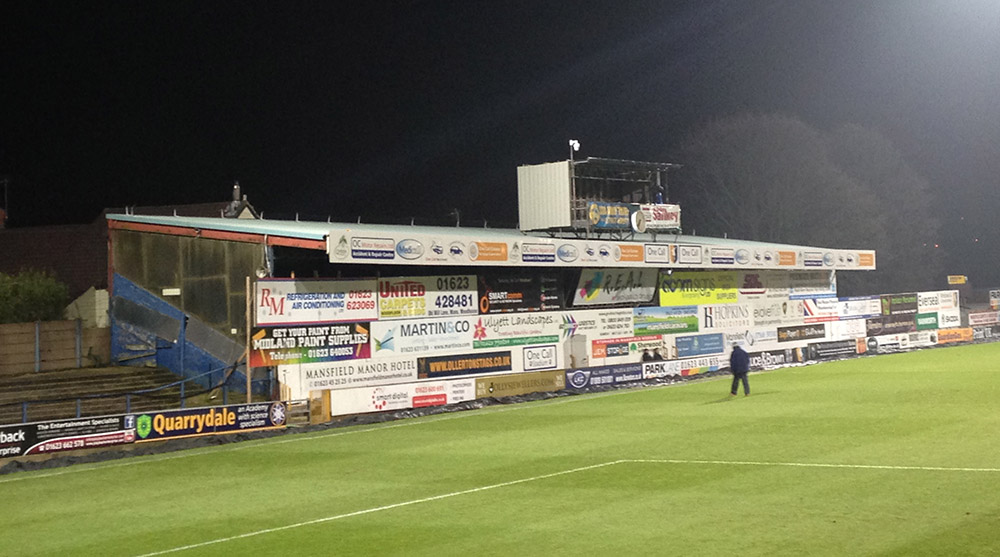 Valentine's Day today, love is in the air
 
With Accrington struggling at the wrong end of the table and Mansfield gradually climbing up it under the management of Steve Evans, this looked every bit the home banker, especially with the Stags unbeaten in eight and coming off the back of thrashing Hartlepool 4-0. Of course football has a habit of making a mockery of form, and it seems a few people I know lost out on substantial winnings on their accumulators thanks to this game. Being 14th February, it appeared both sets of defences were in a loving and generous mood.

Stanley were ahead within five minutes, an attacking free-kick finding its way to Omar Beckles to hit home close-range. By the 29th minute it was 2-0, Shay McCartan firing in a second after some more Keystone Cops-level defending from the home side. Mansfield reduced the deficit within a matter of minutes, a header was blocked on the line after a corner. Accrington keeper Marek Rodak did his best to make it look like he'd kept it out, but the referee adjudged Rhys Bennett had forced it over the line. The goal of the game came in the 43rd minute, Billy Kee dipping a spectacular shot under the far angle after getting the better of Bennett on the right-hand side to make it 3-1. But again it seemed Stanley really didn't like having a two goal lead and Mansfield pulled another goal back in first-half injury time, again from a set-piece – a free-kick was whipped in from the right, Hayden White heads in, 3-2. Shortly after the half-time whistle went to bring to a close a pretty breathless opening 45 minutes, the 58 away fans making their way to the refreshments just to take stock more than anything – this was quite a performance from a side that had scored one solitary goal in their previous eight away games. Home gaffer Evans came onto the pitch to remonstrate with the referee at the break, not entirely sure why – the only thing he could really take umbrage with was his team's defending.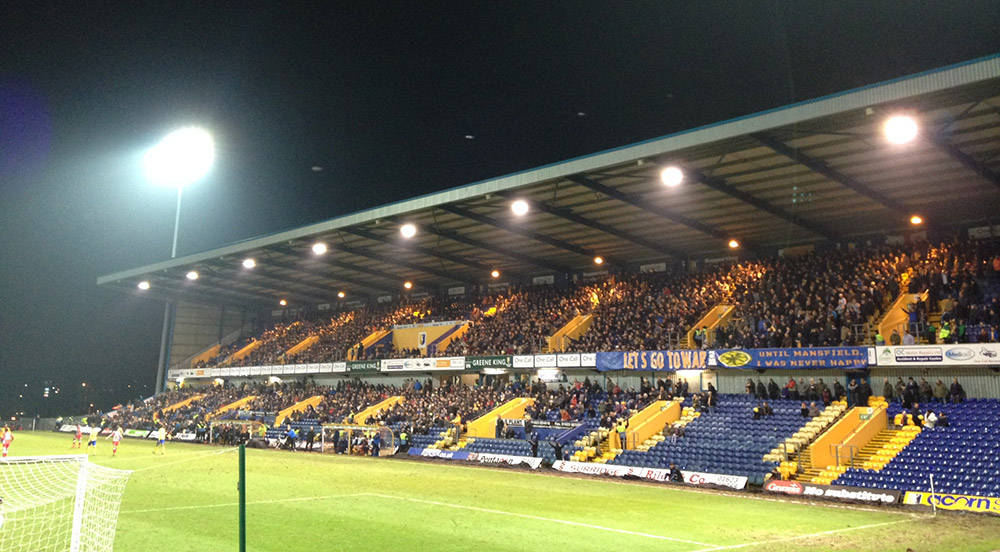 As a neutral I was hoping for more of the same second-half, and I wasn't to be disappointed. Beckles headed against the post before Mansfield were awarded a 63rd minute penalty – hard to tell from the opposite end how soft it was – and Shaq Coulthirst sent Rodak the wrong way to put Mansfield back on terms for the first time in an hour. 3-3. Within three minutes the referee 'evened things up' by giving Stanley a penalty, which Kee despatched confidently, he too sending keeper Jake Kean the wrong way. I was getting well into proceedings at this point, heartily celebrating that penalty. I was happy for the Stanley fans that their team scored a goal in front of them after the other three had come down the other end, but moreover I was overjoyed at being at such an outstanding game. Football…bloody hell.


 
Both teams found time to hit the post, and visiting sub Romuald Boco lashed a first-time chance just wide after Kean had come charging out of his goal. On the side-lines I was expecting Evans to get the red card the game was missing, as Stanley's gamesmanship caused him to get more and more irate; the home fans showed their disapproval also as the visitors began to make a meal of any challenges. The 89th-minute Stags equaliser was a suitably topsy-turvy goal to round off a topsy-tuvy game. Stanley launched the ball forward, nervous Town keeper Kean again came out to meet it and under pressure made a hash of the clearance, the ball skidding off the outside of his boot. Luckily for him it fell to a team-mate, who opted to launch it skywards. It fell for Hayden White to flick on. Sub Yoann Arquin let it bounce before  crashing in a superb half-volley from 25 yards. An incredible goal, all started from Kean's initial scuffed clearance; never before have I seen a team's mistake rewarded like that within a matter of seconds. Final score 4-4, a shame for Stanley who edged it in terms of chances. But my word what a game, worth checking out the goals for (fans of the defensive arts best look away).


 
Ground number 91 was in the bank, and on the drive home it felt strange knowing that I'd be home and hosed after The Hive (visiting date TBC). I was straight on the road and back at my Derby hotel thirty minutes later, a bonus of my chosen car park being no post-match traffic whatsoever.  I arrived back at the Travelodge at the same time as a group of Cardiff fans who too had witnessed a cracker, winning 4-3 at Pride Park. Whenever people question why you do it, why you travel all those miles, you point to games like this. You can keep your bunches of flowers and candlelit meals; what's more romantic than a floodlit seven- or eight-goal thriller in the Football League?
 
Atmosphere 3.5/5: There was a fair old noise coming from the top tier of the Ian Greaves Stand, singing and chanting throughout. They opened both halves by singing a slightly revised version of ' I'm Into Something Good' by Herman's Hermits for a good ten minutes. Impressive, although you did get to a point where you wanted them to sing something else. 

Location 3.5/5: It seems every ground, old or new, is next to a retail park now. You can see the ground from the train station though which is always a plus, and there was loads of parking nearby. Didn't get to explore the area much so sadly can't comment on the proximity to town or pubs. 

Programme 3.5/5: The cartoon cover set it apart and it was a decent read. Solid effort. 

Stewarding 1/5: The stewards on the gate were friendly and I had a laugh with them on the way in. This low score is for the 'Crowd Control' officers inside. Bearing in mind I'm one of the first people inside the ground – I'm vastly outnumbered by yellow hi-vis jackets – I didn't think a request to take a photo of the away stand from the adjacent corner of the ground was unreasonable. I was told no; I asked what about if he came with me, he said no; I asked what about he took it for me or if a colleague could…he said no. Quite what he thought I was going to do, I have no idea, there were no home fans for me to charge at. So I have no photos of the North Stand. 

Character 3/5: Impressive enough, nice and compact, just a shame about the condemned stand letting things down. 

Value for money 2/5: £20. Tad more than I've usually had to pay for League Two football. 

Overall 3.5/5: Cracking game under the floodlights, amongst the most absorbing games I've been to on my travels. Perfect way to celebrate my penultimate ground. 

Keep up with Michael's 92 here and follow him on Twitter @michaelepilcher. If like Michael you fancy blogging about your experiences doing the 92 league grounds drop us a tweet to @the92dotnet.
Have you made the trip to the home of the Stags? If you have you can add the One Call Stadium to your 92 or if not plan your trip there: