Blogger Peter Briers returns to Lancashire for the 3rd time inside 2 months to tick Ewood Park off his 92.
Ground: Ewood Park 54/92
Game: Blackburn Rovers 1-1 Brentford
Date: 07/11/2015
After years of stagnation of my 92 this year I thought it was about time I made some progress. After my first trip to Lancashire to Turf Moor in October I didn't realise how close I was being based in the East Midlands. Around 2 hours each way on a good run isn't too bad to get a new ground. Blackburn was on my radar for this season, however plans to get there were given priority courtesy of McCoy's! After hearing of their promotion to give away a shed load of Football League tickets I thought it was worth buying a few packs to try my luck – and it was fourth pack lucky! With a pair of tickets in the bag I presented the idea to the mrs of a night away, which she duly agreed to – this would be the 4th ground off her reluctant 92.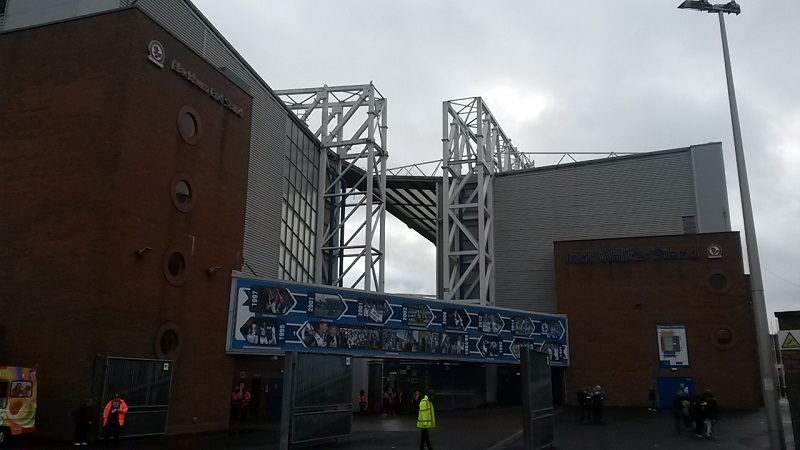 The journey was good and we arrived in plenty of time to grab a decent parking spot on the street approaching the ground. Be wary if you're driving to Ewood as a lot of the surrounding streets are permit holders only. If you're coming from the M65 there's a steep downhill as you approach the ground with a small amount of free street parking if you arrive early enough. Next stop was the ticket office behind the Ronnie Clayton stand. Here you will also find a fan zone area with bar, club shop, big screen and entertainment. The ground itself is a good mix of the old and the new. The RFS Riverside Stand, built in the late 1980s has a more traditional look with the other 3 stands following a similar more modern style.
As we were back in 'pie country' it only seemed fitting to draw comparison with a recent trip to Wigan. Recommended by fellow blogger Tim Dove we found the small independent pie shop behind the Jack Walker stand, simply called 'The Bakery'. Our weapons of choice: meat and potato for the wife, classic steak for me. Both were immense. If you're going to Ewood I would thoroughly recommend you stop by and at £1.30 a pie it's exactly half what you will pay inside the ground!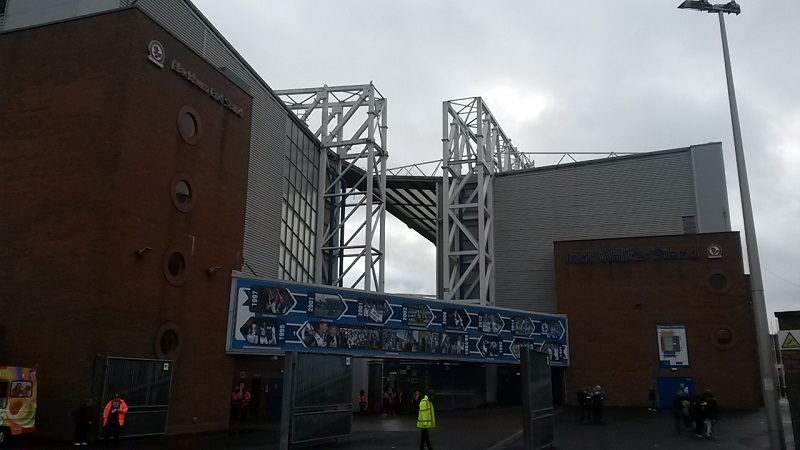 I wasn't too sure what to expect from the game with neither side setting the world alight this season. Gary Bowyer in the home dugout was under pressure as their season had yet to get going with some poor results, including a home defeat to local rivals Burnley. However off the back of 4 points and 2 clean sheets in the last 2 games were they starting to get it together? Despite arriving off the back of a defeat visitors Brentford had won their 4 games prior to that. Indeed their interim manager Lee Carsley recently picked up the October manager of the month award for the Championship having hit form after a terrible start to the season that saw Marinus Dijkhuizen sacked after just 8 league games.
Being the last round of Championship fixtures before Remembrance Day there were tributes around the 92 grounds and Ewood was no different. In the fanzone there were some themed girls singing wartime songs which was a nice touch. As is tradition there is a period of silence before kick off, but I don't think this went to plan. As the referees whistle blew the bugle player sounded the Last Post, on completion of which the stands erupted and the player broke from their stance lined around opposite sides of the centre circle. However the officials and military personnel on the pitch stood firm. After 30 seconds more the bugle sounded again as the crowd died down and players slowed to a halt spread amongst their halves of the field. It was all a little odd to be honest – perhaps some direction over the PA would have helped. I'm sure the same happened on the televised Nottingham Forest v Derby County game the night previously too.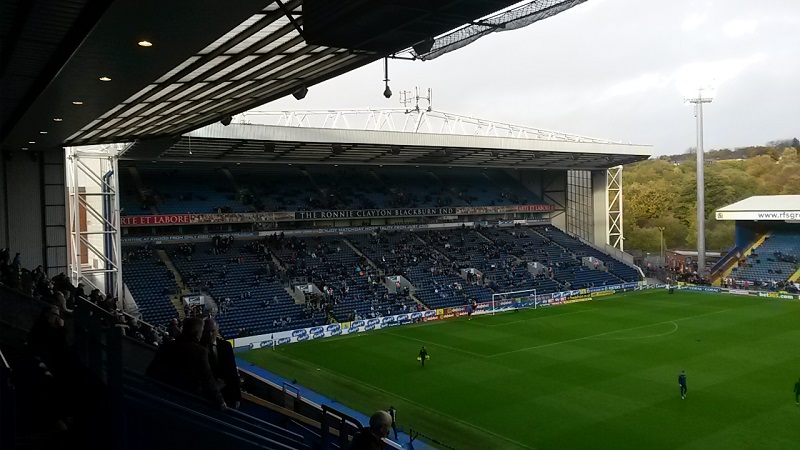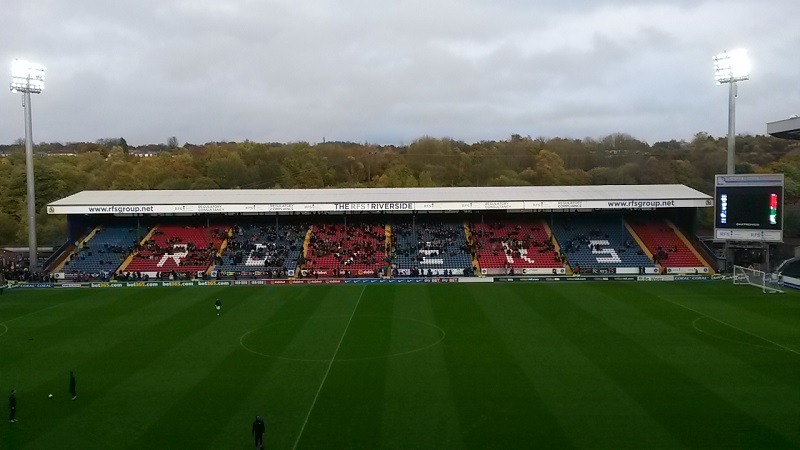 The game wasn't one for the purists. Both sides were being fairly cautious but neither seemed to be able to get into their rhythm. Brentford were trying to get their passing game going playing out from the back, whereas the home side were a little more direct and looked to get in down the flanks, particularly on the overlap. With Ben Marshall, usually a winger/attacking midfielder at right back and Olsson, who likes to bomb on at left back this was the plan for Rovers. The visitors took the lead on 24 minutes. Swift played a delightful through ball for Vibe, who timed his run perfectly, held off Duffy and finished past Steele. The home stopper will be disappointed having got a heavy touch on the ball, however it looped high and dropped into the net before Duffy or Steele could recover.
Going behind did wake Blackburn up as they looked for an equaliser which arrived with a huge slice of luck on 37. Tom Lawrence, who was playing off Jordan Rhodes, whipped a low cross into the box, which went through everyone including Button in the Bees goal and nestled in the back of the net. And the Welsh international came close to putting his side in front before half time. This time though Button was alert to touch his powerful drive onto the post.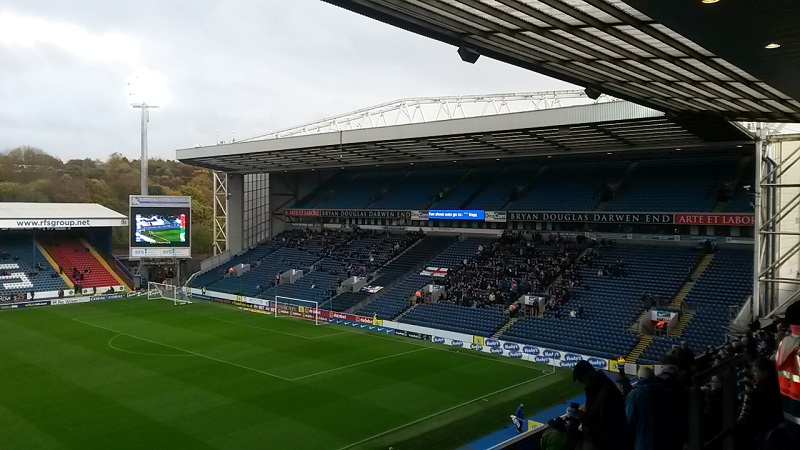 Similarly to the first half I felt the second never really properly got going. Brentford had a couple of chances with Duffy blocking well and Steele saving from Kerschbaumer but there was no sustained periods of pressure from either side. Bowyer shuffled his pack bringing on Hanley, allowing Marshall to switch to the left wing and get further forward. It almost paid dividends as late on Marshall cut in from the left and fired a rasping shot from the edge of the area. Button was equal to it though and with a strong hand pushed it wide of the far post.
A point a piece was definitely a fair result with neither side doing enough to deserve to take all 3 points. Over the course of the 90 I thought Brentford looked more comfortable with the ball. They knew what to do with it but didn't to have the quality in the final third to make a real difference and create sustained periods of pressure. October's player of month Alan Judge certainly was a big miss in their attack.
I feel for the Blackburn fans and can see why crowds have dwindled. Just over 12000 came through the turnstiles and there was a growing frustration as the minutes ticked by. With the club being under transfer embargo for so long it has been difficult to build a team for Bowyer, but on paper he has some talented players at his disposal. But it never clicked for Rovers and often the play was disjointed. The decision to field a player of Marshall's talent at full back really puzzles me, had he been more advanced from the start I think they could have shaded it. The game proved to be Bowyers final in charge with bosses opting for a change. It will be tough job for who ever fills the void with the likes of Paul Lambert and Tim Sherwood amongst the early front runners. They do have a decent pool of players to pick from and if they can identifying a formation and style to suit them with the number of points up for grabs a play off challenge is certainly possible.
Atmosphere 2/5: With the ground with just over a third full and the game not being great the atmosphere never really go going.
Location 3.5/5
Value for money 5/5: A little misleading on this one as our tickets were complimentary!
Pie Rating n/a
Pint Rating 4/5: A Guinness and a Bulmers were sampled and hit the spot.
Programme n/a: Tried to get one however they aren't sold inside the ground in the section we were in (Jack Walker Upper).
Character 3.5/5: A good mix of the old and the new.
Stewarding 1/5: Not being allowed out to get a programme as my ticket wouldn't work again was annoying! Unless said steward had a memory black out and forgot me in the minutes it would have taken me to pop out and get a programme I don't see why he couldn't have let me back in the gate ?!?
Overall 3/5
You can keep up with Peter's 92 on his the92.net profile here. Have you been to Ewood Park before? Add it to your 92 here www.the92.net/grounds or plan your trip using our away day planner here www.the92.net/plan-your-away-day/. the92.net is a free service open to all football fans. Register now to create your 92 plus rate and review the grounds as you go!
Do you fancy blogging about your experiences doing the 92? Have you got some epic tales to share? If you're interested drop us a tweet to @the92dotnet.