After Aldershot was drawn against Fleetwood on the FA Cup second round we decided to look for games in order to make a weekend of it. Luckily enough Birmingham were at home on the Friday against Middlesbrough. Our last attempt to visit St Andrews was an ill-fated affair when we ended up going to Nottingham Forest, despite having tickets for Cardiff v Burnley and Birmingham v Newcastle (both called off). I was really looking forward to this game as St Andrews was a ground I'd always fancied visiting.

After dropping our stuff of at the hotel we got a taxi over to the ground. Because of how early we were I was able to get several photos of the ground empty and I was able to sample the best of what Birmingham had to offer food wise (more to come). The ground was smaller than I expected, but despite this I liked it quite a bit.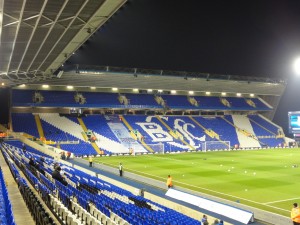 The Midlands are spoilt in the respect that all of their grounds have something about them that make them unique somewhat. Except Walsall. The ground has undergone redevelopment in recent years which has led to an impressive venue. The Tilton road end and the Kop sweep round one side and behind one goal. These are two tiered stands split in the middle by a walkway. The more "vocal" blues fans can be found in the TRE, although on this visit they were rather quiet. The back 4/5 rows of this stand are obstructed by a series of pillars used to support the roof. The kop isn't a patch on what it used to be, although it offers decent views and the concourse is acceptable, ableit cramped. To our left was the Gill Merick stand. Personally I thought this looked the oldest of the new builds, but it was built in 1999. This is a two tiered affair that is split between home and away fans, although the top tier wasn't in use for this match. The final stand is the oldest at St Andrews, having been built in 1952. Again it is two tiered, with a row of executive boxes.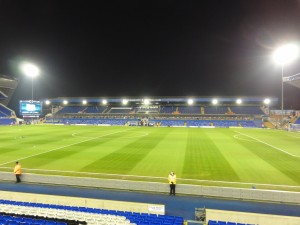 The game was a rather exciting affair providing 5 goals, the pick of the bunch being Wade Elliot's 30 yard volley that screamed in under the cross bar. The result was harsh somewhat on Middlesbrough, who first half should've been clear from any comeback that Birmingham may have provided.
Atmosphere 2/5: The home end was very quiet for the majority of the game. There were moments when they made more than a whisper, for example when singing "keep right on." To be fair the 500 or so Middlesbrough fans made a bit of noise, although they stopped when Birmingham scored their second.
Location 4/5: Coming from outside of the city I have no idea what it's like, although you can see the city centre from the ground. Doubt it's more than a 10 minute walk from New Street.
Value for money 5/5: 1 mark for each goal! An enjoyable game and prices aren't that bad from what I saw. £25 was the most expensive adult ticket.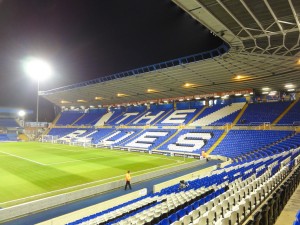 Pint selection 3/5: I'm not old enough to drink so can't really comment. Fairly sure it was £2 a pint up until kick off and I saw an advert for hot mulled wine. Think the beers available were IPA although I didn't really pay any attention.
Programme 3/5: Pretty standard, didn't offer too much, but did the job!
Overall 4/5: Nice way to spend an evening. The game was decent, even if the fans didn't get too excited although I assume this is due to the Blues position in the league table. I really like the ground, as with all the ones that I have visited in the area. Would've been a 5 if the fans had of made a lot more noise, but not many teams are very loud nowadays.
Birmingham City 3-2 Middlesbrough (30/11/12) Attendance: 15,322.
Keep up to date with Dan and his groundhopping exploits through his blog phildanmatt.weebly.com and on twitter @I_am_DJS