Blogger Dan White recalls a below par trip to Huddersfield's John Smith's Stadium.
Ground: John Smith's Stadium 4/92
Game: Huddersfield Town 0-1 Reading
Date: 03/01/2015
Thoughts on the ground:
Upon arriving at the ground, I couldn't help but notice that the ground is based next to a golf driving range. Jokingly, I thought that if the game was dull, I could always practise my golf skills. And just like Doncaster, none of the security at the ground decided to check my bag. So when I sat down in my seat to take a few photos of the players warming up, security was quick to shout at me.
They claim that I wasn't allowed a camera because Sky has banned them. Why has Sky banned them? Security claimed that Sky controls all media that goes in and out of the ground. Why they would ban photography is odd. I can understand banning video cameras but banning photos? They wouldn't even let a couple take a selfie photo of themselves with the ground in the background on their phone to the point where the security guard nearly snatched the phone from their hands and destroyed it. The next bad thing to list was that I ended up sitting next to a guy who had a very bad chest infection. Thankfully, I didn't end up getting one but I wish I did just so I had something to take home as a souvenir. Even the programme looked terrible as it was basically a newspaper.

Thoughts on the game:
The game started and things went from bad to worse. Both teams spent the first half of the game wanting to get into a massive fight. It didn't take long before the referee started showing yellow cards. One for Jamie Mackie after 17 minutes, Tommy Smith after 29 minutes and Mark Hudson two minutes into extra time of the first half. No goals were scored and neither team looked like they wanted to win the game. The fans were more interested in chanting "Chris Powell's Barmy Army" throughout the first half. Because I had such a bad time at the game, I ended up leaving during half time. The only reason why I know about Reading's goal that won them the game and Jonathan Hogg's red card was from keeping up to date on Huddersfield Town's twitter. It's a little hard to try and remember anything else about the game as I became less and less interested as the first half went on.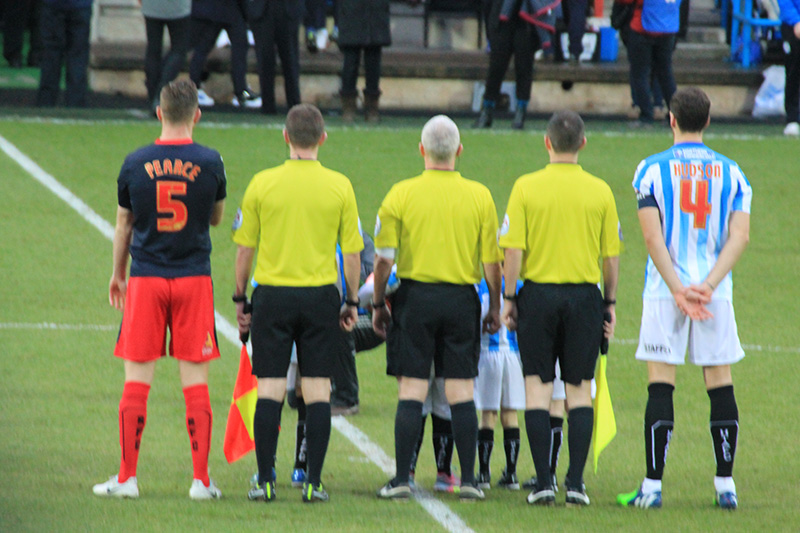 Overall, this is a game I will remember for all the wrong reasons.
Atmosphere 2.5/5
Location 2.5/5: Next to a shopping centre
Value for money 2/5
Pie Rating: Too scared to try 🙂
Pint Rating: Don't drink.
Programme 1/5: It's a newspaper that costs £2
Character 2/5
Stewarding 1/5: No bag checks and stewards were being mean
Overall 1.5/5:
You can keep up with Dan and his groundhopping exploits on Twitter @DanWhite1993 and his the92.net profile here. To see Dan's work from grounds up and down the country head to danwhitephotography.wordpress.com.
Have you ticked John Smith's Stadium off your 92? Add it to your profile here www.the92.net/ground/galpharm-stadium or if you're thinking of going plan your visit there using our away day planner here www.the92.net/plan-your-away-day/galpharm-stadium.