Blogger Rob Tuffnell ticks off a second major ground in a week! This time making the journey down to the bright lights of London following Hull City for the away fixture against Arsenal.
Ground: The Emirates Stadium 51/92
Game: Arsenal 2-2 Hull City
Date: 18/10/2014
Thoughts on the ground:
Fantastic ground; impressive from outside and in – lots of legroom and good views from the away end. Let down slightly by lack of atmosphere (I'm sure it can get noisy when the home fans get going though) and weirdly they seem to employ people to wave Arsenal flags behind each goal.
Concourses strangely quite cramped for such a big ground – but to re-iterate, this is a great ground!
Thoughts on the game:
Very good point, but felt like two dropped. After a fast Arsenal start – and them going 1-0 up – Diame equalised; I didn't see the foul until MOTD later that night, but then I'm not sure anybody other than Wenger and Mertesacker did either (I certainly don't recall any noise from the home fans about it). From that moment on – up until just past the hour mark – it was all City, which was great, especially given we lost our 1st choice striker to injury in the warm up, and our 2nd choice goalkeeper to injury at the end of the 2nd half.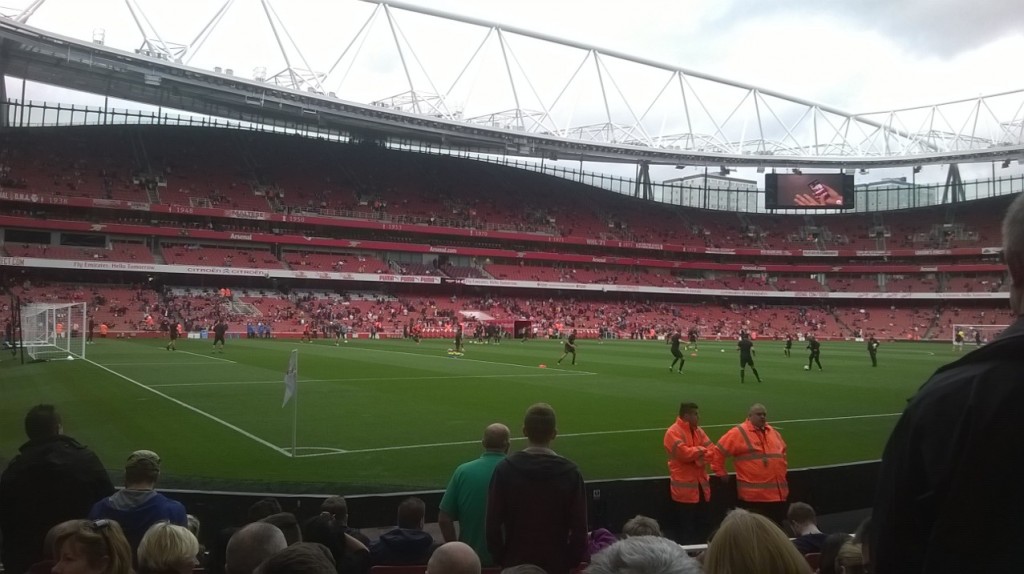 So with City leading 2-1 at the end of the allotted 90, it was only to be expected that 5 minutes of added time was announced (sod's law, right?). In a near repeat of May's cup final, Welbeck equalised; to say he broke hearts is an overstatement, but it was a gutting feeling.
Atmosphere 3/5: When they made noise, very noisy, but chants limited to sporadic "Arseeenaaal" chants.
Location 5/5: About 5 – 10 minute walk from the nearest tube station.
Value for money 5/5: Paid £25
Pie Rating 3/5: Usual football ground grub – marked down because of price and length of queues!
Pint Rating 3/5 Lager and cider – marked down because of price!
Programme n/a:
Overall 4.5/5: Probably the best stadium in the country, with great views, ample leg room, and (if you are not considered a rival) very cheap prices. Loses half a point for the lack of prolonged atmosphere.
Thanks to Rob for sharing his experiences. For the full review and to read more about Rob's exploits following Hull and non league football head to Rob's blog Ground Grab Full
http://groundgrab.net/2014/11/09/arsenal-away-october-14/, you have also follow Ground Grab on Twitter @GroundGrab.
Have you ticked the Emirates off your list? Add it to your 92 here www.the92.net/ground/the-emirates or plan your visit there using our away day planner here www.the92.net/plan-your-away-day/the-emirates.