Newport County fan James Steven makes his the92.net blogging debut making the trip to Kingsmeadow to see the Exiles take on AFC Wimbledon.
Ground: 43/92
Game: AFC Wimbledon 2-0 Newport County AFC
Date: 07/02/2015
Thoughts on the ground:
Since the rebuilding of AFC Wimbledon the side have played their games at Kingstonian's ground Kingsmeadow. It's a temporary ground for the Wombles as they are pressing for a move back to their true home.
As a Newport County supporter through the years I've watched the side claim two promotions. So for me this ground was a bit of a flashback of the old Conference grounds. Not just because of the size and structure of the stands in comparison to the likes of Fratton Park, Gigg Lane or Home Park; but due to the small distance separating the dugout and the supporters.
With 3 seated stands and one terraced, Kingsmeadow holds around 4,720. Away supporters are placed in the Your Golf Travel stand which runs parallel to the pitch. Away fans are segregated into the side leading up to the Nongshim stand. Only two small railings separate the home and away supporters, which leads to some crowd interactions.
Thoughts on the game:
2 hours before kick-off Newport County AFC manager Justin Edinburgh signed for Gillingham; a move that has been on the lips of every County supporter for months. Jimmy Dack took over the side for the tie against a very attacking AFC Wimbledon.
Early into the first ten minutes and the home side were on the front foot with chances slipping just wide. It only took 12 minutes before iconic heavyweight striker Adebayo Akinfenwa opened the scoring with a well-placed header. A low pitch sound of "beast" echoed around the stadium whilst County fans stood silent on the terrace.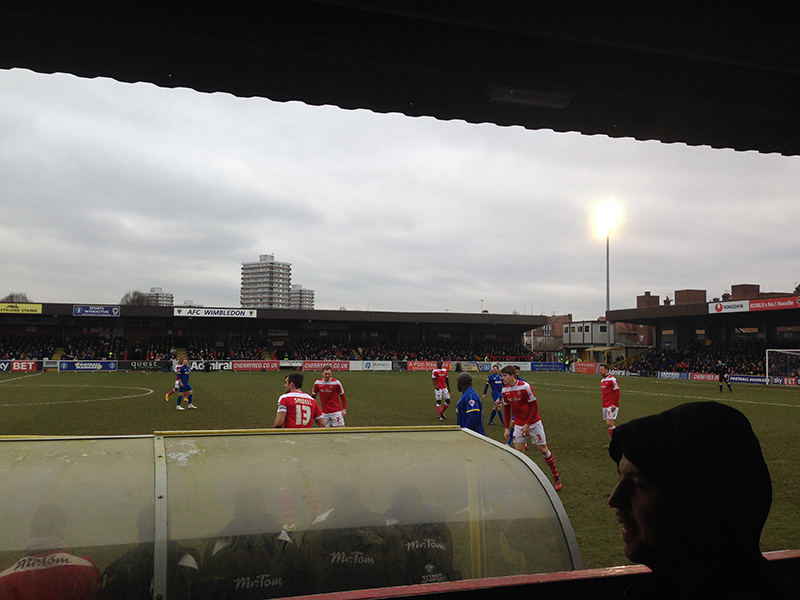 Dack rallied his men to press on for the equalizer, as good build up play allowed Mark Byrne to have a few chances but he couldn't convert them into goals.
County battled in the second half but when Kevin Feely brought down George Francomb in the box it resulted in a red card. An excellent save from Joe Day denied Akinfenwa from converting the penalty, but County had a mountain to climb.
The save was the only time Newport fans had cheered over the last four games, and it encouraged the away side on making a number of chances. But with no finishing touch from the Exiles Akinfenwa popped up again to seal the victory for the London based club.
A disappointing result for Newport County, but as they still hold a play-off place there is plenty of time for a turn of form at Rodney Parade.
Atmosphere 4/5: With the home side being on top, fans were pleased and making some noise. Also having the home fans 5 yards away from the away fans allows for some banter, but some of the Junior Wombles (young fans who are trying to be the next Wealdstone Raider) making gestures and comments isn't for everyone.
Location 4/5: Often London is a pain on matchdays so we tend to get the train in from out of London and travel in. With a station in Norbiton not too far away it's easy to get to. There are also a few nearby pubs, one of which is the Prince Of Wales.
Value for money 3/5: A decent view from where I was and an average price for a League 2 team.
Pie Rating and Pint Rating n/a
Programme 4/5: A good read with interesting look backs to the old Wimbledon. Also a lot of detail given about the away side, which doesn't always appear in most programmes. I managed to get in touch with the team for a section known as 'The Other View', so keep a look out for when your team will be travelling to Kingsmeadow if you fancy writing about your club.
Overall 3/5: A generally good non-league style ground. In comparison to many League 2 grounds you could argue its small, but it inhabits great character for the league and going to AFC Wimbledon stands out in the fixture list.
Thanks to James for taking the time to share he thought on Kingsmeadow. Keep up with James on Twitter @JamesStevens180 and his 92 www.the92.net/my-92?user=1446.
Have you ticked Kingsmeadow off your 92? Add it to your 92 here www.the92.net/ground/rodney-parade or if you're thinking of going plan your away day doing the 92 with our planner here www.the92.net/plan-your-away-day/rodney-parade.