We all know that completing the 92 in vast the majority of cases is a culmination of years if not a life time's commitment. Imagine then sharing that moment with your dad. That's what happened for Stoke City fan James Knowles and his dad Thomas.
Groundsman: Firstly congratulations to you both on completing the 92! Which was your final ground and how did you commemorate the occasion?
James: Brighton & Hove Albion's Amex Stadium. We were in the away end with friends of ours who support Sheffield Wednesday, but we left with a huge soft spot for the home side. Brighton had caught wind that we were completing the 92 and presented us both with printed shirts to commemorate the occasion. It was a highly memorable evening!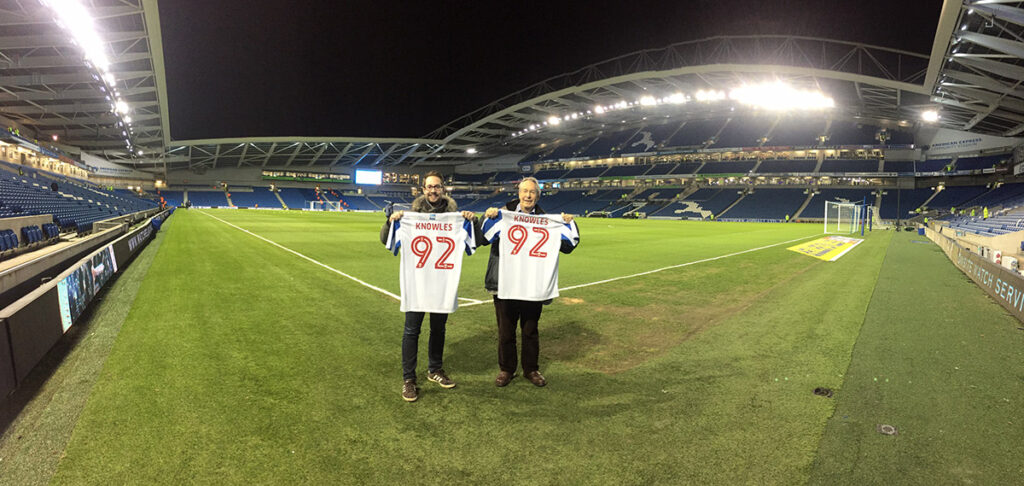 GM: It must have been special to complete the journey with your Dad, how many of the grounds have you ticked off together?
James: It's been a cracking journey and to finish it side by side was extremely special. Dad is the reason I'm a football fan and this was our 84th together – a number that surprised us when we totted it up on the train down south!
GM: What was the first ground you ticked off your list?
James: I'm a Stoke City fan, so the old Victoria Ground was the first professional ground I visited, but of the current 92 Molineux was the first I ticked off back in 1994.
GM: How long has it taken you both to join the 92 club?
James: We probably actively started discussing doing the 92 about a decade ago, but the journey started with my first steps as a football fan 24 years back. When you support a club it becomes much harder to groundhop and tick random grounds off!
Ground 92!! pic.twitter.com/07ONAmhH2Y

— James Knowles (@jtwknowles) January 20, 2017
Come on lads. Another good half please #SCFC pic.twitter.com/ylmzTh8zNX

— James Knowles (@jtwknowles) December 10, 2016
GM: Which ground was your favourite over the course of the journey?
James: I have a huge soft spot for Cheltenham's Whaddon Road (or whatever it calls itself these days). Many of my younger days were spent on the terraces there and it's nice to see the ground retain a large proportion of its character.
GM: And your least favourite?
James: West Ham's London Stadium is a horrible place for football. It was like watching Subbuteo and the palaver of getting to the train station as an away fan after the match was absurd. A huge contrast to the atmospheric Upton Park, the new ground is a soulless place.
GM: What are the lasting memories of your travels?
James: The main memory is sharing something so special with my Dad. It would have been great to do it myself but do it alongside my Dad makes it a hundred times better. The pain now is keeping up to date with the new grounds!
GM: Now you've completed the 92, what's next on the ground hopping front?
James: There are a few tasks – to go to all 92 grounds with my Dad, tick off the grounds in the National League and slowly work my way through the Scottish pyramid.
GM: Finally, as we all know the 92 can sometimes only last a season if relegations and promotions go against you – who will you looking to come up from the National League?
James: Lincoln are looking tough to overtake, but I'm hoping they are as I've not been to Sincil Bank! I have visited the grounds of the three behind them though, so perhaps Lincoln will take an eye off the league with their fantastic FA Cup exploits!
Thanks to James for sharing his story of doing the 92 league grounds with us. To see what James thought of the grounds check out his the92.net profile. You can also keep up with James and his future ground hopping exploits on Twitter @jtwknowles.
the92.net is a free service open to all football fans. Register now to keep track of your 92 plus rate and review the grounds as you go! You never know one day you could be joining James in our 92 club.