The Football Supporters' Federation's Safe Standing Campaign is back in the news thanks to a stream of clubs who have come out in support of the FSF's plans and an MP's Early Day Motion (EDM) in Parliament calling for safe standing trials to be allowed.
It's great news but the FSF also needs action from fans too. It'll only take a few minutes of your time – please visit: www.fsf.org.uk/campaigns/safestanding
Nearly half the Football League already have standing or support the call for safe standing trials while Aston Villa and Peterborough United have told the authorities that they'd like to pilot safe standing areas.
Brentford, Bristol City, Crystal Palace and Hull City have all offered their support in the past week or two. Their names can be added to a list that also includes the entire Scottish Premier League, AFC Wimbledon and Derby County. Of course not every fan knows the ins and outs of the argument – so why does the FSF back safe standing areas?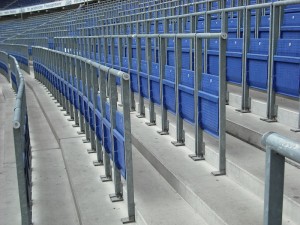 Popular support – nine out of ten supporters back the choice to sit or stand (FSF National Survey 2012). Every week thousands stand in seated areas supporting the team they love – they deserve proper safe standing areas.
Choice – everyone benefits as those who wish to stand can do while those who prefer to sit no longer have to worry about having their view blocked. Clubs should have the choice to introduce safe standing areas if they see fit.
Safety – safe standing can be introduced within stringent safety standards laid down in the Government's Green Guide. The Government does not claim that standing at football is inherently unsafe. This is new technology – any waffle about "going backwards" is rubbish.
Flexibility – UEFA regs mean European competitions must be played in all-seater stadiums. Safe standing areas can be easily converted to and from seating so a club competing in Europe can go all-seater with minimum fuss.
Pricing – in both England and abroad ticket prices for standing areas are typically lower than in seated areas making the stadiums more socially inclusive.
A big part of the FSF's Campaign is education. Not all fans (or clubs and MPs come to that) understand what safe standing's about and a good place to start is to watch the embedded video on the Safe Standing Campaign page: www.fsf.org.uk/campaigns/safestanding
The major misconception is that standing is unsafe. It's not true and the Government acknowledges there is no evidence to suggest it is. Opponents often cite the Hillsborough Disaster but this was caused by appalling policing and stadium neglect (among other things). Neither the Taylor Report nor the recent Hillsborough Independent Panel blamed standing – read more at the FSF's Safe Standing Mythbuster.
The message from the FSF is this – lobby your MP to sign the EDM, sign their petition, tell your mates. These types of things force the powers-that-be into change and you can do it all online in about five minutes from the comfort of your sofa from this link.
The FSF represents more than 200,000 individual and affiliate members (such as supporters' clubs and trusts) and is officially recognised by the authorities. The FSF is free to join: www.fsf.org.uk/join