It's a big welcome back to the92.net blog to Tim Dove! The blogger from the East Midlands has been back on the 92 trail this season 2 years after first completing the 92…
Ground: Wembley Stadium (91/92)
Game: Tottenham Hotspur 1-0 AFC Bournemouth
Date: 14/10/2017

Thoughts about the ground:
Having been to the old Wembley Stadium and having been on a ground tour of the new Wembley Stadium then at long last, the move of Tottenham Hotspur from White Hart Lane gave me a chance to see a club game played at the new Wembley stadium. It was an exciting prospect.
Although built in 2005, Wembley does feel like it has its own character unlike other more recent grounds. Upon exiting the tube station and walking down Wembley way then the stadium and famous Arch are immediately visible and it does build the excitement. Upon reaching the stadium then the bronze statue of Bobby Moore is visible.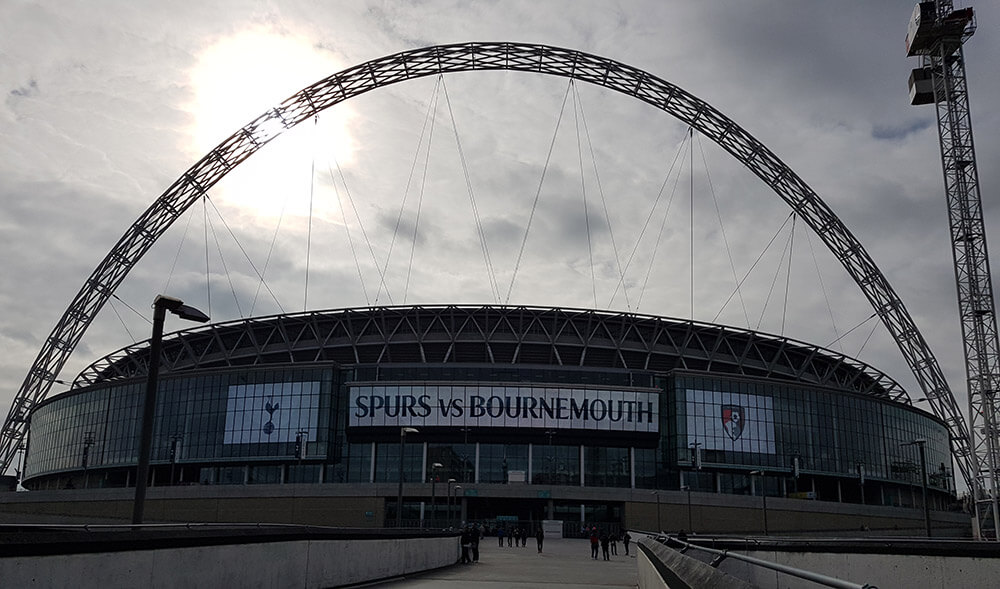 The Arch is the most striking feature of the ground, a white tubular structure (which a quick google search reveals) is 133 metres above it. Although for this daytime match it wasn't lit, the Arch looks even more spectacular against the night sky.
The stadium itself is an enclosed bowl structure and has three tiers, with the sides of the stadium being slightly larger than the ends. The side stands have large upper and lower tiers with a small middle tier which overhangs the lower tier. The executive boxes and lounges are at the back of this middle tier. A large video screen is behind each goal and is built neatly into the stadium. Players enter onto the pitch via the conventional half way line tunnel.
As is typical of large, recent purpose built stadiums then there is plenty of space outside the ground for fans and the usual merchandise and food outlets. Inside similarly, large concourses with plenty of toilet, food and retail opportunities. The seats are again typical modern football ground quality but provide a really fantastic viewpoint.

Thoughts about the game:
Since the temporary relocation of Spurs to play their home games at Wembley for the 2017-8 season it had marked a notable decline in their home results. Bournemouth had also begun the season in an underwhelming manner so it was a case of one side losing an unwanted statistic. Well this was my hope rather than a drab 0-0 anyway!
As it was, it turned out that Spurs won their first home game of the season, with a smartly taken goal from Christian Eriksen at the start of the second half. It was much welcomed as the first half had passed by with little incident.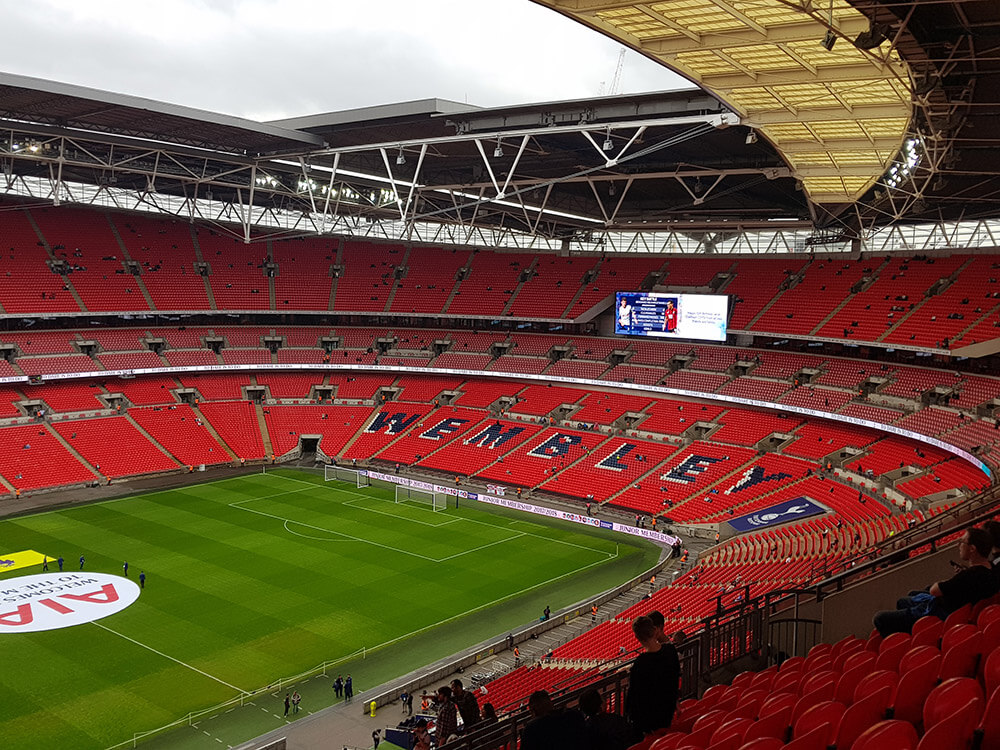 The Dean Court outfit have been renowned under Eddie Howe for free flowing and entertaining football but setup to stifle Tottenham with an initial five-man defence. The central trio of Cook, Ake and Francis in particular were marking the in-form Kane out of the game. The closest to a goal in a fairly uninspiring first half was in fact when Eric Dier turned a Bournemouth corner toward his own goal but Tottenham captain Lloris produced a smart save. Bournemouth keeper Begovic had more saves to make in this first half.
The second half began as Tottenham changed to a three-man defence and within a few minutes Eriksen linked up with Son Heung-min to score what proved the winner. Eriksen then forced Cherries goalkeeper Begovic into a fine save with another well-hit effort from the edge of the box, as Spurs exploited the space left as Bournemouth looked for an equaliser.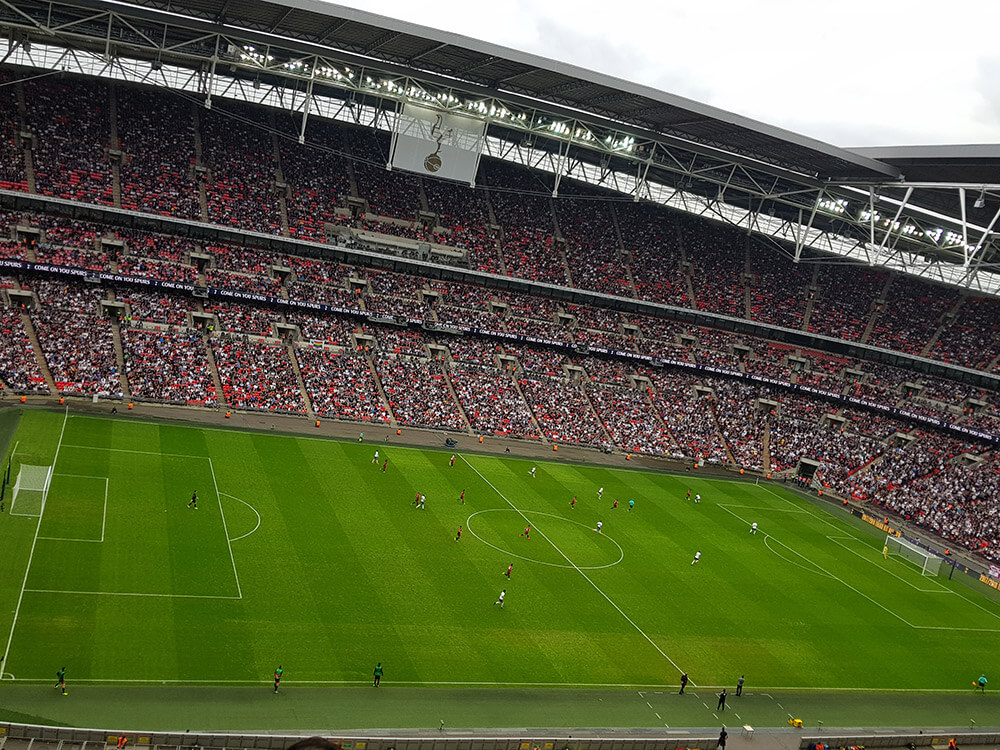 It could have been a more comfortable win, but for Begovic twice denying Kane from close range within the space of a few seconds. It was testament to Kane that he managed to muster six shots on goal under such scrutiny, but those were largely half chances and goalkeeper Begovic was equal to him on the rare moments his defence had not been.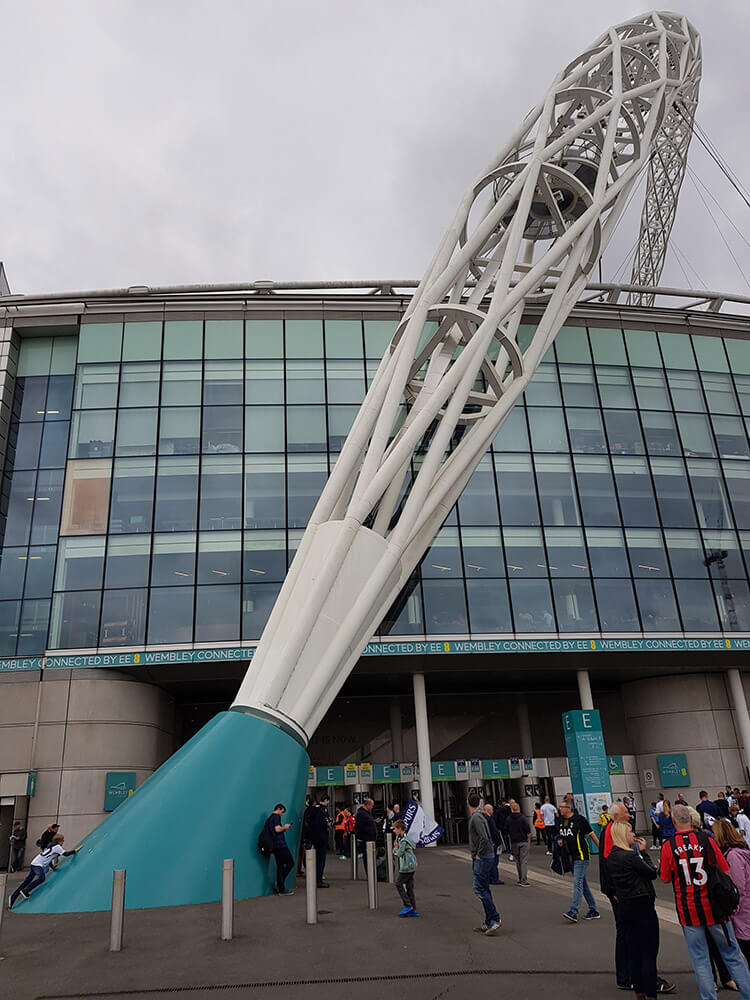 Ratings:
Atmosphere 3/5: A big stadium with no roof always makes it difficult to get a constant atmosphere. Noisy in spells.
Location 4/5: Easy to reach on the Jubilee line after parking the car at Stanmore tube station. A few minutes' walk from Wembley tube station along the famous Wembley Way to the stadium itself.
Value for money 4/5: £38 for a Premiership match at Wembley is good as you can pay that for a worse view at a worse stadium in the Championship.
Pie Rating, Pint Rating n/a
Programme 3/5: Printed on decent quality paper, quite a lot to read although only the usual programme features. At £3.50 it was satisfactory.
Character 4/5: A score based on the impressive size, nature and facilities of the Stadium and the unique Wembley arch.
Stewarding 4/5: Plenty around without being intrusive. The expected bag searches were conducted quickly. Very helpful in providing seat directions.
Overall 3.5/5: Was looking forward to my first match at Wembley Stadium and it was an enjoyable experience and day out. It could only have been improved by a more exciting game of football.
Thanks to Tim for taking the time to share his experiences with us. You can keep up with his future groundhopping exploits on Twitter @garland_briggs.
Do you fancy blogging about your experiences doing the 92? Have you got some epic tales to share? If you're interested drop us a tweet to @the92dotnet.
You can create your 92 and rate and review the grounds as you go with the92.net and it's all free! Register here.