International break, check. The Toon not playing, check. A chance to tick off a new ground, check. Blogger and Newcastle fan Colin took full advantage to reach 3/4 of a century.
Ground 75/92: Cambs Glass Stadium (Abbey Stadium)
Game: Cambridge United 0-0 Stevenage
Date: 25/03/2017

As it was the international break for the top two divisions, including my beloved Newcastle United, I decided this was the perfect time to tick off another ground. The usual text message to my mates asking if they fancied 'a random' wasn't received as well as expected; hardly surprising as it's only me who's interested in completing the 92. Fortunately, my brother-in-law said yes, so I wasn't going it alone.
The next part of the plan was to see where we were going to end up. The nearest grounds left to do were identified as Walsall or Shrewsbury. A little further afield, there was the lure of seeing ex-Newcastle players Shola Ameobi, Adam Campbell and Alan Smith play for Kevin Nolan's Notts County away at Wycombe Wanderers. We decided to keep the fuel costs down we would go to Walsall. However, due to Walsall having international players from Philippines, Afghanistan, Cyprus and Canada all receiving call-ups, that game was off. Next choice was Shrewsbury. Once again, our plan was scuppered due to this game being declared all-ticket, and if you hadn't registered with the club previous to the announcement, you couldn't buy a ticket. We then decided on Cambridge and waited to see if anything would cause us to change our plans again…
Match day arrived without any further alterations and we started the day by tucking away a fantastic cooked breakfast served up by my better half. We set off on the 230 mile journey south down the A1. Just under four hours later we arrived at our destination. I parked in a side street within sight of the floodlights and we headed towards the ground. I asked for our usual dugout photo and even got the bonus mascot photo with 'Marvin the Moose'.
We then headed into 'The Dion Dublin Bar' for a pint. Just under £8 for a couple of pints served in actual glasses seemed a tad over-priced but that's what you get at most places now. The only thing wrong with this bar was the annoying chat of the compere from the neighbouring hospitality suite being pumped in through the speakers. We finished our pints and headed for The Abbey Lounge, only to be turned away as we weren't members. We decided to head into the stadium to find a few bars selling a range of burgers etc and a bottle bar selling alcohol and soft drinks. £3.70 for a bottle was pricey as well.
We bought our tickets for The North Habbin Stand, £16 (as long as you bought your tickets in advance) to stand along the side of the pitch was decent value. Only half of the stand was open, as the south part of the stand is used for overspill for the away fans. To our left was the home end which housed 'The Amber Army'. This was the only area of noise from the home support. The opposite end housed the away fans and fair play to them for making a decent bit of noise; although the drum banging did help. The main stand had all the character of an 'old school' stand.
The game itself wasn't great, some blood and guts challenges were the only things to cheer about. There weren't many chances created and I can only recall about five shots in the whole game. After the game, we decided to let the traffic die down and headed for fish & chips. A huge fish and perfect chips were duly devoured before the long journey home. I arrived back just before 10pm, having added another 464 miles to my trusty Clio, content I had ticked off ground number 75.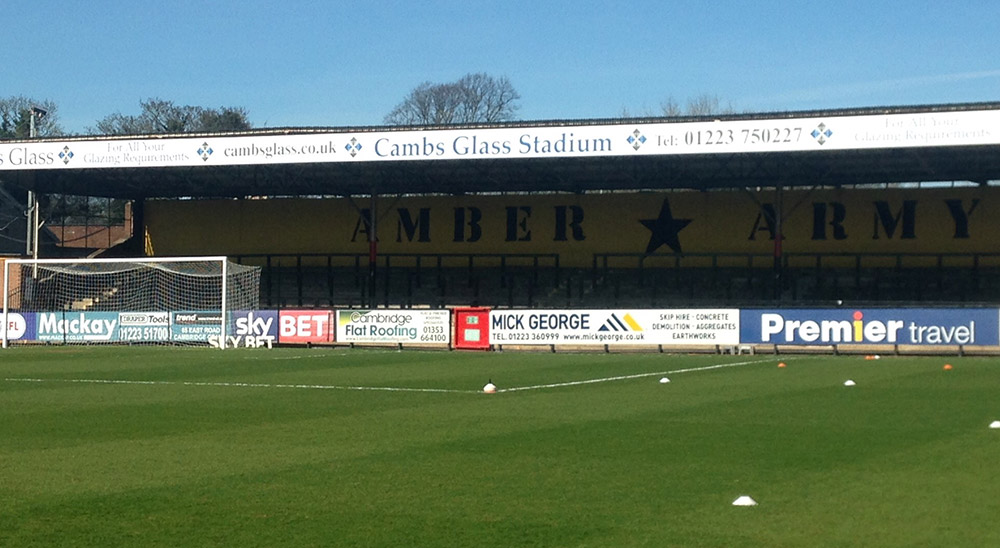 Atmosphere 3/5: not a great game for noise but I think the away fans shaded the volume due to the drum.
Location 4/5: easy to find, but arrive early to grab the side street parking.
Value for Money 4/5: £16 (£18 if bought on the same day) to stand, £22 (£24) to sit is reasonable for League Two.
Programme 4/5: £3 for a decent issue.
Pint Rating 3/5: In the Dion Dublin Bar it was a touch expensive, rating is not helped by the fact we got turned away from The Abbey Lounge.
Stewarding 5/5: Did what was asked of them.
Character 4/5: I do love the older grounds.
Overall 4/5: Good ground, good day.
Keep up with Colin's 92 here and follow him on Twitter @colinpodge. If like Colin you fancy blogging about your experiences doing the 92 league grounds drop us a tweet to @the92dotnet.
Have you made the trip to the home of Cambridge United? If you have you can add the Cambs Glass Stadium to your 92 or if not plan your trip there: