Groundsman: For people that are yet to discover you what is the Stadium Hoppers Football Map?
Richard: The Stadium Hoppers Map is the only scratch football map… in the world! Essentially it's a maxi poster for Stadium Hoppers who are looking to complete "The 92" and those looking for a fun visual way to record it… or show it off! The map has all the current Football League stadia as well as the two relegated sides from last year as well as Wembley and The Millennium Stadium. Each stadium is individually drawn and has the club name embedded onto the pitch.
Groundsman: What's the story behind it – how did you guys come up with the idea and bring it to fruition?
Richard: I had recently got a world scratch map and was really pleased about showing off the places I'd travelled. One night I was sat there wondering how many of the current 92 I had left to complete and thought I'd get a football scratch map to mark them all off so I wouldn't forget… (as a Colchester fan you sometimes want to forget 3-0 losses away on a cold Tuesday night!). I scowered the internet and turns out it didn't exist… I spoke to the other Richard (Blaxall) who now does this with me… and the venture was born!
Groundsman: How has it been received so far by groundhoppers?
Richard: Really well! We're proud to say that the first ever map in existence belongs to Gordon Banks… The Gordon Banks, England's No.1! Through a friend of mine we managed to get in touch with him and when he heard about it he was more than happy to have some photo's with us at The Britannia to launch it!
Outside of former England Legends, the maps also proved really popular, we've had fan's from across the country following us on the @StadiumHoppers twitter and we've even had to post out a map to a Premier League club training ground!
That said we really feel the map is for the "Tuesday night" fan and the "Supporters Coach" fan: those fans who follow their team up and down the country, whatever their teams current league position or form. Obviously it's also perfect for those who are solely out to do "The 92".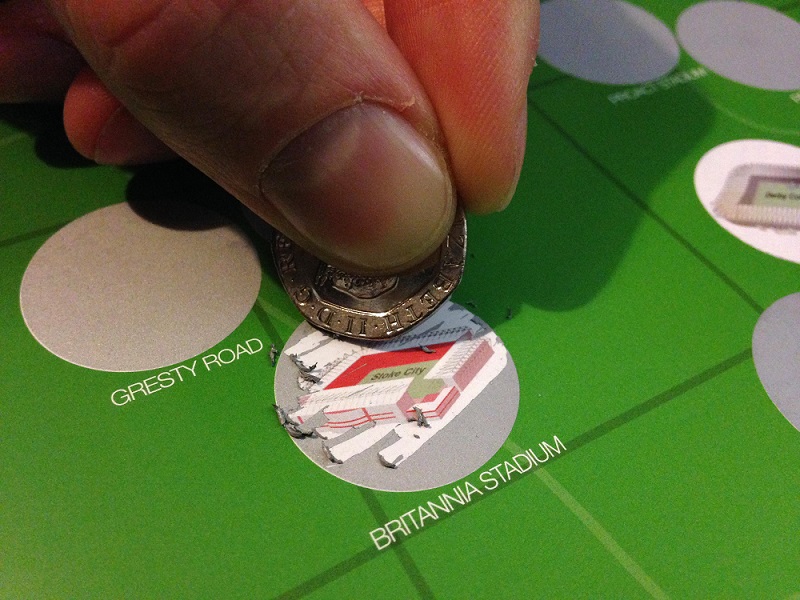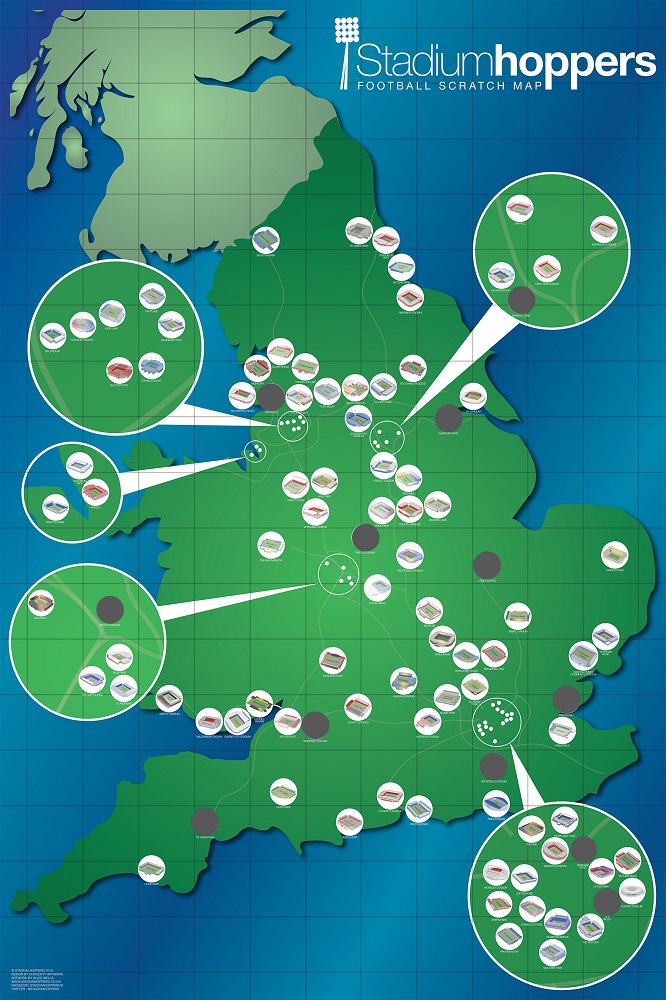 Groundsman: Have you get any follow up groundhopping related products planned or further development for the map?
Richard: We can provide prints of any of the specific stadiums to fans who love the image of their home ground. Also there will be an updated version every year and also plans to help those who have already got a map to keep theirs updated. There is also a Cricket version currently in production and we may well look to branch out beyond that too.
Groundsman: How many grounds have you ticked, or should I say scratched off your 92?
Richard: I have currently scratched off 43, with a few more trips planned! All of Colchester United's opposition being around 4 hours away on average this season hasn't helped! I've managed a good few interesting stadiums abroad though… The Allianz, Nou Camp, Ajinomoto Stadium (FC Toyko) as well as The Arena Pantanal and Estádio Independência at the 2014 Brazil World Cup.
The other Richard is a professional sports photographer so he's always on the road snapping at one stadium or another… therefore he's managed 76, so not many left to go!
Groundsman: What have been your best ground(s)/highlights so far?
Richard: My highlights generally revolve around following Colchester United. The first was back in 2006 at Stamford Bridge when we had Chelsea away in the FA Cup. It really was the magic of the FA Cup that day too as we went 1-0 up against a strong Chelsea side. It ended 3-1 but the whole atmosphere and hope was an electric feeling!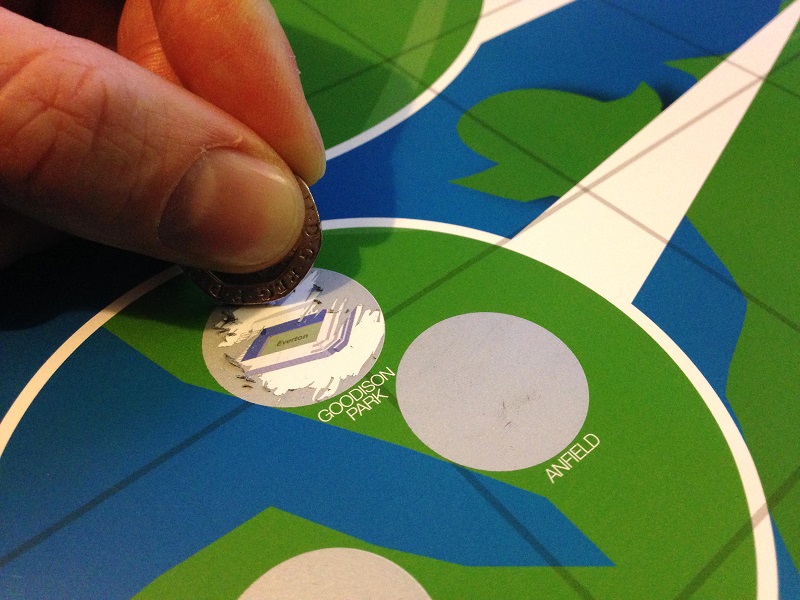 The other was at Carrow Road in 2009. It was the opening day of the season and there was a debate between friends of whether to attend… Norwich had just been relegated to League One and were huge favourites to go straight back up, we were one of the favourites to go down! It was a sweltering summers day but the goals just didn't stop… one after another, after another! I even remember some Norwich ST Holders running onto the pitch to throw their Season Tickets at poor old Bryan Gunn! It finished 1-7!
Also the last match at Layer Road… our last ever match at an amazing ground… Stoke were due to go up into the Premiership where they have stayed ever since and we were relegated back to League One… where we've also stayed ever since… but that day, that didn't matter… it was just an emotional farewell to a ground that had served us so well over nearly 70 years!
Groundsman: And the worst ground(s)/lowlights?
Richard: Southend… Roots Hall… that is all! Joking aside I love every away day, whether it's with my own team or not. I'm a bit of a part-time Arsenal fan and try to go to a few away Champions Leagues games… the worst being the San Siro a few years ago when we were on the back of a 4-0 thrashing… the only good thing was Dermot O'Leary was sat in front of us and he was a really decent bloke!
Groundsman: Finally where can ground lovers get themselves a Stadium Hopper map?
Richard: The map is available from our website www.stadiumhoppers.co.uk and there's a special discount code for followers on the92dotnet. Just enter 92DOTNET at the checkout for a 15% discount. We'd love for people to follow us on Twitter and share their away days! We're also on Facebook and the map can be purchased from Amazon and eBay.