Budding journalist Alex Metcalfe caught up with former West Ham and Manchester City midfielder Ian Bishop to find out about his experiences of the 92 league grounds over a 20 year career.
Alex: What was the best atmosphere you ever played in?
Ian: The old Wembley was up there – or the 1991 FA Cup semi-final at Villa Park, it wasn't the stadium itself, it was the atmosphere created by those West ham fans that made it.
Alex: The worst atmosphere? – a grim one on a Tuesday night.
Ian: The Odsal when Bradford had to play there (following the Valley Parade fire in 1985).
Alex: What was the best surface to play on?
Ian: Wembley was the best – as far as clubs went, Highbury.
Alex: How did Maine Road and Upton Park compare?
Ian: Maine Road and Upton Park were polar opposites. Maine Road was one of the biggest pitches anywhere and Upton Park was tight – but I enjoyed both equally. When Howard Kendall arrived at City the first thing he did was narrow the pitch by 5 yards.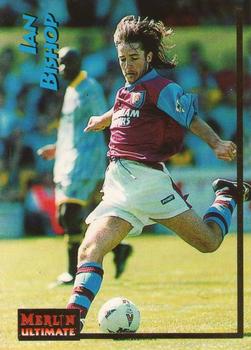 Alex: Were there any grounds you feared visiting at all? Intimidating atmospheres?
Ian: I didn't particularly enjoy The Den, it was intimidating given the rivalry between the two clubs.
Alex: Did atmosphere's change in grounds as your career progressed?
Ian: The introduction of all-seater stadiums was the factor that changed the atmosphere the most in grounds.
Alex: How did the grounds in MLS (Major League Soccer – USA) compare?
Ian: At Lockhart stadium (Fort Lauderdale, Florida) we had a great atmosphere, mainly because the size of the stadium was appropriate to the crowd we had, the others had none. We were playing in the American football stadiums that held 80-100 k and there would only be 15/20k in most.
Alex: What were your proudest career moments?
Ian: My England B cap should've been but it was tainted by the ignorance of certain people, so I would have to say my four promotion seasons – two with each club.
Alex: And finally – a tough one – What was/is your favourite ground?
Ian: Apart from the obvious two, my favourite ground was Highbury. My father stood at the clock end for 17 years before I was born and we won there more than anywhere else in my time at West Ham. I also broke my nose there playing for Man City. I was an Arsenal fan from the age of 6 and Charlie George was my hero so it'd have to be Highbury.
Thanks to Ian for taking the time to speak to us and to Alex for asking the questions. You can follow Ian on Twitter @BishBlueHammer and keep up with trainee journalist Alex by following @Meccers24.