Blogger Michael Pilcher made the longest trip left on his 92 venturing to the North East. In part 1 of a 2-in-1 weekend the groundhopper from Kent's first stop was Hartlepool.
Ground 86/92: Victoria Park, Hartlepool
Game: Hartlepool United 0 – 1 Grimsby Town
Date: 07/01/2017

With Middlesbrough and Hartlepool lying 280 and 290 miles respectively from my Kent home, I really needed a 2-in-1 weekend to get them both done. They looked prime targets for being ticked off over the 14th/15th April Easter weekend, what with that being the only time they were scheduled to play at home on consecutive days. I booked the week leading up to that weekend off work, and it was around my birthday so my wife couldn't complain when I said that's what I wanted to do…then Middlesbrough scuppered my plans. They informed me I wouldn't be able to get a ticket for the Arsenal game on the 15th April due to a) my complete lack of booking history and b) a zero chance of them making it to general sale anyway.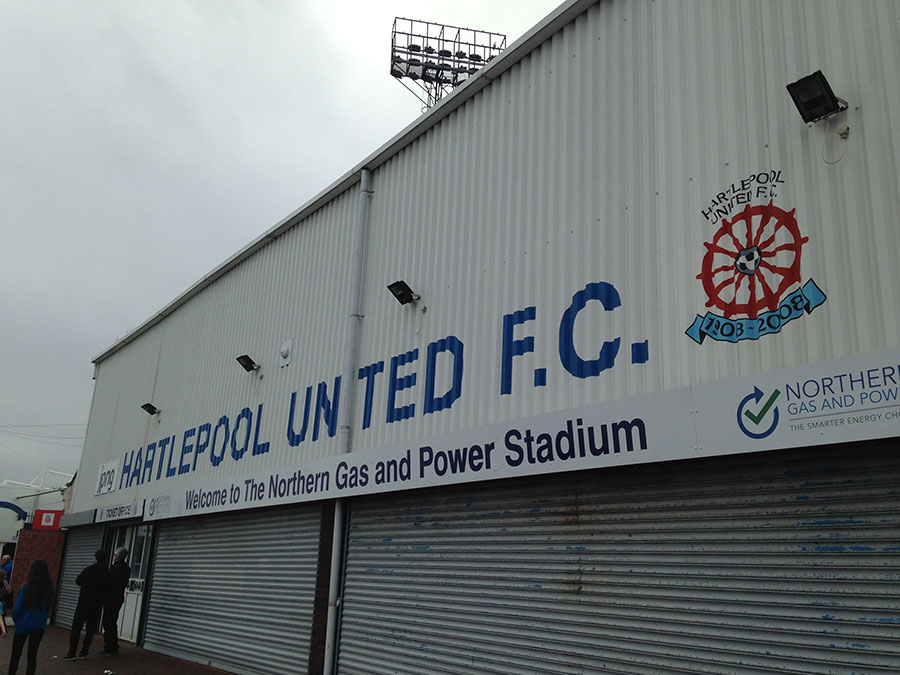 Thankfully, the FA Cup scheduling stepped in to change things: Middlesbrough's FA Cup Third Round game with Sheffield Wednesday was scheduled for Sunday 8th January, and with Hartlepool at home to Grimsby the day before, this was my only real chance to tick them off over one weekend. Still licking my wounds from my disastrous abandoned-at-half-time trip to Rodney Parade almost a month ago, I was slightly wary about booking a weekender away; the newspapers were doing their usual sensationalising of the weather – warning of a cold snap and plummeting temperatures – giving me visions of getting to Victoria Park to be told the pitch was frozen and the game was off. But needs must, and after hastily arranging/persuading family to babysit my offspring, I booked my match tickets and a cheap Premier Inn, and whisked my wife away to the North East.
So, to part 1: Hartlepool. This worked out particularly nicely as my other half has family up the road in Durham, so she spent the day with them leaving me to while away the hours in monkey-hanger town. A fairly easy if foggy journey there found me in town just before midday, taking in the marina initially – where I should have been staying overnight, but my delay in booking hotels meant the price rocketed for the picturesque Premier Inn marina I was aiming for, so I had to plump for the one in Stockton-On-Tees instead.
Hartlepool has a rich maritime history which is celebrated here, alongside embracing their notorious monkey hanging past. Alas, sandwiched in between the marina and the ground is that all-too-common blight on football stadia locations: a retail park. This one must have sprung up relatively recently as a large row of shops next to the marina, looking pretty new, had been deserted, with a sole discount store surviving at one end. The retail park admittedly is pretty handy for cheap eating options if you didn't fancy a pie at the ground, with an Asda, a M&S Food, and a Morrisons which is a stone's throw from the away end. Although apparently the pies at Victoria Park are amongst the best in the football league so you're probably better off getting your nourishment at the ground.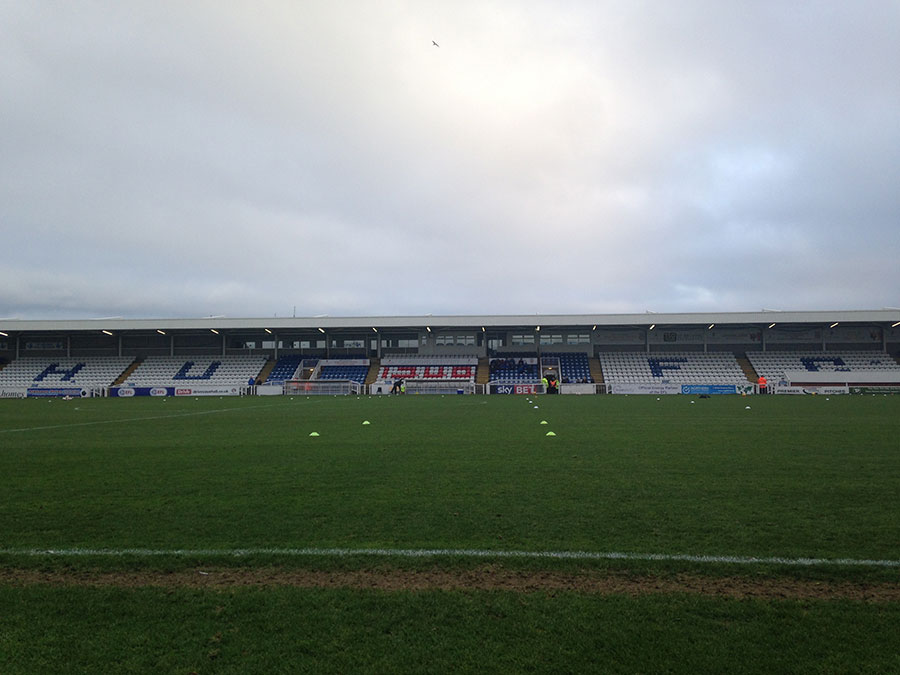 Walking up from the park along Middleton Road, there was something comforting and exciting when I first caught glimpse of Victoria Park along the Clarence Road. Gulls chirped overhead, a bracing sea breeze filled my nostrils with the fresh salty smell of the sea, and the tall towering floodlight pylons directed me to my afternoon's entertainment. The outside of Victoria Park has an impressive retro façade, and some very distinctive 60s style gates. Some portacabins are randomly scattered around the perimeter and in the cramped club car park, and a supporters club pub, The Corner Flag, is squeezed into one corner.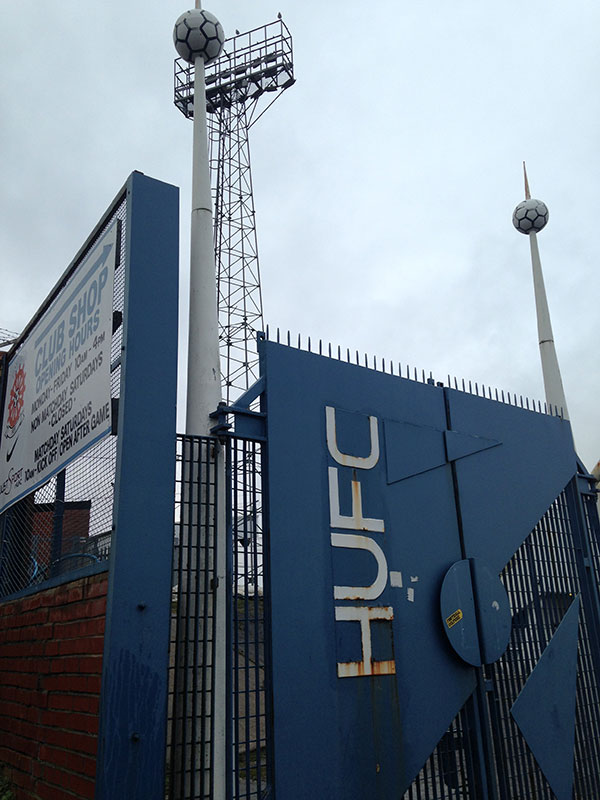 Inside it feels traditional if a little compact. The Cyril Knowles Stand is a fairly modern, single tiered all-seated arrangement decked out in the club colours, predominantly white with blue seats spelling out the club's initials and with the clubs year of formation (1908) in red seats. Behind one goal is the home Town End terrace, opposite the all-seated Smith & Graham Stand which houses visiting fans. It was packed to the rafters with the Grimsby fans taking up the full allocation of seats, which certainly made it a more interesting atmosphere. I opted for the terracing at the front of the Niramax Stand, although I hadn't researched it very well, not realising it was completely uncovered, and the grey clouds indicated a strong chance of rain. At the back of the Niramax is covered seating, oddly made up of orange and green seats, and there were further quirks in the stand not quite running the length of the pitch, and the terracing starting from below pitch level. From this Stand, the mast and rigging of the HMS Trincomalee on the marina poke out from the top of the Cyril Knowles opposite, a constant reminder of the setting.
I was hoping for an entertaining full-blooded fixture, but I was to be severely disappointed. It started fairly promisingly, with Hartlepool managing to cut through Town relatively easily on two occasions only for the chances to go begging. However it was as if someone had told Hartlepool to play like Arsenal, with a squad of players that clearly isn't suited to that style. When in possession they'd get as far as the final third, and from there either play it all the way back to their defence or give the ball straight back to Grimsby's defence. I've never seen one team misplace so many passes, with right-back Richards particularly wasteful and encountering the ire of the home fans.
The Play-Off chasing Mariners never had to get out of first gear, their one shot on goal resulting in the eventual winner. A simple straight ball through the defence found recent signing Adi Yussuf, who took his time before firing low into the bottom corner. At the other end there wasn't much service to Pools' front two of Billy Paynter and Padraig Amond, the latter of whom notched close to 40 goals in Grimsby's promotion campaign last season. Admittedly Pools probably should have had an early penalty when Omar Bogle handled in the area, but the referee wasn't having any of it. The second half was a let-down, Hartlepool panicking whenever they got anywhere near the opposition area. They mustered one shot that was headed off the line but generally never caused much trouble for Grimsby, who enjoyed a pretty comfortable afternoon's work. A missed opportunity for Pool who, rather than gaining confidence from the way they opened up Town early on, just retreated into their shells.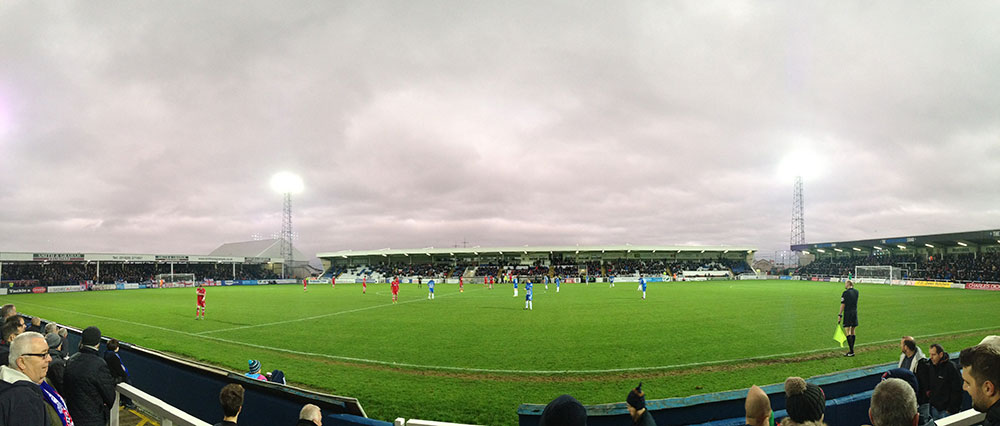 This wasn't a game that will live long in the memory, but as footballers talk of getting a bad game out of the system – "onto the next one" and "we go again" seem to the my team Gillingham's club mottos this season – I didn't have long to wait to get this one out of mine: my next game and ground was less than 24 hours away. The stuff dream ground-hopping weekends are made of.
Atmosphere 3/5: The away end was sold out, with 975 Mariners amongst the 4,388 crowd, and they sang throughout. Top effort, and amazing work from them on the Omar Bogle chant to the tune of Blur's 'Tender'. Pools had less to get excited about and sadly not much came from their fans.
Location 4/5: Good transport links close by and the marina has plenty of interest, with a solid choice of pubs including two around the ground. And a ubiquitous retail park next door. I never quite made it as far as the town centre, the marina, retail park and ground occupying me sufficiently in the hours up to kick-off and post-match.
Programme 3/5: They've gone for quality over quantity – a top effort with lots of great articles, but felt very thin and lightweight for £3.
Stewarding 5/5: No issues, and they let the away fans stand throughout. No heavy-handedness here; more likely they weren't prepared to try and politely ask 975 Grimsby fans to sit…
Character 4/5: A proper ground with plenty going for it. Areas of it in need of a lick of paint perhaps, yet I like that – it doesn't feel sterile.
Value for money 3/5: £19.50 for uncovered terracing. Nice to be able to stand on traditional terracing although felt a bit overpriced, especially with a £1.50 fee chucked on top of the £18 ticket cost.
Overall 3.5/5: A great ground set in a historic maritime town. The packed away end helped proceedings, but the poor match wasn't conducive to a good atmosphere.
Keep up with Michael's 92 here and follow him on Twitter @michaelepilcher. If like Michael you fancy blogging about your experiences doing the 92 league grounds drop us a tweet to @the92dotnet.
Have you made the trip to the home of Hartlepool United? If you have you can add Victoria Park to your 92 or if not plan your trip there: