A trip across the bridge for Adam Thurston as he heads to Newport to Rodney Parade as the Robin's fly into town.
Ground: Rodney Parade 8/92
Game: Newport County 1-1 Cheltenham Town
Date: 13/03/2015
Thoughts on the ground:
Onto my second League Two game of this season, both involving the red and white's of Cheltenham Town. They've had a very disappointing season thus far and there is definitely a lot of room for improvement. The home game vs. Bury last month showed that they could battle but they didn't have that cutting edge to prevent a 2-1 home defeat.
Their opponents tonight are also going through a bit of a tough patch with 3 defeats in the last 4 with only 1 goal scored in that period, Newport – the team I will be supporting this evening. They will both be hoping to avoid another defeat in this game for different reasons; Cheltenham hoping to stay in the Football League whilst Newport are hoping to get the three points to exit League Two in the opposite direction to Cheltenham.
The ground itself has definitely got that rugby feel. The supporters areas either end are a fair distance away from the goals and it is mainly standing terraces with only one fully seated stand. Squeezed into that all seater in one corner are where the away fans are located, at least they are under cover to be fair which is more than can be said to those who buy a ticket behind the goal.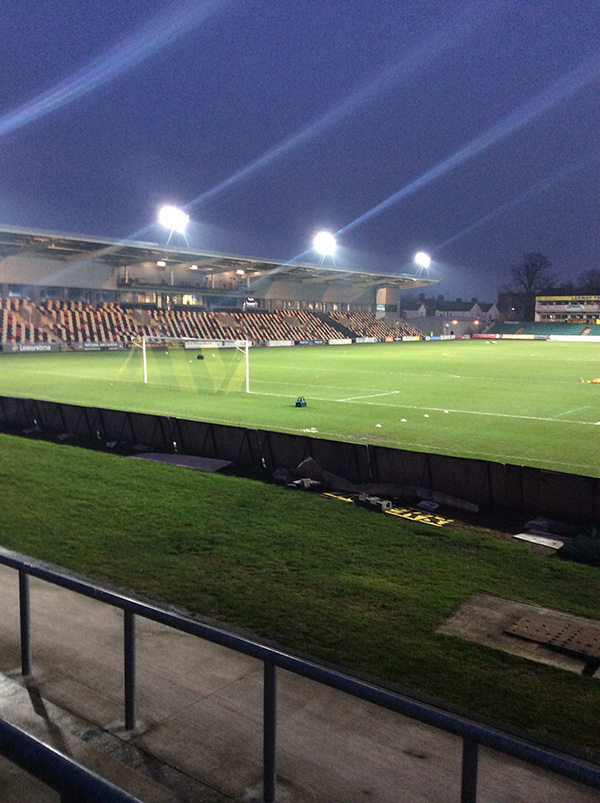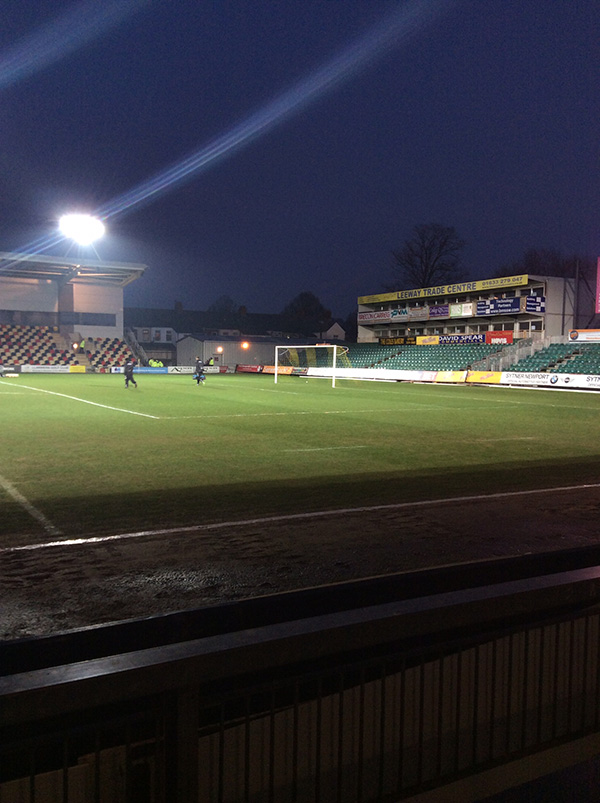 The quality of the pitch, seeing as it is used for both football and rugby, is surprisingly good. It was a good, flat pitch that could be mistaken to a pitch in the higher divisions at the start of the season. It boded well for a good, open game in which the ball could and probably should be kept on a the wet pitch.
Thoughts on the game:
It was certainly better than the last time I watched Cheltenham Town in their 2-1 defeat to Bury, but it still wasn't a game that will live long in memory. It started very quietly with limited chances at either end.The first decent chance (how it became a chance i'll never know) came after 13 minutes when some terrible defending by County let in Wes Burns who simply had to round the keeper and put Cheltenham ahead to the delight of the following support.
To be fair to Newport, they continued to put pressure on the Red and Whites and the fans continued to get behind the "Amber Barmy Army". This continued until the 38th minute when some brilliant work down the right hand side by Ryan Jackson led to a cross and looping header which snuck over the keeper and into the bottom corner to reward the pressure by the Welsh side. So 1-1 at the break was a fair result.
The second half continued on from the first half and again, there were limited chances and none of the half-chances ever troubled either goal keeper. There was probably 2 shots each for either side and they were all either wide of the mark or straight at the goalkeeper.
So there really isn't much else to report on this game other than the draw was the fair result but was the result that neither side was looking for. Newport may look at it as a point gained towards promotion but it leaves them chasing the play-off places rather than looking over their shoulders. It is however a relatively good point for Cheltenham who move 2 points clear of the relegation zone.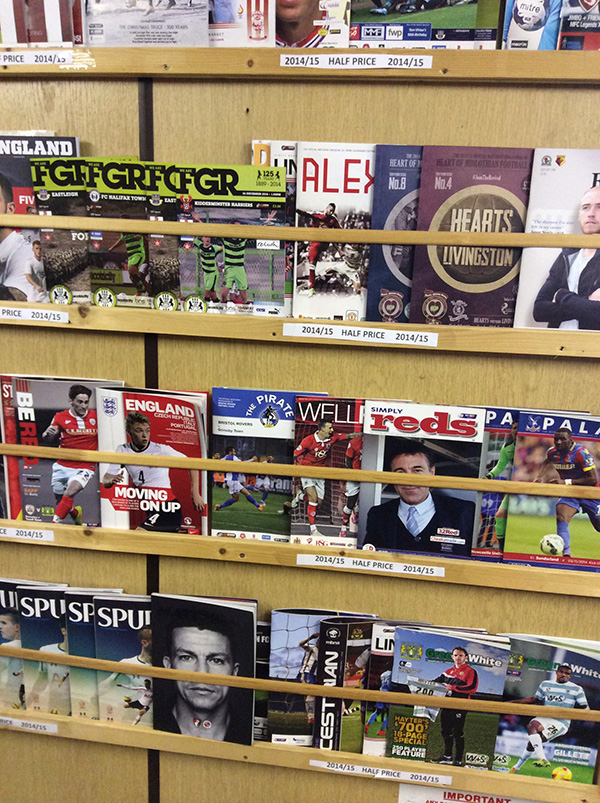 So that's two of the three Welsh stadiums complete for me and I look forward to completing the third, Swansea City as soon as possible. However, if I don't do it quickly I may have to start saving up to do it, not the ticket, but the bridge. £6.50?!?! Unbelievable.
Atmosphere 3.5/5: There were about 20 Newport fans who sung their hearts out throughout but if it wasn't for them it would of been very quiet.
Location 2/5: Newport isn't a place i'd been to keen on spending too much time in.
Value for money 3.5/5: £12 isn't too bad for a concession ticket. (I'm a student)
Pie Rating and Pint Rating n/a
Programme 2.5/5: £3.50 is one of the most expensive programmes i've bought but it was bought from a brilliant, small retro programme shop at the stadium.
Character 3.5/5: Some good fans, a good manager and a pretty decent club. Stadium will need to improve if promotion is around the corner.
Stewarding 5/5: Very good, great banter and dealt with the fans who escaped the away end after the first goal.
Overall 3/5: A decent evening at an okay game at a good club with good beliefs.
You can keep up with Adam's journey by following him on Twitter @athurston_1996 or on his the92.net profile here. Have you ticked Rodney Parade off your 92? Add it to your 92 here www.the92.net/ground/rodney-parade or plan your visit using our away day planner here www.the92.net/plan-your-away-day/rodney-parade.