Now i'm sure every football fan at sometime has had their own beef with Sky Sports. However there are occasions, especially for those of us doing the 92 league grounds, where it can work in our favour. That was the case for Newcastle fan Colin Harrison who took full advantage of free Saturday afternoon…
Ground 69/92: Proact Stadium
Game: Chesterfield 0-5 Wycombe Wanderers
Date: 03/12/2016

With my beloved Newcastle United being robbed by some poor refereeing at Forest on the Friday night, I had found myself with a spare Saturday to tick off another ground.
Three of us jumped into my trusty old Clio and headed approx.150 miles south to Chesterfield's Proact Stadium to make it 69 out of 92 for me. There was an FA Cup 2nd Round tie taking place, with the added lure of a ticket for a tenna. As usual we got there early to attempt our dugout photo. We parked in the stadium car park for £7, a bit steep considering the price of a ticket. We were allowed in for a photo, and escorted through the players entrance, and down the tunnel (always a bonus) and the photos were taken. We made our way back out of the stadium, and found a pub right outside the ground till kick off neared.
With only 30 minutes till kick off, we headed inside the stadium to sample the pies, and read the programme. The pie was so hot, it was impossible to taste. The programme was poor. It was wafer thin and cost £2. I don't know whether this was because of the low profile cup match or not.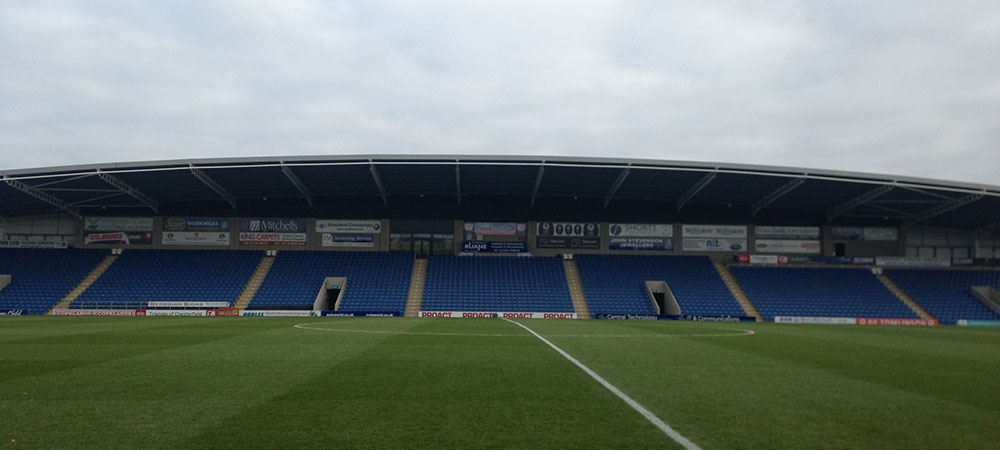 The match itself was a struggling League One side at home to a mid-table League Two side. If you didn't know which team were which, you could quite easily have got them wrong! Wycombe easily won 5-0. Fair play to the travelling fans as they never stopped singing (and banging their f***ing drum!) all game.
At half time, as Wycombe's striker Adebayo Akinfenwa was warming up, I called him 'Fatty', his response was a huge smile. At the end of the game I waited near the dugout in order to ask 'Fatty' for a photo. He duly obliged, not before he gave me a bear-hug. I soon realised there wasn't an ounce of fat on him, just pure muscle. Such a great sport, no wonder he has legendary status wherever he plays.
@daRealAkinfenwa hey Fatty, thanks for the photo!! pic.twitter.com/pxpg6PHyqo

— NUFC Podge (@colinpodge) December 3, 2016
Atmosphere 4/5: All the noise come from the away fans, which is hardly surprising looking at the result.
Location 4/5: Straight forward enough, parked at the stadium, which didn't cause too much problem trying to get out.
Programme 2/5: £2, a fairly poor effort to be honest. Not sure if that is the norm for a league game.
Pie 2/5: Too hot to taste.
Pint 3/5: Didn't have a pint inside the ground but the pub opposite was ok.
Character 3/5: A decent ground for that level.
Stewarding 4/5: Always willing to help but they didn't seem to know where to buy a programme from…
Value for money 4/5: £10 for a ticket was great, a bit pricey to park though.
Overall 3.5/5: A decent ground, obviously as it was a cup game the attendance was fairly low, even with half price admission.
Keep up with Colin's 92 here and follow him on Twitter @colinpodge. If like Colin you fancy blogging about your experiences doing the 92 league grounds drop us a tweet to @the92dotnet.
Have you made the trip to the home of the Spireites? If you have you can add the Proact Stadium to your 92 or if not plan your trip there: