Blogger Tim Dove makes the long journey to Cumbria to tick off Brunton Park, the home of Carlisle United and in doing so join the much coveted 92 club.
Ground: Brunton Park 92/92!
Game: Carlisle United 0-1 Newport County
Date: 26/09/2015
Thoughts on the ground:
So, this was it. Ground 92. Left deliberately so as to attend a traditional ground with football history as the last ground. A ground with terracing and located within walking distance of the town centre. Having completed my attendance at the 91st ground in the opening weeks of the 2015-6 season then it meant I had plenty of chance to pick a game with a 3pm Saturday kick off too. It would be honouring football tradition as much as possible at my "ground 92".
Having arrived several hours before kick-off so as to enjoy the occasion and allow contingency in case of motorway delays, I drove past Brunton Park on the way into Carlisle. It didn't disappoint. Floodlights rose above terraced houses and a club shop was visible on the roadside. The excitement was building.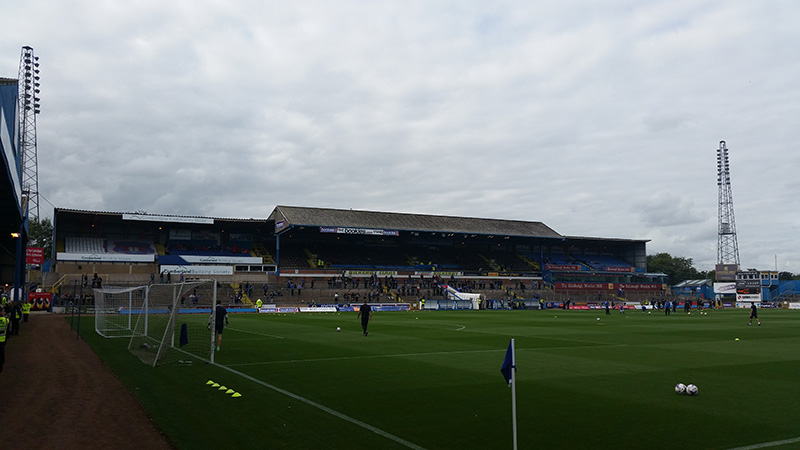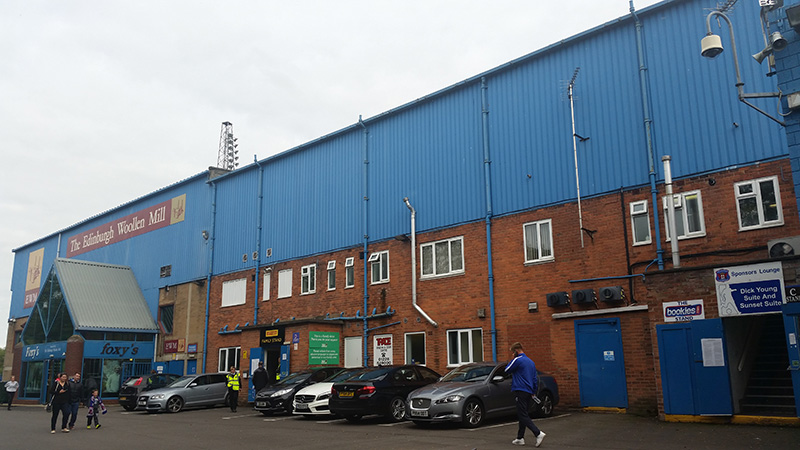 I approached the ground from the main entrance from the road and this is where the club shop is located. It is quite a large sized shop and quite organised compared to some clubs in League 2. By the club shop steps there is a statue to former player Hughie Mcllmoyle, who in 3 separate spells for Carlisle scored 76 goals in 175 games. I moved round from the statue and walked toward the ground to collect tickets and the first sight was the back of one stand with a sign "Home of Carlisle United" and below it "Welcome to Brunton Park". A perfect photo opportunity.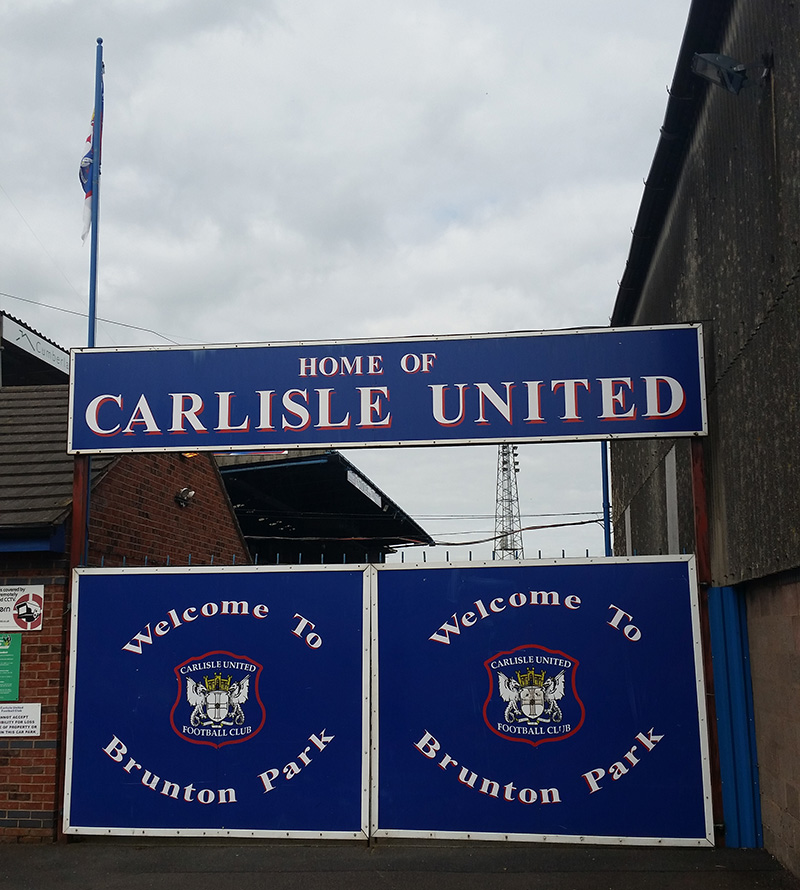 The Pioneer (East) Stand on one side of the pitch is a covered all seated stand with windshields at either end. The club colours of blue and white are used in the seating, with CUFC visible in white seats amongst the blue seats. It looks quite smart and is clearly the most recently built. This stand was opened in 1996. The exterior of this stand is quite impressive for a League 2 club.
Opposite to this is the Main Stand. This has many interesting features and looks as if it has been built in 3 stages. The central part of the Main Stand was built in 1954 and the wings added later. The wings are different sizes and therefore have different numbers of seats in them. The wings have slightly angled roofs whereas the roof of the central section is pitched in the middle. The roof of each part covers the seated section underneath them but this doesn't extend to the paddock terraced area which extends the length of all 3 sections. The players tunnel and team dugouts are located at the front and middle of this stand.
Behind each goal is a terrace. The Petterill End (aka The Waterworks End) is a small open terrace. This is only opened for games with larger attendances. Unusually for a terrace there is a small section of seating located to one side. At the other end of this terrace is a small hut which houses the Security Control, and beneath this is a small electronic scoreboard – this works for both the match score and as a timer during the game.
At the other end is the Warwick Road End terrace. This is a large covered terrace. Fans enter from the back of the terrace and climb some steps onto it before choosing their spot to watch the game. Plenty of barriers were around to find a good leaning spot. The most unusual feature of the Warwick Road End is the roof which consists of 3 triangular sections. The centre section of these 3 is the largest and on this is displayed a large club crest with a big banner displaying the club name.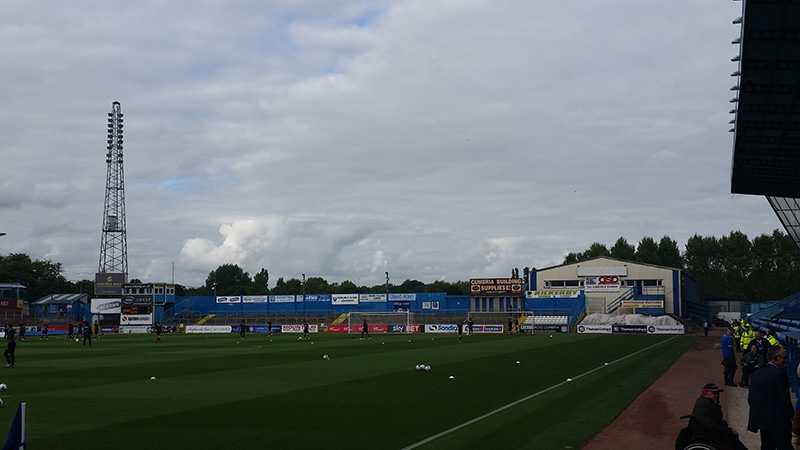 The ground is completed by 3 floodlights, each located in a corner in typical traditional position. The corner without a floodlight is between the Petterill End terrace and the Pioneer Stand. These are unusual in the aspect that lights are mounted up the side of each floodlight rather than the normal rows of lights at the top of each pylon.
Having arrived in plenty of time to savour the match buildup it was a good opportunity to walk around the ground. A steward saw our interest in the ground and allowed us onto the Petterill End terrace which was otherwise closed to take pictures. Having mentioned to him and also the staff serving us in the club shop that this was ground 92 they couldn't have been more welcoming and helpful. A real credit to Carlisle United. Also, must say a "thanks" to Carlisle United for featuring me in the programme to mark the completion of visiting all of 'the 92' football league clubs.
So that was the first time that I'd complete "my 92" football league grounds. I could say it was an "amazing" or "incredible" experience but words don't really do it justice. Was it worth it? Absolutely. Would I do it again? Well, I'm revisiting some of my earliest grounds and already looking forward to the promotions from the National League next season.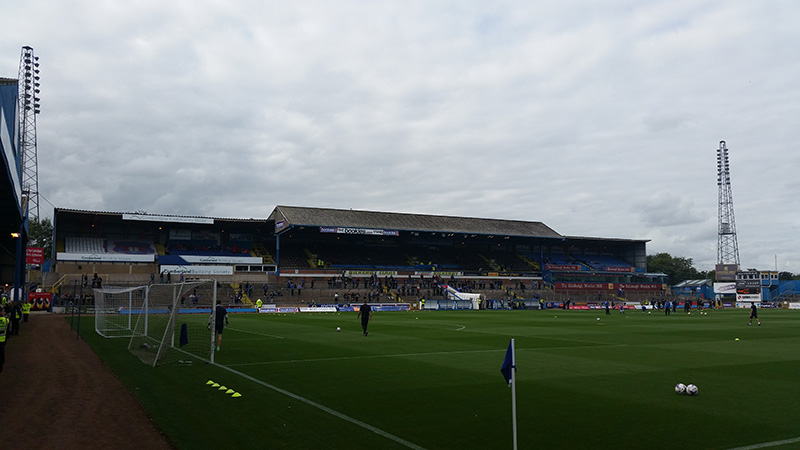 Thoughts on the game:
Carlisle had performed heroics just days before by taking Premiership giants Liverpool to a League Cup penalty shoot-out at Anfield. After their exertions, Carlisle manager Keith Curle made 7 changes to the first team but this understandably disrupted the League 2 top scorers out of their regular rhythm. It allowed Newport to claim their first away goal and first league victory of the season at the expense of the misfiring Cumbrians.
Carlisle United began in confident mood just after kick off, playing short and quick passes to feet. A winding run from Gilliead from deep had the visiting defence stretched and touches from Asamoah and Balanta helped Gilliead to reach the edge of the box. He shot on the run but his effort was blocked at source. Shortly after, Brough found space on the left wing and his cross was just an inch over a jump from Ibehre. Gilliead retrieved it and he beat his man before drilling a low shot across the face of goal. A quick turn from Balanta 30 yards out left his marker on his heels and the fierce shot which followed was just over and it dropped onto the roof of the net.
Newport held their shape and they almost scored against the run of play when Parselle pounced on a high clearance. His shot had Gillespie beaten but it curled an inch wide of the right goalpost.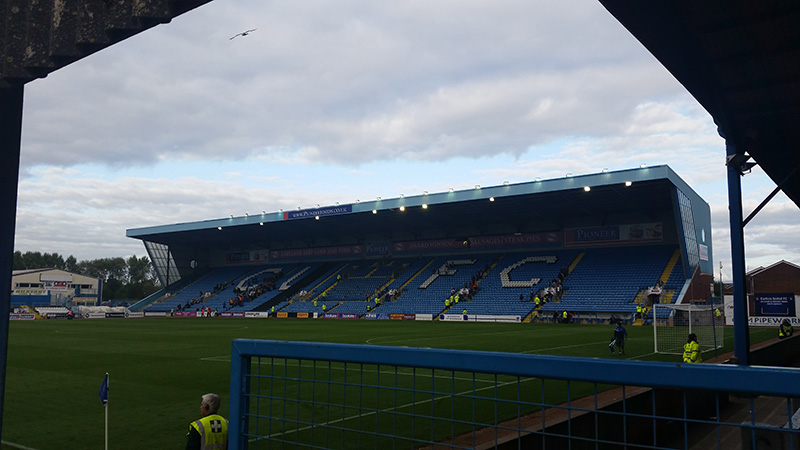 More direct attacking play from Gilliead brought another excellent shot and Day had to spread himself to beat it away with both hands. The match then developed into a period of midfield inactivity and this stifled any sign of significant attacking play before half time.
Carlise began the second half again playing good football and had a few half chances. The first real chance of the second half went the way of Newport when Collins popped it wide for John-Lewis to overlap. Gillespie raced off his line and the Carlisle keeper did well to make an important save as the ball threatened to squeeze under his body.
Newport held their shape and eventually burst out with devastating effect when John-Lewis and Donacien opened things up on the right side of the pitch. An arrowed cross was met by Blackwood and his glanced header zipped into the roof of the net via a touch from Carlisles Raynes.
Carlisle tried to respond with Archibald-Henville heading over from a deep set piece and Gilliead lobbed one over as he tried to turn a long ball into a goalscoring effort. Asamoah should have scored with less than a minute to go when he found himself behind the back line, but his touch dropped into the side netting. Osei should have done better from a Gilliead cutback when he had the width of the target to aim at. He tried to place it into the corner but instead put it inches wide.
Carlisle keeper Gillespie went up for a late goalmouth scramble but Newport held out for the victory as shots were blocked and headers missed.
92 #doingthe92 pic.twitter.com/BEJwbjBjrc

— tim dove (@dovet1975) September 26, 2015
Atmosphere 3.5/5: Home fans got much noisier in the second half; no noise heard from the few traveling Newport fans. Did see them celebrating their first away goal of the season enthusiastically!
Location 4.5/5: Close to town, 15 minute walk from train station, street and commercial parking available. Just a few minutes from M6 motorway.
Value for money 3.5/5: £16 for 1 goal in a game with numerous chances
Pie Rating and Pint Rating n/a
Programme 3.5/5: Standard articles but only £2. Great article on groundhopping and "Doing the 92"!
Character 5/5: A relatively new stand, a covered terrace, an open terrace, a stand built in 3 different periods that has seating and terraced areas, and 3 floodlights.
Stewarding 4/5: Enough to be helpful but no problems. Very friendly to chat with.
Overall 4/5: A treat of a ground in a pleasant town. Only shame was that there weren't more goals.
Keep up with Tim as he continues his groundhopping adventures on Twitter @dovet1975. Have you ticked Carlisle's home off your list? Add it to your 92 here www.the92.net/ground/brunton-park or plan your visit using our away day planner here www.the92.net/plan-your-away-day/brunton-park.