You may recall last year we spoke with the guys behind the fantastic Stadium Hoppers Map. Fast forward a season and we thought it was time for a catch up!
Groundsman: How did you guys keep busy over the summer?
Richard: Well whilst the season was done a good Stadium Hopper never stops! We had the opportunity to play at Kenilworth Road just after the season closed and managed to get to a couple of new grounds over the holidays too… However, our main focus has of course been planning the new Stadium Hoppers scratch football map for the new season and how we could keep the map modern, create some new features whilst maintaining the style that saw the map so well received by football fans across the UK last season.
On top of that we really wanted to find a way to launch the map in the same style and quirky manner as we did last year so we thought we'd attempt what we called the London Stadium Challenge, attempting to visit every London based club (with the exception of Wimbledon as it's now so far out) in a single day.
GM: How did the idea come about?
Richard: We came up with various ideas, last year we were fortunate enough to get Gordon Banks to launch the map with us and we decided if we followed a similar vein of getting a footballing legend on board to showcase the map with us we'd have to get Pele, Messi or Ronaldo to do it with us… and sadly none of those were available!
Therefore it was back to the drawing board! Both of us are what we'd call "proper football" fans, happy to stand on a roofless terrace on a cold Tuesday night away at Brentford to see our side lose 4 nil, but likewise we both appreciate the beauty of a seemingly perfect arena such as The Emirates in a Champions League tie on a warm summers night. Therefore that got us thinking… how can we engage fans in the new map, showcase it, and also illustrate our appreciation for all types of football and stadium alike… that's where the London Stadium Challenge came up. We love Stadium Hopping so why not attempt a challenge where we can embrace all grounds and have a challenge element involved!
GM: How did it go?
Richard: Brilliant! Although we would say that! That said your readers can check it out themselves, we tagged all the tweets from the day with the hashtag #LDNStadiumChallenge. We got around 150 new followers on Twitter for our escapades and a great following and engagement through both Twitter and Facebook, particularly towards the end spurring us on, which I have to say made a huge difference!
The day genuinely was a challenge, we left Colchester at 8am on the first train out of our local station and didn't return home till the penultimate train of the day which arrived in Colchester gone 1am! We travelled nearly 20 miles on foot and only stopped for food once during the entire day. Whilst we had timed a prepped a lot of the route it was difficult not to trail behind our own times as we admired and ridiculed grounds… depending on their beauty and the clubs they were home too!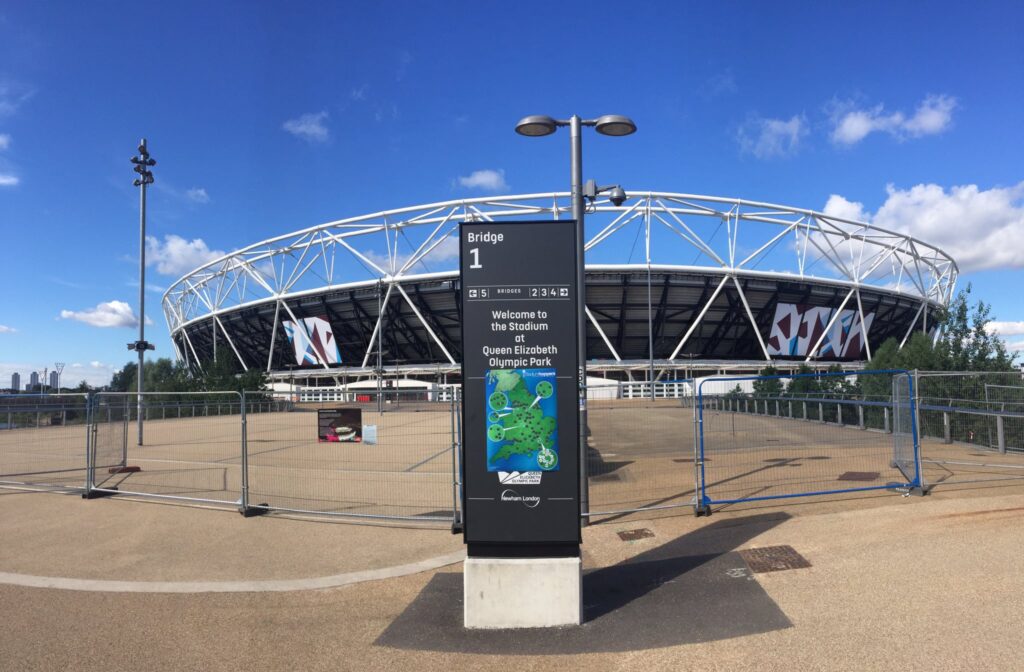 Our aim was to leave the new poster on every ground in London, whilst we visited them all and had a photo with the poster on each we weren't always able to leave it there. We were chased off at Wembley by two oversized bouncers who just went round and round Wembley in a golf kart all day, and were politely asked to leave Chelsea FC by a Russian security guard reminiscent of a James Bond villain!
Seeing small clubs like Barnet thriving at a new ground and comprehensive facility was great and the morning Olympic Park walk between West Ham and Orient, two very contrasting clubs was glorious. There were so many little anecdotes and tails of the day which we've written up in full and the whole story will be on the @StadiumHoppers Twitter account and website so please do give it a look!
Delighted 16/17 map launch! Available: https://t.co/FUOAsIIJKp as seen on Londons top grounds! #LDNStadiumChallenge pic.twitter.com/06dFVv8j31

— Stadium Hoppers (@StadiumHoppers) August 1, 2016
GM: What are your groundhopping ambitions for the new season?
Richard: We are both fortunate enough to travel around football grounds with our day job, and with our club Colchester United being relegated into League Two this year it's a chance to check out some new grounds, and revisit some old ones we used to know well. Carlisle's Brunton Park is on the hit list as is Morecambe's Globe Arena. I'd love to scratch off The Cottage this year if the opportunity arises as it was a lovely visit on our Stadium Challenge.
Massive thanks to all who've tweeted us today! 2 Stadium Hoppers, 13 Stadiums, 40k steps, 19 miles, 1 #LDNStadiumChallenge ETA home 1am!

— Stadium Hoppers (@StadiumHoppers) July 31, 2016
GM: Where can we get hold of the new edition map?
Richard: The map is available from our website – www.stadiumhoppers.co.uk or also available from Amazon and eBay. It features this years new additions to "The 92 as well as last years two relegated sides and both national stadiums, Wembley and The Millennium Stadium. There is a slightly new look to some of the map and it now shows were grounds are currently under development, as well as showcasing the National Football Museum and St Georges Park. There's also a special discount code for followers of the92.net – just enter 92DOTNET at the checkout for a 15% discount!
We also launched the new Cricket map this year which can also be purchased from the same site and were constantly getting feedback for a Scotland map and non league map amongst others. Our friends in Scotland have even started a change.org petition to get one developed!