Blogger Michael Pilcher took a walk back down memory lane heading back to one of his first ticks off the 92. The Valley was the destination as the ground hopper from Kent revisited the home of a club moving in the opposite direction to his original trip in the mid-nineties…the troubled Addicks.
Ground 2/92: The Valley
Game: Charlton Athletic 2-0 Port Vale
Date: 19/11/2016

Whenever I look at my 92 Club application form – I update it after each visit, all set for that glorious day when I tick off number 92 – there are some grounds early in the run that don't sit quite right. There were stadiums I did either as a schoolboy or as a student in the days before everyone had cameras on their phones, and when the phrase "doing the 92" wasn't part of my lexicon. While I had the (hazy) memories of and programmes from my visits to The Valley, Stamford Bridge, Pride Park, and Elland Road, I had no photographic evidence of them – why oh why didn't I take along my old 35mm Olympus or a disposable to capture these places with a few pictures? I ended up re-doing Deepdale in 2013, ten years after my first visit, for that reason, and had harboured ideas of re-doing the other four at some point if the opportunity arose. In my 'Journey To The 92' photo album on Facebook those four grounds just have photos of programmes and tickets, and the completest in me wanted that rectifying.
This was a thought that had re-occurred to me recently, and last week my boss informed me that her Charlton season ticket holding husband and son couldn't make the upcoming home game against Port Vale. Their tickets were going spare, would I like to go? To her surprise, I responded favourably. My one and only visit to The Valley was back in December 1997, during the glory days of Clive Mendonca and Richard Rufus, on a school trip organised by an Addicks-supporting teacher (coincidentally, a game that was also against Port Vale). I remember next to nothing about it other than Charlton won 1-0, and that us school kids basically had a whole block to ourselves. Some of the kids sat at the back and spent much of the second-half chucking crisps at the people at the front; we were about 13, and this was the only entertainment they could think of during what was a pretty dull game. The overall experience – the stadium, the fans, the noise, the area – I recall nothing about. So a chance to re-visit and get a few snaps, completely gratis; you just can't say no to a freebie.
The gent who's season ticket I was borrowing told me he always parks on Lombard Wall, and I decided to head for there. Arriving a good few hours before kick-off so we could grab lunch at one of the retail parks, there was naturally no shortage of parking. Lombard Wall is free, only 5-10 minutes walk away from the ground but sufficiently far away enough that there wasn't much trouble getting away after, so a pretty ideal spot. McDs, M&S and a couple of supermarkets were amongst the eatery options on the retail parks, and my eldest daughter and I killed a fair bit of time mooching about. When it came to getting to the ground, we managed to get lost and had to resort to the Google Maps app – we turned down what we thought was the right road but, with no floodlight pylons looming large over the landscape, we had guessed wrong. Strange to think that a 27,000 capacity stadium can be concealed amongst residential housing, but The Valley proves that it's possible.
Once we did get there – we were only one street away, but with various cul-de-sacs there was no way of cutting across – it really is tucked away. You can walk down the sloping Floyd Road past dozens of houses and your first real view of the stadium is when you get to it, which is surprising as it's pretty vast. I'd read before there was a 'Family Activity Zone' offering pool and foosball amongst other activities, which we tried to find but only found the lesser element of the Zone in the West Stand car park. It did have soft archery which kept my daughter entertained for a bit (and myself I must admit), after which we decided to take our seats for the afternoon. We were located in the Family Stand which is effectively just one corner of the ground, and the view we had was excellent. The most eye-catching stand is the West Stand: looking from outside its a web of external steel staircases, from the inside the two-tiered stand is the most imposing of the four. You can tell this was once a Premier League ground, it is big and neat; at the same time has its own identity and still feels traditional. It's overlooked by a tall block of flats, although on this chilly day I didn't notice too many people out on their balconies to watch this one. Between the South and East stands is a large video screen which is clear and easy to see unlike some others I've seen. On it they played the goal from that Addicks v Vale game I saw in 1997; Shaun Newton's effort was better than I remember. "I was at that game!" I said, nudging my daughter. She turned to me, nonplussed, before going back to trying to locate the mascots.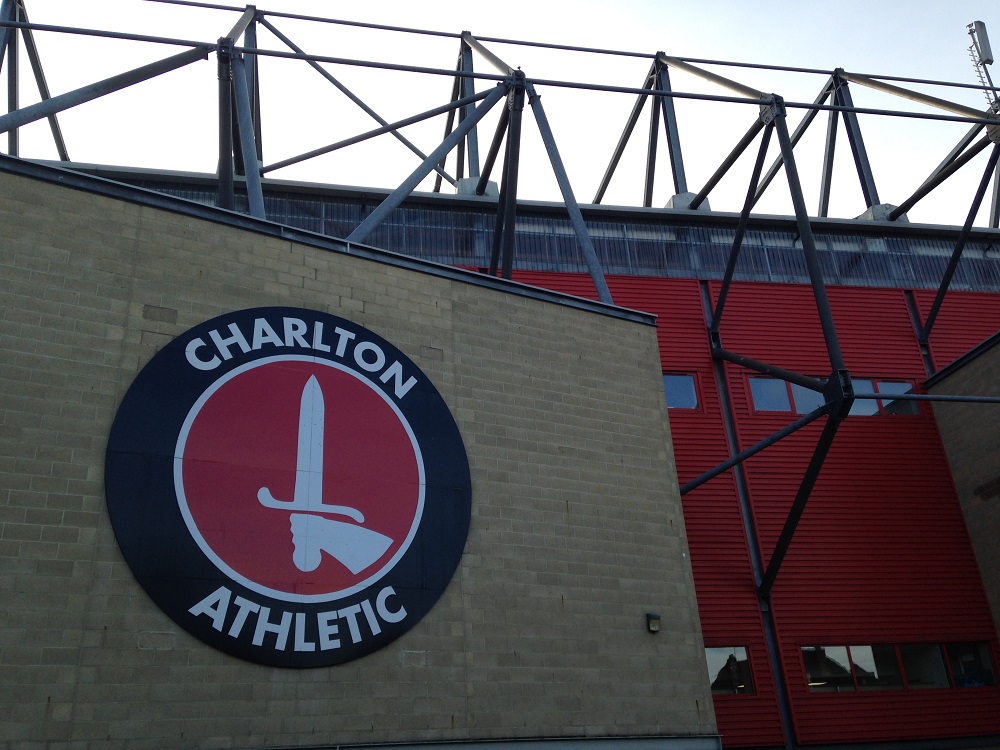 There were no beach ball or toy pig throwing protests today, but the animosity towards the owners seemed to carry across towards the team. Charlton never seemed in any great danger against Vale, and indeed could well have run out 4-0 or 5-0 winners, but every misplaced pass or missed opportunity was met with derision, which seemed especially harsh when they were 2-0 up. It's clear something isn't right at the club, but certainly on this performance the players were making the effort. The opening goal after half an hour was simple but effective: Morgan Fox played a tempting left-footed cross into the box, and Josh Magennis headed into the far corner. Fox was again the architect just before half-time, sliding the ball through for Nicky Ajose to run on to and slide past Jak Alnwick. In the second-half Port Vale had pretty much all of the possession, but the chances fell Charlton's way whenever they hit on the counter. Andrew Crofts fizzed a long-range effort just over, and some poor decision-making denied the Addicks a couple of promising one-on-one situations. Ajose did have the ball in the net again late on, but was denied by the offside flag.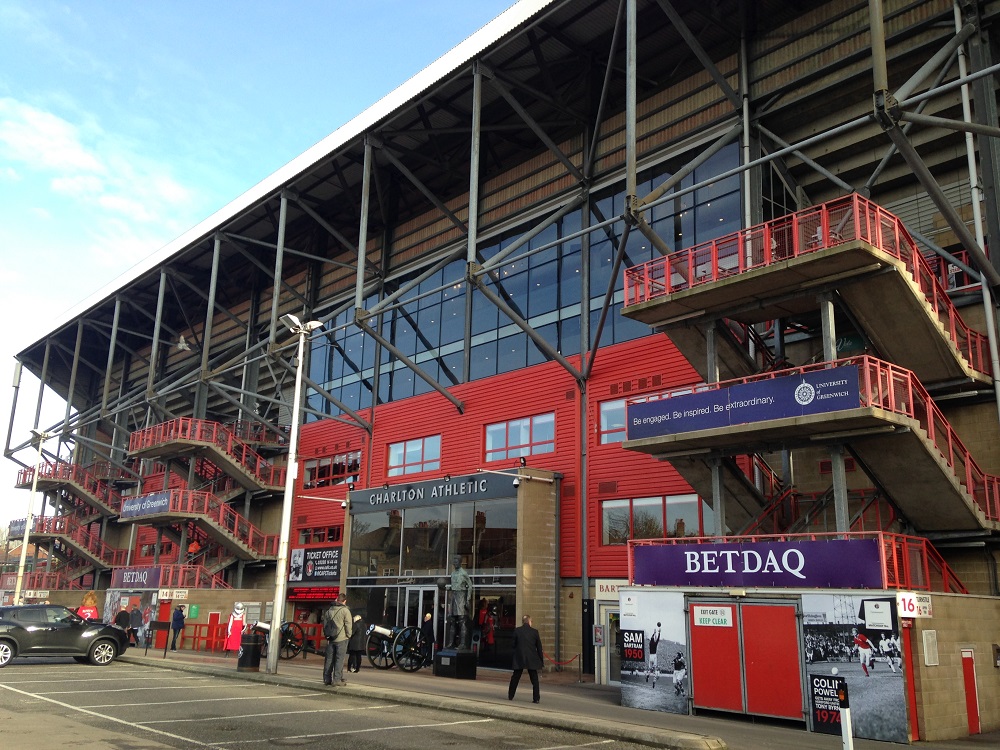 Whilst there was no problem finding the car or getting away from Lombard Wall after, naturally there was a fair amount of post-match traffic around the Blackwall Tunnel. It only added half an hour or so onto my journey, and since I hadn't paid anything for the day I couldn't really complain. My eldest has now ticked off five grounds at a grand total cost of £3.50. It's alright for some.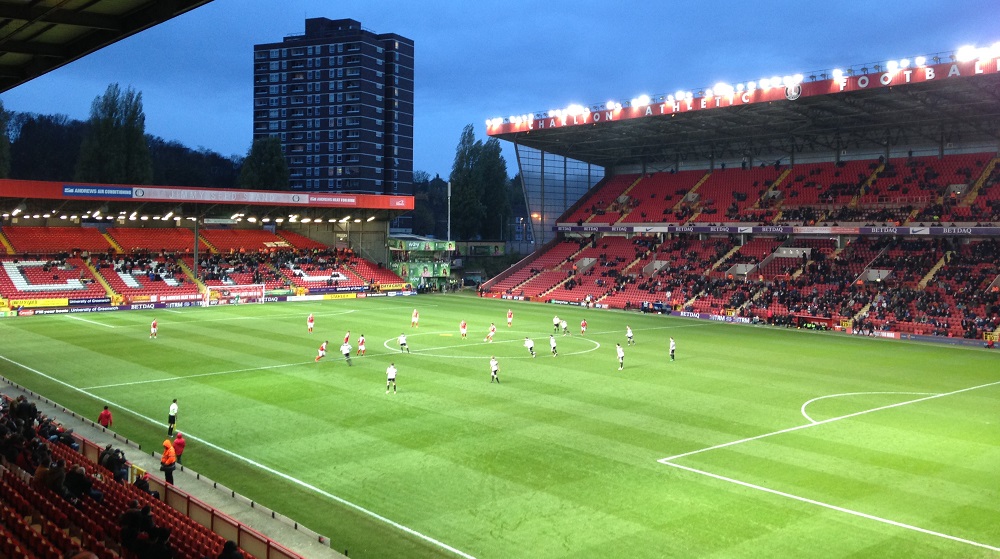 Atmosphere 3/5: A weird atmosphere. There was a fair amount of chanting but, despite being in complete control and 2-0 up, the home fans were on their player's backs quite a bit. Plus quite a few are staying away as they don't want to line the owners pockets, resulting in a sub-9,000 attendance.
Location 4/5: Train station at the top of the road, and a fair amount of free parking outside the nearby residential parking permit zones. Some (friendly) pubs and takeaways in very close vicinity, with retail parks and fast food restaurants a little further afield. A bit of everything.
Programme 4/5: A retro design based on the 1980/81 season's effort, and there were some nice features in line with the Armed Forces Day commemorations. The included Young Reds Review pull-out for younger fans is a nice touch.
Stewarding 5/5: All very friendly and welcoming.
Character 4/5: Traditional. It almost feels like a large scale all-seater Subbuteo stadium. That's meant as a compliment…
Value for money n/a: I didn't pay anything for today's visit, so can't really comment here.
Mascots (A new rating I've decided to add in for whenever I take my kids) 3/5: Two mascots, one of which – Sir Valiant, a knight – is pretty original; Robyn the robin, not so much. My daughter refused a photo op though, saying they looked a bit scary.
Overall 4/5: It was nice to refresh the ground in my memory, and more importantly get those all-important ground photos. A decent day out (maybe the free ticket clouded my judgement somewhat, but hey ho).
Keep up with Michael's 92 here and follow him on Twitter @michaelepilcher. If like Michael you fancy blogging about your experiences doing the 92 league grounds drop us a tweet to @the92dotnet.
Have you made the trip to the home of the Addicks? If you have you can add the Valley to your 92 or if not plan your trip there: