Newcastle fan Colin Harrison continued to make strides towards the magical 92 club again taking advantage of some TV scheduling. A pain to many but ideal for those doing the 92 first stop Wales…
DAY ONE
Ground 73/92: Rodney Parade
Game: Newport County 0-0 Doncaster Rovers
Date: 10/02/2017

Newport County's Rodney Parade was a ground I was going to leave till late in my quest to do the 92 as I fear they may be one team to fall through the trapdoor into Non-League. However, when I spotted their game against Doncaster Rovers had been moved to a Friday night I quickly scoured the fixture list for a possible double-header weekend. Thankfully, Bristol Rovers were playing at home on the Saturday so my mind was quickly made up to tick off two grounds in one weekend. When its 300 miles one way, it's always bonus to get two ticked off.
I managed to get three mates together who were up for a trip away, booked the hotel and awaited the day to arrive. During the week before the trip I looked online to read up on the selected matches. To my amazement, the referee selected for the Newport match was David Webb, a friend of mine who lives only three miles from me. I sent him a text to confirm this with him, and the offer of going for a pint after the game. Sadly, he declined my offer as he was driving part of the way home after the match, but he came up trumps with the offer of four free tickets for me and my mates… result!!
We set off for Wales on the Friday at 11am and arrived at the hotel at 5.30pm. After dropping our bags off, we set off to pick up our tickets. We arrived just under two hours before kick-off, in plenty of time to get the customary dugout photo sorted without too much of a problem. Our tickets were for 'The 100 club' executive lounge. Four pints were ordered, served in real pint glasses, total £13.00. Not too bad. The steward who was on duty in this area was fantastic. We chatted for about 30 minutes until it started to fill up. A couple of pints later, and it was match time.
The ground itself was made up of an old style stand with seats above a terrace. Facing that was the most modern stand. This is where we were; a number of corporate boxes with multi coloured seats in front. To either end of the pitch was open terracing, but not many fans braved these areas on a cold night. The pitch was awful, resembling a beach with pale green areas dotted around the outskirts. As this was top v bottom in League One we all agreed this would be a leveler.
Sure enough, the game was as poor as the pitch. The game started well with Newport having a decent chance within 90 seconds. Doncaster had a few chances of their own but both defences were playing well. As the temperature dropped to near freezing point, my mate blew the final whistle to bring to an end a drab game 0-0.
After the game we stayed in the bar area for another pint waiting for the officials to come out, when the steward said he would take us down to the tunnel area. We got some photos and thanked the man-in-the-middle for the free tickets, before heading into the town centre for a couple more beers. We were informed to try out Potters Bar, which had a live band playing and a clientele of similar aged people to us. No rowdy boom-boom music or lager-louts in sight. We stayed till 1am then set off for a pizza. The pizza was probably the worst I have ever tasted, but that didn't stop me from finishing it. We headed back to our digs having had a great day.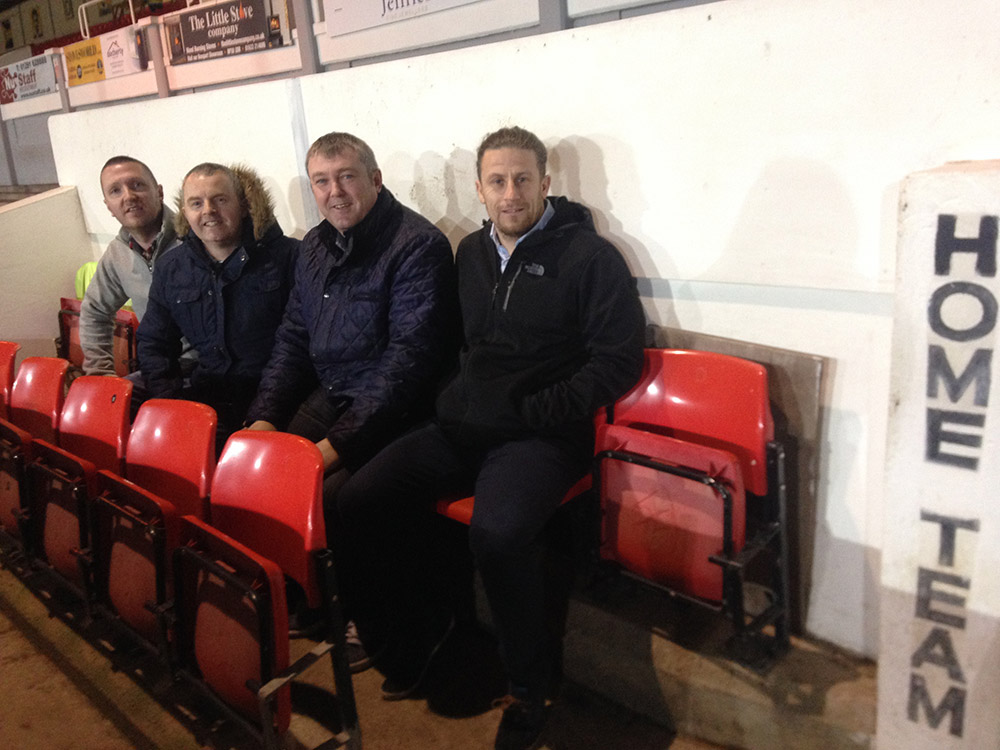 Atmosphere 2/5: Not much noise from either side. The attendance was only 2600 so struggled to generate any atmosphere.
Location 4/5: Straight forward enough, parked at our hotel. Fairly central for bars.
Programme 3.5/5: £3, fairly decent effort.
Pie n/a: didn't sample one.
Pint 4.5/5: Didn't rip off the fans like some clubs do.
Character 3/5: one modern stand and a traditional one.
Stewarding 5/5: Took us down to the tunnel area without any fuss.
Value for money 4/5: £20 for a ticket is about the maximum you can charge for League Two, however we got in free.
Overall 3.5/5: Decent ground, poor game but we had a good time.
DAY TWO
Ground 74/92: Memorial Stadium
Game: Bristol Rovers 1-1 Bradford City
Date: 11/02/2017

The four of us woke up rather groggy from the night before but we all managed breakfast. We checked out and set off eastwards back to England. We arrived at Bristol Rovers Memorial Stadium, and parked on the nearby Muller Road. We headed to the ground at 11.30am to ask for a dugout photo. No problems there, and we were duly escorted pitch side by a senior steward. While chatting to the steward we mentioned how we were given free tickets for last night's Newport match (failing to mention they were off a mate). Not to be out-done by a League Two club, he asked us to wait near the dugouts and he 'would see what he could do'.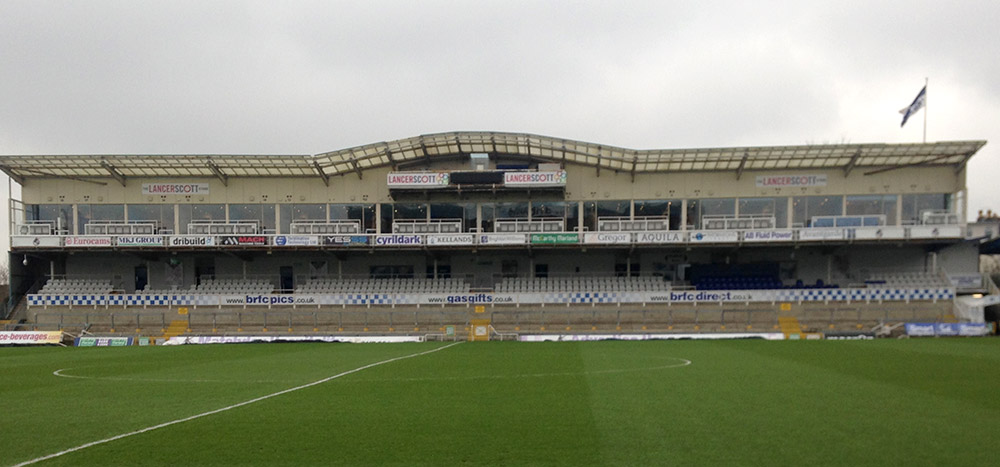 As we were standing alone near the pitch two rather official looking men in Bristol Rovers suits and coats asked us what we were doing. Again, we mentioned our quest 'doing the 92' and the fact we had travelled 300 miles from the North East. This is when the unbelievable happened. They showed us the corporate facilities in the East stand, which were quite impressive. From the outside the stand looked odd only covering the middle third of the pitch but with a terrace running the full length. We were then taken across to the main stand. We were escorted down the tunnel and introduced to the Bristol Rovers manager Darrel Clarke. Following that we went into the home dressing room and chatted with ex-Sunderland player Marcus Stewart who is the Assistant Manager. Even as a Newcastle fan, I shook his hand and thanked him for his time. A quick peak into the away dressing room was followed by a look upstairs to the chairman's box. This was by far so much more than anything we could have expected.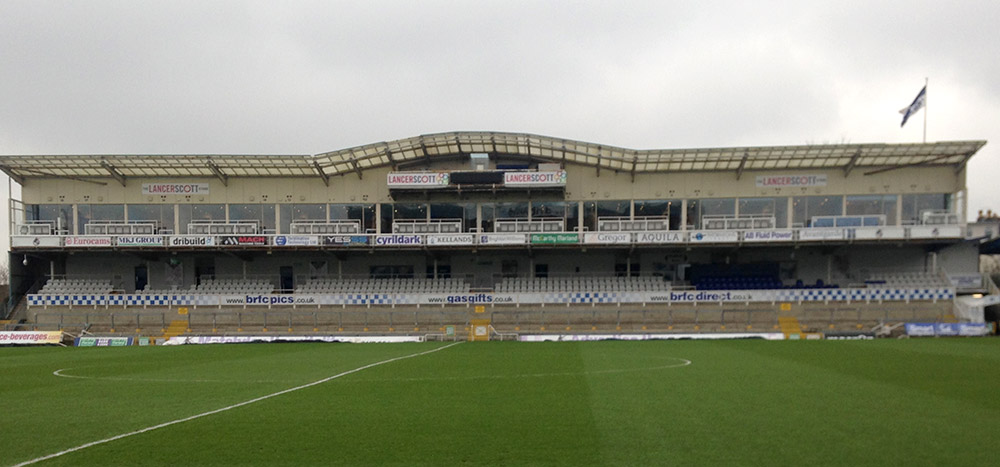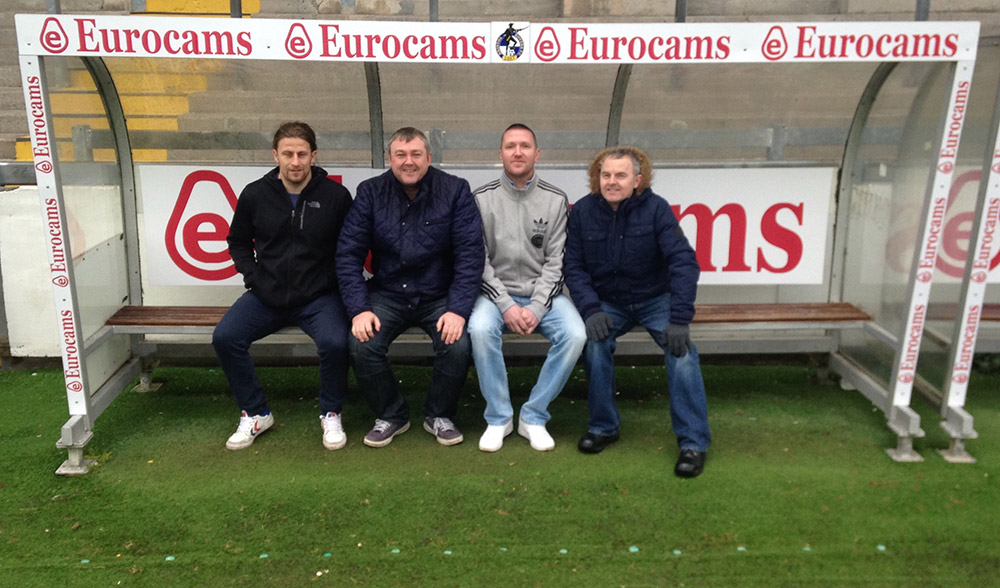 On the way back out, we were handed four complimentary tickets for the terrace behind the dugouts. We were told to enjoy 'Irene's Kitchen', a bar and food service area with TV's showing the early kick off. There are signs up which state 'no away fans' and we were questioned about this when they heard our Geordie accents. I only had coffee as I had 300+ miles to drive but the others sampled the beer. The food on offer looked decent, not too pricey. There were burgers, bacon rolls, chips etc all on offer. However, we all agreed to save ourselves for a pasty on the terraces. The pasty was £3.20 and in all honesty, a bit on the dear side and a bit dry for my liking.
The match itself was a decent affair. Rovers opened the scoring when Chris Lines curled in a left foot effort from outside the box. Cue a chant of 'he's one of our own' from the Rovers faithful behind the goal. Nicky Law equalised about ten minutes later after some neat build up play. The second half saw Bradford have more attacking chances but the Rovers keeper was in good form and a draw was probably a fair result, with most of the 9000 crowd going home content.
We set off for home having been to two countries in two days, seeing two goals during two draws. After I had dropped everyone off their respective homes, the total round trip came to 642 miles. Well worth it.
Atmosphere 3.5/5: All the noise come from the away fans at one end and the home fans at the other, nothing from in between.
Location 4/5: Straight forward enough, parked on a nearby street, didn't take long to get out.
Programme 3.5/5: £3, Good standard.
Pasty 3/5: Too dry, and a little over-priced.
Pint 3/5: I didn't have a pint inside the ground but the others said they were ok.
Character 4/5: An odd looking ground with no uniformity. Bits of stands appear to have been added as an after-thought. Excellent facilities behind the scenes though.
Stewarding 5/5: Amazing… free tickets and a guided tour, what more can I say.
Value for money 4/5: £20 for a standing ticket was about right, although we didn't pay for ours!
Overall 4/5: A good friendly set up, and a great day was had by all.
Keep up with Colin's 92 here and follow him on Twitter @colinpodge. If like Colin you fancy blogging about your experiences doing the 92 league grounds drop us a tweet to @the92dotnet.
Have you made the trip to the home of Newport County or Bristol Rovers? If you have you can add the them to your 92 or if not plan your trip there: