Blogger Michael Pilcher made the trip across the border with his sights set on Rodney Parade. Despite the Exiles languishing at the foot the 92 the ground hopper was keen to get it off the list in the hope of completing this season…
Ground 85/92: Rodney Parade
Game: Newport County A – A Morecambe (Abandoned at half-time at 1-0, due to a waterlogged pitch)
Date: 10/12/2016

Way back in March 2013 I convinced my wife we should spend a week's holiday with our children in Wales, half of it in Swansea and the other half in Cardiff. Naturally I had a an ulterior motive, namely to get the Liberty and Cardiff City Stadiums ticked off my 92. It turned out to be a very pleasant family trip, and I got two grounds off my list, so everyone was happy. I thought at that point my footballing relationship with Wales was done, that was before Newport County had to go and spoil it all by getting promoted a few months later. I apologise now to all Exiles, but I've spent the seasons since hoping they go back down. I have nothing against the team, the area, or Wales – I've enjoyed all my trips there – I just didn't want to contend with the six-hour return trip or pay £7 to go back over the Severn Crossing. Despite County currently sitting in 24th in League Two and in pole position for a return to non-league, I'm a man on a mission to get to 92 by the end of 2016/17, and so I was going to bite the bullet and get Newport ticked off.

I originally had it earmarked for a 1pm kick-off in November, until my mum decided to organise a family trip to Bath for the last weekend of the Christmas Markets; a four-storey maisonette in the centre of town, overlooking the markets. It was an invitation I was initially going to turn it down, but then consulted Google: Newport was less than an hour away, and they were at home that weekend. A plan was formed – travel up Friday night, stay around Newport, let the family go over to Bath on Saturday morning, leave me there to catch a train over to Bath Spa after taking in Rodney Parade. It broke up the journeys so we didn't have to do it all in one go, and meant I could spend my Sunday supping mulled wine whilst perusing the market stalls of Bath. I'd have to fork out for a hotel and a fair bit towards a contribution for the Bath accommodation, but I decided that since it was Christmas and it had been a while since I'd paid for accommodation on a football trip, I decided to take the plunge.
It's fair to say this trip was the antithesis to my Wales three-and-a-half years ago.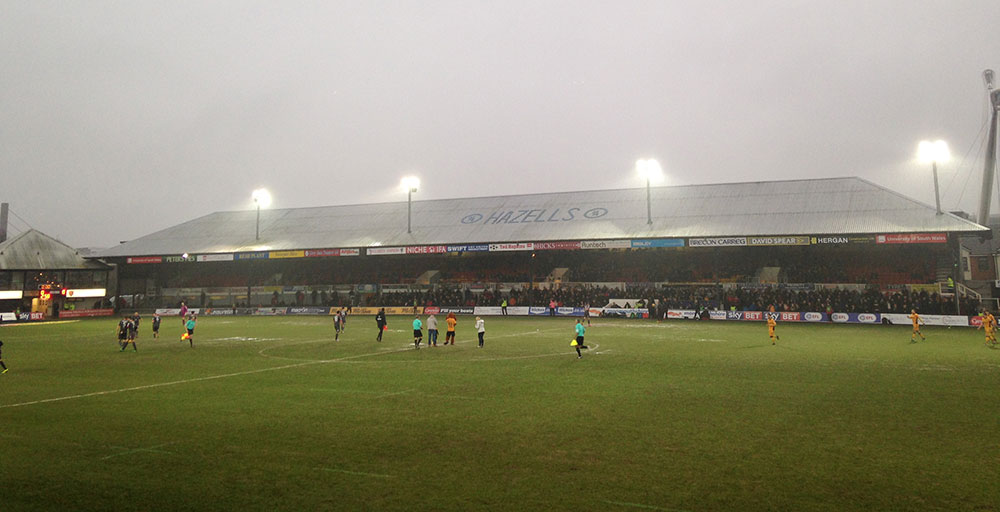 Thanks to misplaced/lost items, we set off on our drive to Wales ninety minutes later than originally planned. Then of course we get fifteen minutes up the road and realise we've forgotten something and have to go back, and so we're a good two hours behind schedule when we do finally get back on the road. We stop off for McDonalds before getting on the motorway; my eldest barely touched her Happy Meal, which should have been a warning sign. An hour from Newport, she promptly throws up in the back of the car, resulting in a stop at the nearest services and an attempt to clean it up as best we can armed only with babywipes. There was talk at that point of turning round and going home, but we decided to plough on. We got to our Premier Inn in Cwmbran and our poorly daughter spent all night complaining of stomach and chest pains, so I ended up getting about an hours sleep. Shattered and bleary eyed, the next morning we went to Wetherspoons for breakfast – kill or cure – and, luckily, Elizabeth seemed to perk up after a heavily-ketchuped sausage sandwich. We were in Newport centre for midday and had a walk around the city in the festive atmosphere. From the bright, shiny new Friars Walk shopping centre, we followed the signs for Rodney Parade across a footbridge. It seemed to get gradually drearier and greyer the further we went across until we got to Rodney Road, by which point it was now raining. Despite seeing what appeared to be the back of stand, it's a long old walk round it with no way to cut across and we ended up spending ten minutes walking up and round, until mercifully we finally reached the ticket office.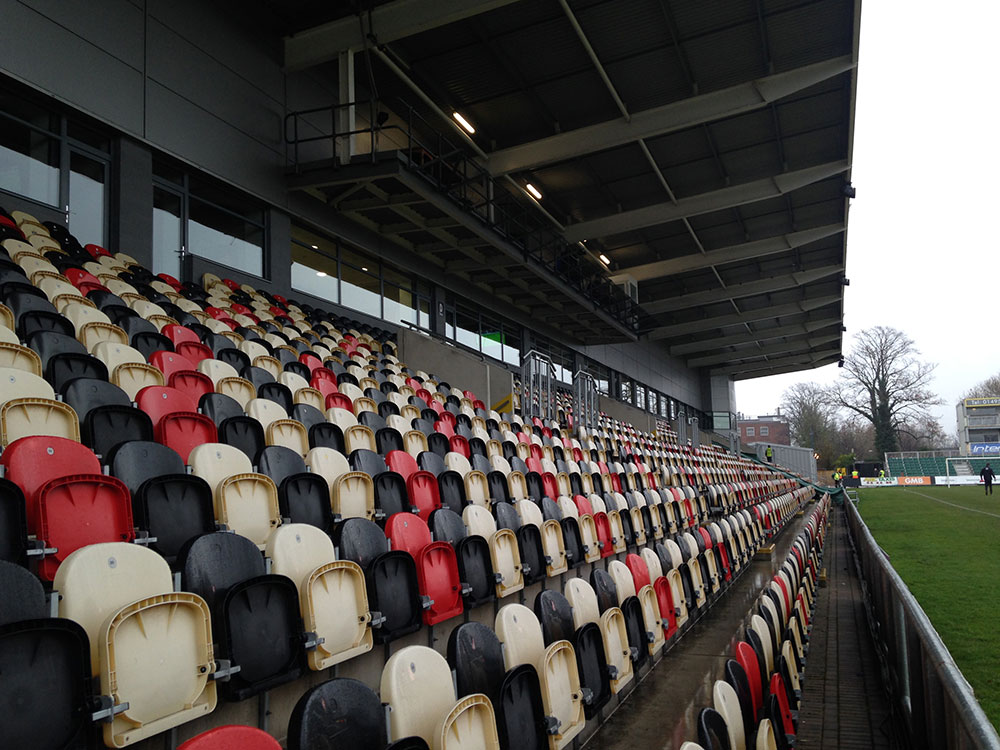 Rodney Parade overall seems to be a bit of an odd set-up. In between the ticket office and the stadium is a large grass training area. The two stands behind the goals are uncovered, both of which seem to be set back quite a way from the pitch, the terraced North Stand especially. The South Stand seems to be temporary seating, and it was nice to see that Priestfield is not the only team in the 92 with this. There's an odd two-storey building behind this seating which I'm assuming was the corporate hospitability, and in the corner a pyramid-topped building which is where the teams emerged from. In between is a large electronic scoreboard and video screen. To the sides, the Hazells Stand is a classic affair with seating at the back and a terraced paddock at the front, behind which the steel supports of the Newport City footbridge loom large. Opposite this is the Bisley Stand, a new and modern stand decked out in red, amber and black seats, and certainly the most eye-catching of the four stands.
The thought of the game being postponed or abandoned had crossed my mind in the days before the trip, and I did worry when I saw BBC Weather forecast rain for Friday night and most of Saturday afternoon. I knew Newport had had one postponement and one abandoned at half-time already this season, but I felt optimistic watching the state of the pitch during the warm-up. The rain hadn't really started until 1ish, although presumably there must been some overnight, but it wasn't raining heavily. Aside from a puddle near the centre circle, the pitch looked generally ok. Once the game got under way it was a real blood and thunder, lower league six-pointer. Tackles were flying in, and it was shaping up to be a pretty tasty fixture. Twenty six minutes in teenager Tom Owen-Evans put the Exiles ahead with a superb volley from distance into the top corner. As the half wore on though the tackles were getting that more ferocious, the yellow cards were stacking up and the ball didn't seem to be running in certain patches of the pitch. Morecambe seemed to edge possession but the conditions seemed to suit Newport's style better and the hosts came closer to adding to their lead. The half-time whistle went and it was nicely poised for an exciting second-half. My daughter and I queued to use the facilities, and people around us sat back down with their burgers and Bovrils, and we were looking forward to seeing how the match developed.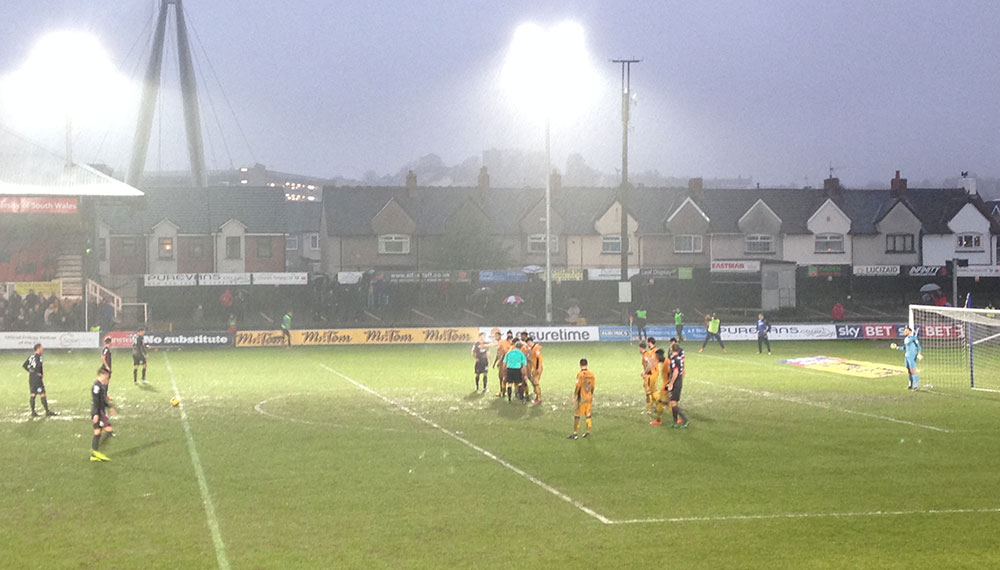 Just as a half-time display finished and people were sat waiting for the players to come back out, at 4pm a tannoy announcement goes out. "This is an important announcement from Newport County Football Club". Uh-oh, I thought. "Today's match has been abandoned due to a waterlogged pitch". Gutting. I had to explain to my daughter the match had been cancelled, and through the rain and dark we attempted to find the train station, getting lost twice in the process. We were at the station at about 4:20 and with our advance train to Bath Spa booked for 5:44; we decided just to get on the earlier one an hour before and see what happened. Thankfully due to the busyness of the train and the Bath Spa station itself when we arrived, at no point did anyone check our tickets. It was about the only positive of the day, and thankfully from there it was a nice weekend, enjoying time with my extended family in Bath, so the weekend at least wasn't wasted.
My main issue was with the timing of the postponement – why wait until 4pm? There were no officials assessing the pitch or groundsmen desperately attempting to clear if of surface water, so at 3:45 they must have already known the second-half wasn't going to happen. I know League Two sides are strapped for cash, but if County waited fifteen minutes to announce the abandonment so they could sell some burgers, that is very poor. Fans of Barnet (151 miles), Stevenage (158 miles) and now Morecambe (222 miles) have suffered in recent months due to Newport's pitch drainage issues. These fans have to book coaches, trains, pay for petrol, maybe book accommodation – I'd travelled 200 miles the night before and paid the best part of £30 to stay locally – and, out of nine scheduled home games, Newport have already had two half-time abandonments and one postponed an hour before the start. At what point do the Football League step in and tell them this isn't acceptable? As of Tuesday 13th December, the Newport website hasn't been updated since Friday 9th, as though a few thousand people hadn't ventured out to their ground the weekend in between. There's no acknowledgement of the Morecambe game anywhere, although Newport had apparently awarded themselves the three points with the league table on their website showing them 23rd with 20 points, whilst the BBC and other media sources show them 24th with 17 points. Great result, lads!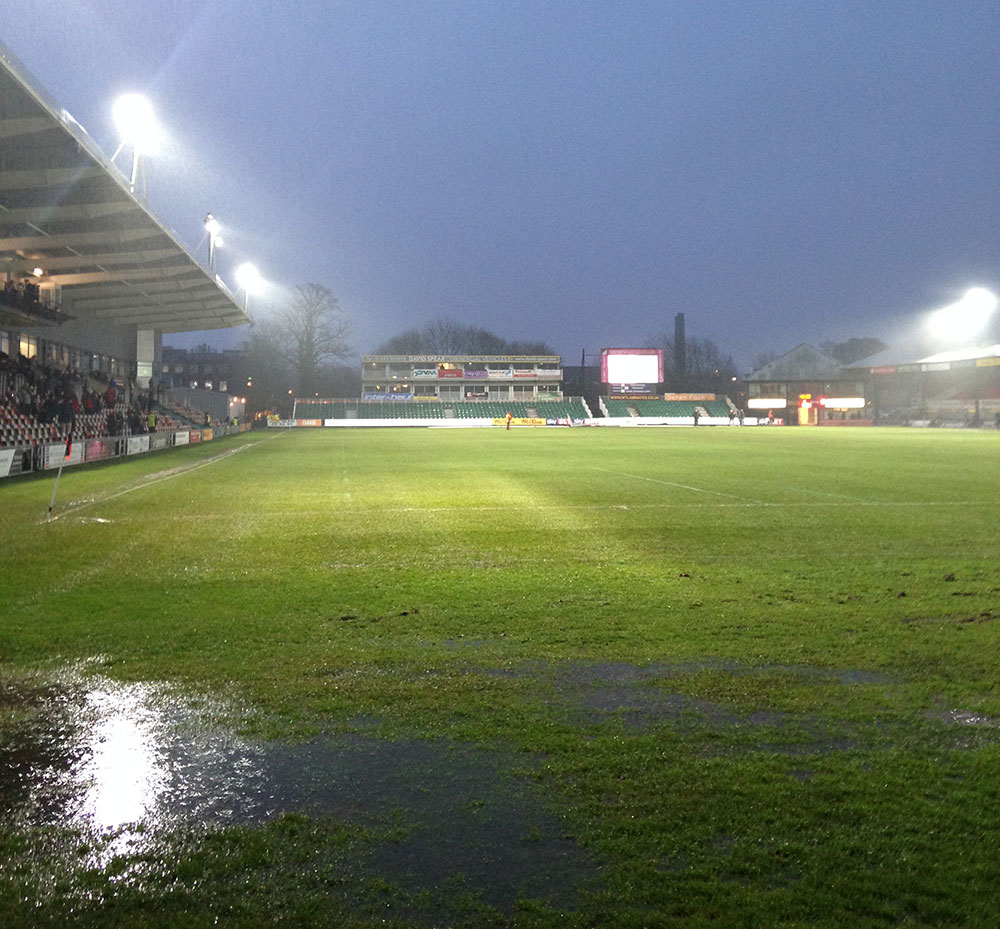 The other important question – does this visit count towards my 92? If a football match is abandoned half-way through and the result voided, can it be considered ticked off? Poor Owen-Evans thought he had scored his first ever senior goal, yet that has now been chalked off – according to the record books and Wikipedia, it never happened. The general consensus amongst the 92 community though is that they would count this; speaking to others they have counted abandoned games, and looking online others have done the same. On the Ninety Two club rules, it states on the application for membership that "anyone who has maintained a list of visits from *a ground hopping website*.. .this list will suffice".
As much as my heart sank when the abandonment announcement was made and I despondently walked over to get the train, I realised I'd probably been lucky to have never suffered one before. While my head tried to work out the ramifications as to whether this counted or not, after a day's reflection (or merely trying to make the best of a bad situation) I decided a 'Match Abandoned' fixture was something I could add to my list of football ground travel experiences.
But still, it doesn't sit quite right with me. There is no final score. There is no attendance. I feel a little like I have unfinished business with Rodney Parade, and it is and shall remain a blot on my grounds list.
This is how it looks at HT. Can't see it going the distance. County 1-0 up pic.twitter.com/GB7c7P04Hd

— Tom Coleman (@tomEcoleman) December 10, 2016
Atmosphere 2.5/5: Plenty of noise for those 45 minutes generated from the home fans in the Hazell Stand paddock.
Location 3/5: Close to the city centre and not far from the train (if you know where you're going).
Programme 3.5/5: They charge £3.50, but in fairness it is very good – thicker than normal, and certainly puts some Premier League & Championship clubs to shame.
Stewarding 1/5: At least four groups of fans went up to the stewards, showed their tickets and were allowed through. It was clear the groups and the stewards knew each other and it was all very matey. I'm standing there at 1:30 with a cold, wet six-year-old and we attempt to go in as well. We're met with a 'Gates aren't open yet. You have wait'. A good twenty people had been allowed in before us, yet we're told we've got to wait at the gate, in the rain. Cheers.
Character 3.5/5: A rugby stadium masquerading as a football stadium. Has a bit of a charming, non-league vibe.
Value for money 1/5: £18 to watch one half of fourth tier football; at least it was free for a child's ticket. No news yet on whether Newport will issue refunds, presumably they'll say I need to take my ticket in person to the ticket office.
Mascots 2/5: Spytty the dog. Not entirely sure how a dog links in to Newport.
Overall 2/5: I travelled 200 miles on a Friday night to tick this off, only for it to last 45 minutes. With £30 hotel and an £18 match ticket, plus approximately £60-cost in petrol, I'm at least £100 down. This visit had better count towards my 92!
Keep up with Michael's 92 here and follow him on Twitter @michaelepilcher. If like Michael you fancy blogging about your experiences doing the 92 league grounds drop us a tweet to @the92dotnet.
Have you made the trip to the home of the Exiles? If you have you can add Rodney Parade to your 92 or if not plan your trip there: