The achievement of doing the 92 can be completed in many ways. Some tackle it as a sprint, such as Ed Wood, aiming to complete the 92 (93) league grounds in a World Record Time. Sometimes it takes decades, such as with Southend United fan Andrew Leeder, author of the book "Roots to the 92" (get it, Roots, Roots Hall, home to Southend United, Roots to the 92…). In Andrew's book, he details his experiences of the reaching 92 league grounds, confirming something all ground hoppers seem to love – The predictability of the unpredictable! We chatted to Andrew about his experiences, in this, the second part of a three-part series from Andrew and his experiences. To see the part one, click here.
When did you realise you wanted to complete the 92?
My groundhopping started to take hold in the early 80's as, then down in Plymouth on a degree course, I used low cost train travel and hitchhiking to get me to places I'd never otherwise visit to follow Southend or Argyle on what back then could still be a cheap day out. I can think of no other reason to go to, say, Barnsley, other than to watch the football (and I suspect that any Tyke without a pier fetish would think similarly of Southend), but I just loved going to places to see different things.
It didn't even have to be to see 'my team', many of my '92' ground visits were with friends to see other games or simply to take advantage of work traveling when often I would arrange meetings all over the country, which just happened to coincide with a Liverpool, Wolves, Wigan, or whoever, home match. It actually took 125 grounds in the end to complete the 92.
For instance, back in '82 I took the train up from Plymouth with one of my lecturers to see his team, Norwich, try and seal promotion at Hillsborough, it was a wonderful occasion, and if you care to search for it on YouTube you will see a classic moment where a fan dives for a Mel Sterland cross as Wednesday clinch the game right at the death.
Of my three sons only one, Jim, has taken to the game and is now a season ticket holder with me at Roots Hall. But all three have been to games with me over the years and, especially when they were younger, we used to have father and son trips around the country which helped in my new ground quest. Persuading my youngest, Cameron, to go to a game, could be difficult, but throw in a weekend camping on the Yorkshire Moors, a trip to a Coal Mine and the National Media Museum, and all of a sudden the pain for him of enduring a couple of hours at Valley Parade is considerably eased.
Such trips certainly helped to accumulate the new grounds but it wasn't really until October last year, with eight grounds still to do and achieving the end having become a bit of an ongoing sore with seemingly no end in sight, that a plan was hatched. The catalyst for this was my eldest son Jim moving back home from a year working up in Newcastle. I had my footie mate back and with the three big North-East clubs still on the 'to do' list immediate action was necessary. I had to take advantage of him still being up there. So a schedule was set, including a Christmas holiday period two-day trip to Wales. I'd been to Newport and Cardiff before but not at their current abodes. The end was all of a sudden in sight.
So, when you completed it, you decided to compile the book "Roots to the 92". How did that come about?
When you get to your middle-life years you realise that there are many things you'd like to do but it can be all too easy to let things drift and never get round to doing them. The big one was becoming a gardener, and also on the bucket list was achieving the 92. But another aim had always been to write a book. With the final eight game schedule set and a winter ahead of me when gardening work entered a quieter period, I decided to marry up the 92 and my author ambitions.
It was certainly a challenge. I'd always kept good records of my footie watching. My wife often accuses me of not remembering things she'd like me to do despite being able to recall what happened at Millwall, Blackburn, Crystal Palace etc three or more decades ago. So getting the structure of the book right was quite straightforward. But to ensure I got things fully correct, quite a bit of research was still needed, and it is quite easy to get distracted by YouTube videos, old programmes, etc when looking to give yourself memory jerkers of times gone by. YouTube was certainly a wonderful source. There are a series of old cine films from 1979/81 where, with a haunting piano piece playing in the background, the camera pans around various empty grounds at the time showing what things were like back then, each in a 90-second clip. Type 'Brisbane Road 1979' into the search box for just one excellent example.
I wanted to have Roots to the 92 ready for publishing the week after the Blackpool game. There was an emotional reason for this. My Dad had been ill for years and it was clear to see that the cruel effects of Parkinson's and Dementia were starting to get a real grip on him. It was because of Dad that I had first started my football watching, and I was desperate for him to see my book in print.
With about 150 days from starting writing, I set myself the goal of writing up one ground a day which was a schedule I  stuck to. Having a deadline certainly helped focus. I got there, via a relatively simple self-publishing process with Completely Novel, the help of my wife for proof-reading and some advice from good friend David Watkins, a regular publisher tracing the frustrations of following Leeds trying to get out of the Championship, possibly one day they'll do it but not via the direction he hopes for, Roots to the 92 was published on 25 April 2016. The following weekend I took it up to Hunstanton to show my Dad who was just about able to read back to me my dedication of the book to him on the inside page. I could see the delight in his face and it proved to be just in time, just a few weeks later he lapsed into a coma and sadly passed away at the beginning of July.

What is the aim and style of Root to the 92?
It certainly is not my aim for the book, Roots to the 92, to only be of interest to Shrimpers. It was my desire during the writing process that it should be of interest to all football fans, and many of my '92 trips' have not always involved Southend.
I did not want it to be a series of match reports either. I am sure that even the most dedicated "Blue Nose" will not even be remotely interested in how dominant Birmingham were at corners against Argyle in a Milk Cup tie back in 1984. So instead, I sought to paint a picture of what it was like to be there at the time. Even where Southend or Argyle are involved I hope that fans whoever they support can relate to the tales of being elated, frozen, bored, delighted, that they will have experienced with their own team. I have also written with a somewhat dry humour style. I very much want it to entertain the reader.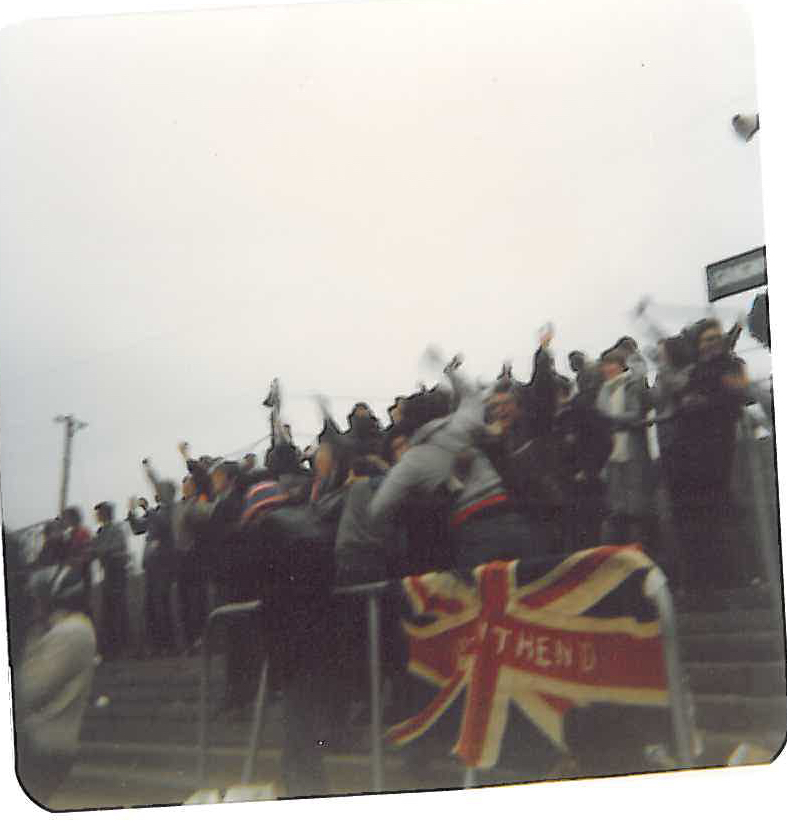 Initial feedback has been great, with a dozen already on Amazon from fans who follow teams such as Spurs, Coventry City, Hereford and Brentford. Their comments about it being for all football fans are very pleasing. Responses have also come from many different quarters – the other day I received an email from a Stockport fan who said he had taken the "Roots to the 92" with him on holiday to Bermuda. He had not been able to put it down and read it from cover to cover in one day, on the beach with a beer or two. Sounds like a good way to get away from it all to me.
Thanks to Andrew for taking the time out to speak to us. "Roots to the 92" is available direct from the publisher Completely Novel (paperback only), or from Amazon (Kindle version or paperback). To find out more about Andrew and his journey to join the 92 club head to his website, Facebook page and Twitter. Be sure to watch out for the final part of our interview with Andrew which will be posted next week and don't forget to enter our Twitter Giveaway to have a chance to win a copy of "Roots To The 92"!
Competition terms:
1. The competition is open to residents of the United Kingdom aged 16 years and over.
2. There is no entry fee and no purchase necessary to enter this competition.
3. By entering this competition, an entrant is indicating his/her agreement to be bound by these terms and conditions.
4. Route to entry for the competition and details of how to enter are via Twitter
5. Closing date for entry will be 23:59 31 October 2016. After this date entries to the competition will not be counted.
6. No responsibility can be accepted for entries not received for whatever reason.
7. To enter the competition you must be following @the92dotnet and Retweet this tweet.
8. After the closing date a winner will be chosen at random and notified by DM and announced on our Twitter feed. If the winner cannot be contacted or does not claim the prize within 14 days of notification, we reserve the right to withdraw the prize from the winner and pick a replacement winner.
9. The prize is as follows: 1 paperback copy of 'Roots To The 92' by Andrew Leeder. The prize is as stated and no cash or other alternatives will be offered. The prize is not transferable. Prize is subject to availability and we reserve the right to substitute without giving notice.
10. We reserve the right to cancel or amend the competition and these terms and conditions without notice in the event of a catastrophe, war, civil or military disturbance, act of God or any actual or anticipated breach of any applicable law or regulation or any other event outside of our promoter's control. Any changes to the competition will be notified to entrants as soon as possible.