Budding photographer and blogger Dan White took advantage of free admission to tick Old Trafford off his 92 and got to see the legend that is Falcao have a run out…
Ground: Old Trafford 8/92
Game: Manchester United U21 1-1 Tottenham Hotspur U21
Date: 10/03/2015
Thoughts on the ground:
I arrived at the ground and thought I would see a busy crowd outside the ground. Nope! It looked like a ghost town with two people selling scarves and the odd tourist taking photos outside the ground. I also thought that fans could sit anywhere in the stadium but it turns out that they placed everyone close to the pitch in the Sir Alex Ferguson stand just so everyone was facing the camera. I was always told that first time fans lose their breath for a moment when they see Old Trafford's insides for the first time. But when it's almost empty and the security guard is louder than the music then that magic isn't there. Here is a photo of the attendance taken by Daily Mail writer Mike Keegan -> https://twitter.com/MikeKeegan_DM/status/575368599843520512/photo/1. I did end up getting two programs for free but it turned out that they weren't for the Under-21s. One was for the Manchester United game they played the night before against Arsenal and the other was from a game against Leicester City from the end of January. I was told that they give away old programs for free so they aren't lying around in their offices. Also, you better come with money if you want food as they don't take credit cards. It's £7 for a hot dog, a drink/beer (Singha or Bulmer's with the yellow label) and a Mars/Twix.
Thoughts on the game:
I took my seat as both teams were warming up. The first thing I noticed was that some of the Manchester United's squad wasn't under 21. Last time I checked, Falcao was 29 and Victor Valdes was in his 30's. Also, they had Rafael in the squad. Tottenham's squad had everyone under-21. The game started and fans didn't pay any attention to them for the first 14 minutes. They all sat there talking amongst each other. One kid sat behind me kept banging his seat which gave me a headache and two kids in front of me clearly didn't care. I did see that one kid had brought a sign directed at Falcao saying "Please stay. AS Monaco sucks". Falcao did smile at it.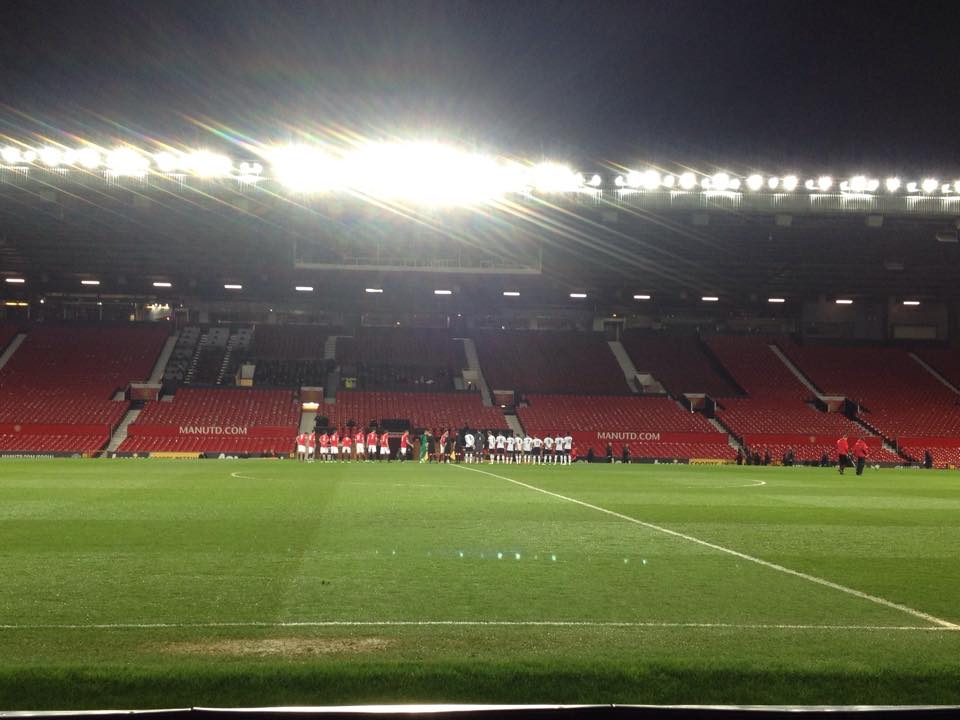 The game went on and on until Tottenham scored at the 26th minute a sloppy goal from Kenneth McEvoy. McEvoy had spent the first half of this season on loan at Peterborough United and was told he looks like Gareth Bale. He is now on loan at Colchester United as of writing this. Tottenham's lead didn't last long as Rafael scored an equalizer with a 30 yard chip over the keeper to make it 1-1. The only other thing that happened in the first half was that Donald Love got yellow carded after 43 minutes. I spent the second half watching the game on the TV in the lobby having a chat with one fan who said "It's a shame about the attendance". I don't know what the actual attendance was but it was about 500 people. It got to the point where me and other fans got bored and left the game after the 60 minute mark. I looked up the game on the train home online to see that Falcao had been subbed off after 72 minutes failing to score. The game ended 1-1.
As I left the ground, I told my mum over the phone about the attendance and she said "Why is it that Man U fans are willing to pay £40/50 for a ticket to see the first team but when an offer to see the youngsters play for free they turn their backs on them?" This is something that got me thinking on the train home. Both teams have great talent. Tottenham's Grant Ward and Shaquile Coulthirst both got signed to loan deals on Friday 13th. Ward went to Coventry while Coulthirst went to York City. Manchester's squad had people who had played for their respective countries (Radamel Falcao, Victor Valdes, Rafael) as well as talent Louis Van Gaal has been playing throughout the season (James Wilson and Tyler Blackett). They even brought in Andy Kellett on loan from Bolton Wanderers. Why did fans not come? Was it badly advertised? Do fans really not care for the youth team knowing that the majority of them will be sold in the Summer Transfer Window.
In the Winter Transfer Window, Manchester United sold Michael Keane to Burnley and Marnick Vermijl to Sheffield Wednesday. They then sent Jesse Lingard to Derby County on loan, Saidy Janko on loan to Bolton Wanderers, Will Keane to Sheffield Wednesday on loan and Ben Amos on loan to Bolton Wanderers. This is something I've always had a problem with. Why sign young talent if all you're going to do with them is send them out on loan every season. Same with Chelsea, why sign players if they're always out on loan (Marko Marin, Patrick Bamford, Tomas Kalas just to name a few). Is this just a way for players to gain first team experience? How would you feel if you signed for a big club only to be loaned out every season?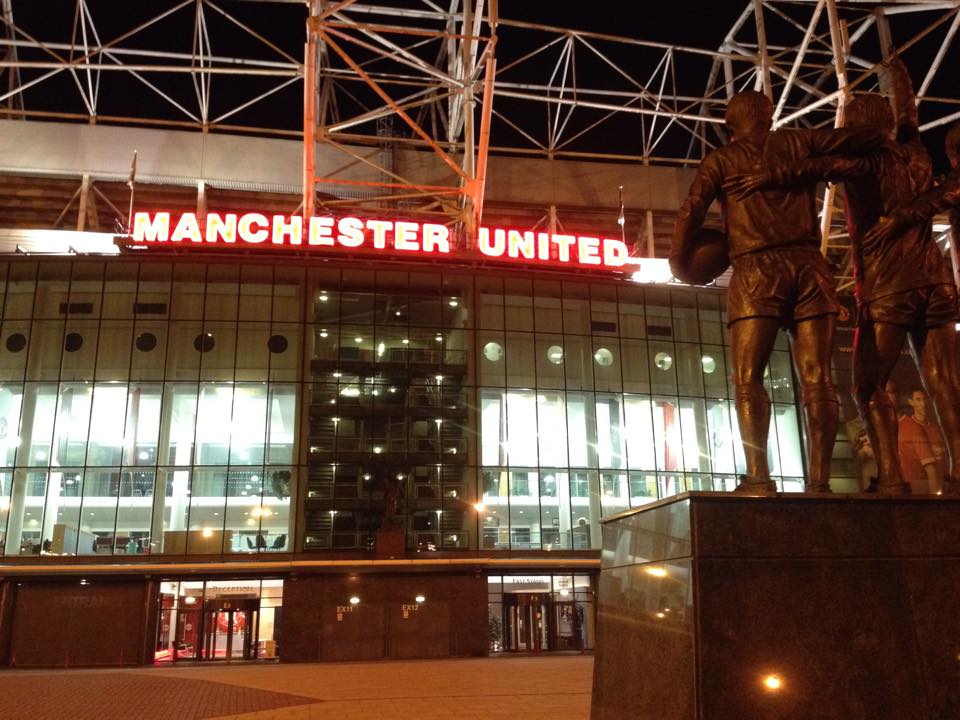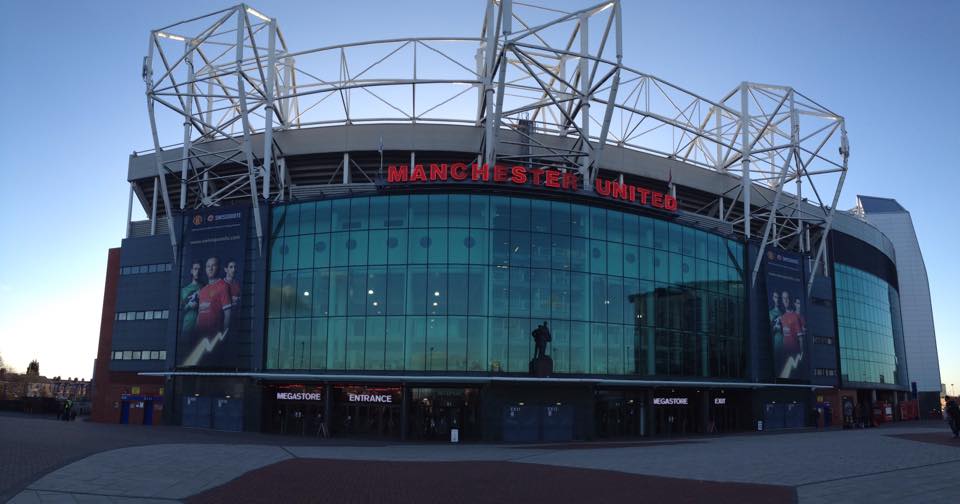 Enough ranting, overall I didn't enjoy my time at Old Trafford. I had such high hopes for this ground when the offer for a free game came along but those hopes quickly vanished. If you do go to a Manchester United game at Old Trafford then go when the first team plays and fans, clearly, care more
Atmosphere 2/5
Location 3/5: Located next to Media City
Value for money 2.5/5: Very expensive
Hot Dog Rating 3/5: Expensive but nice
Pint Rating 3: Hot dog + Pepsi + Mars Bar = £7
Programme 3/5: Club was giving away old programmes for free! I ended up with two
Character 2/5: Stadium was pretty much empty and no one cared about the game
Stewarding 3/5: They all looked like they didn't want to be there
Overall 3.75/5: Expected more. Game was free so I can't complain that much
You can keep up with Dan and his groundhopping exploits on Twitter @DanWhite1993 and his the92.net profile here. To see Dan's work from grounds up and down the country head to danwhitephotography.wordpress.com.
Have you ticked Old Trafford off your 92? Add it to your profile here www.the92.net/ground/old-trafford or if you're thinking of going plan your visit there using our away day planner here www.the92.net/plan-your-away-day/old-trafford.