Pools fan Ross Hamilton-Milburn ticks off his first ground of the new season as Hartlepool travelled to York.
Ground: Bootham Crescent 15/92
Game: York 1-2 Hartlepool United
Date: 15/08/2015
Thoughts on the ground:
Bootham Crescent is one of those proper old fashioned football grounds you normally only ever see on one of the million 'football from the past' twitter accounts that seem to exist for some reason. For a start, on the approach to the ground you walk past things called 'houses' as opposed to through an industrial estate like most modern stadiums are. The turnstiles look like they've come out of an old victorian fairground and the toilets look like they've come from the middle ages. Still, it's this oldie worldie charm that makes York such an enjoyable visit.
However whatever York makes up for in charm, it lacks in facilities. The away end doesn't seem to have any whatsoever. As previously stated, the 'toilets' are a wall unto which you do what you need to do. There is no intercom system either in the away end so you'll have no clue who's being subbed on or off. The food/drink kiosk was hopelessly inadequate for coping with a crowd in the hundreds, never mind in the thousands like I travelled down the A19 with from the North East.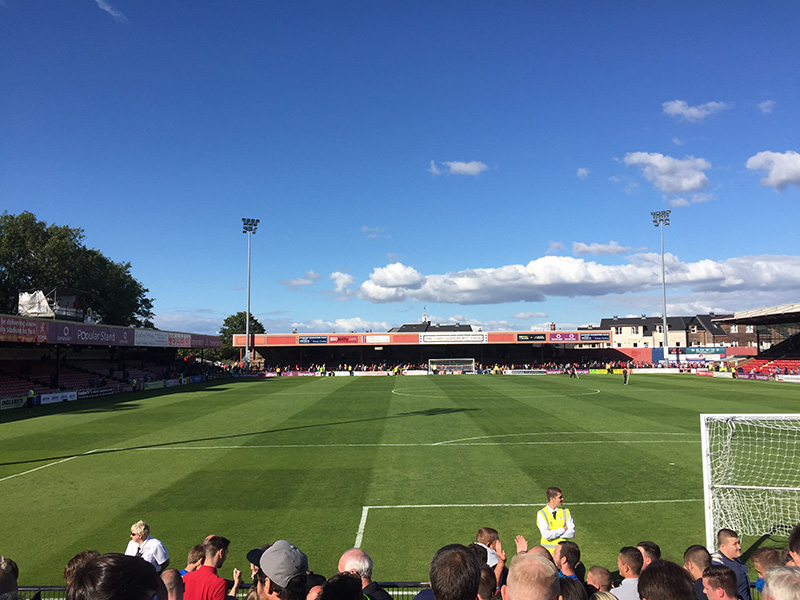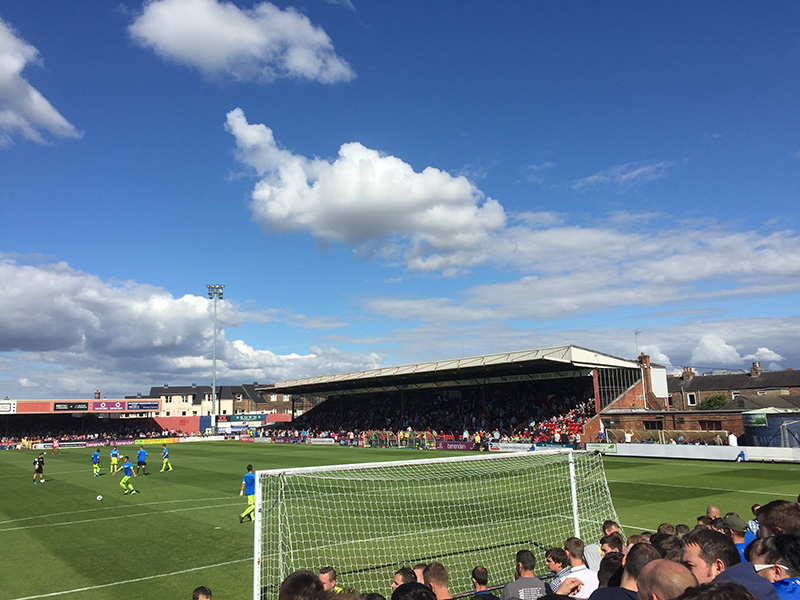 Thoughts on the game:
In many ways it was a classic League 2 derby game, two scappy teams who were more concerned with kicking each other than the ball. Each team's physio were given a solid workout from the start with Hartlepool's Harry Worley getting taken off after around 5 minutes after a nasty tackle. Pools' striker Scott Fenwick was also subbed off in the second half after sustaining a shoulder injury earlier in the game.
York took the lead early in the second half after latching on to a poor clearance from a corner and looked well settled in the game until a piece of magic from Pools' frontman Billy Paynter. Paynter took the ball on the edge of the 18 yard box and curled into the very top corner of the goal. The fans went wild and perhaps it was that energy that spurred Pools' to take the lead 8 minutes from the end courtesy of a deflection from a York defender. Cue madness, jubilant celebrations and everyone went home happy. Unless you're a York fan.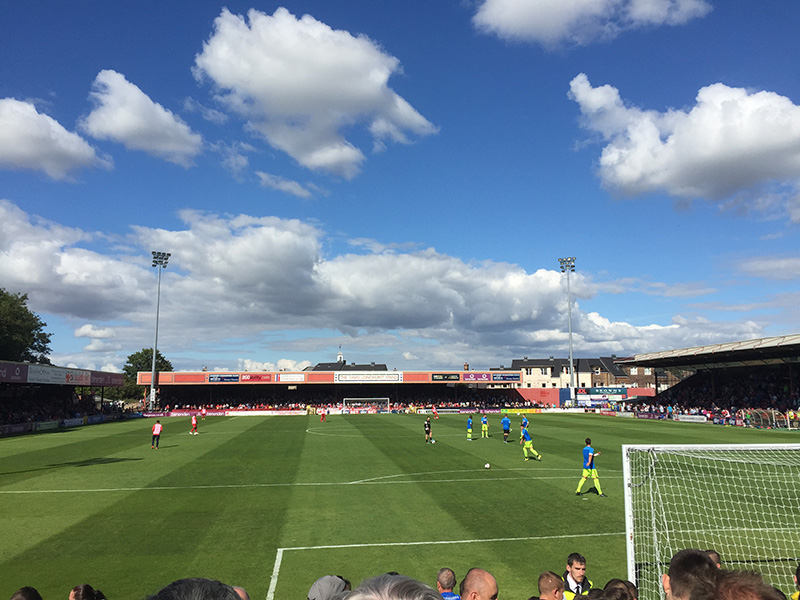 Atmosphere:
As previously discussed, the away end at Bootham Crescent lacks many basic features. One of these features that it lacks is a roof. This means that the ground is terrible acoustically and that sound doesn't travel well around the ground so it's difficult to create much noise. The away end is also very well spread out around the pitch covering an entire width and a good portion of one of the lengths of the pitch. It must be surely the widest away end in the Football league and this means that several chants would break out simultaneously and it was difficult for fans to co-ordinate.
The home fans were in good voice but it was difficult to hear them, not due to their lack of effort, just the physics of the ground.
Location:
Slap bang in the city centre, plenty of busses, shops, pubs and everything else you could need. Not far from the train station or from the wonderful tourist attractions that the city has to offer like the York Minster, the Shambles or the fantastic National Rail Museum. Car Parking may be an issue due to the ground's urban location but the city has an excellent public transportation system so just park in the suburbs and work your way into the city from there.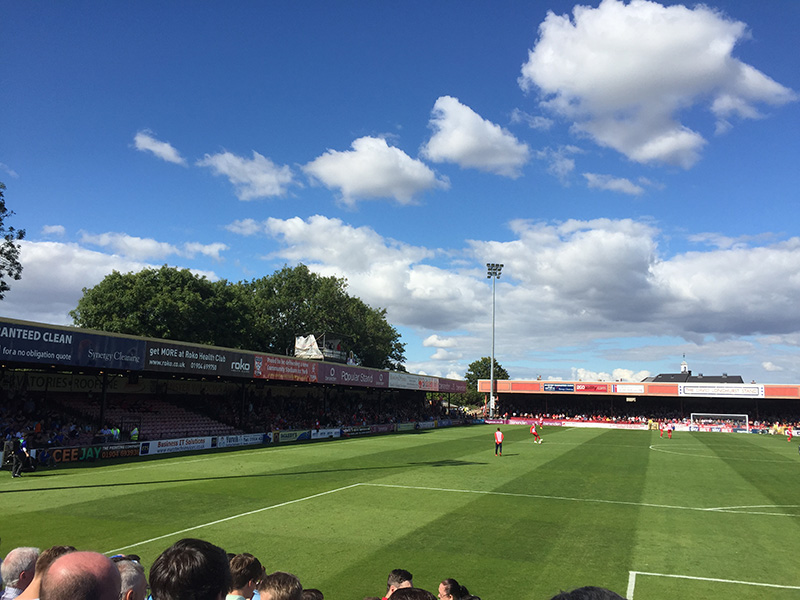 Value for money:
£18 is a steep price for League 2, but given the fact that tickets were likely to sell out and it's a derby game, it seems like a reasonable price. All in all.
Pie Rating and Pint Rating n/a
Programme:
£3 is a standard price for a pretty average publication. I like a good programme feature but this was something else the day out lacked. At the back there was series of question answers but I couldn't find the questions to go with them so I was left wondering what possible link 'Central African Republic' and 'Partizan Belgrade' could have to York City. I'm yet to discover what that link was.
Overall:
As the Minstermen prepare to move to the York Community Stadium next season, I'd recommend a trip to Bootham Crescent before it's too late. Don't expect a comfy or a sanitary day out, but it gives a sense of nostalgia that sadly not many grounds these days offer. It will be missed.
You can keep up with Ross and his journey doing the 92 league grounds on Twitter @RossHamMil and on his the92.net profile here. Have you ticked the Bootham Crescent off your 92? Add it to your list here www.the92.net/ground/bootham-crescent or plan your visit using our away day planner here www.the92.net/plan-your-away-day/bootham-crescent.