Blogger Michael Pilcher continues to set the benchmark for us fellow groundhoppers doing the 92. This time Suffolk was the destination for a 1st round EFL Cup tie. If Forest Gump was a football fan from England the saying may well have gone "life is like a tie in the early rounds of the Cup. You never know what you're gonna get".
Ground: Portman Road (79/92)
Game: Ipswich Town 0 – 1 Stevenage
Date: 09/08/2016
My third ground in six days: carry on at this rate, I'd have the 92 done by early September (if only it were that easy). With another day to myself I thought I'd pick a ground in easy driving distance; Ipswich was only a brief 1 hour 45-ish drive, and they were charging less than Cambridge which is a similar distance from me. So the Decision was made: Portman Road was to be my number 79.
My Google research led me to a NCP car park at Portman Road, which charged you £3.70 whether you were there for the day or a few hours, so thought I might as well travel up at midday to give myself a few hours to mooch about the town. Alongside the usual chain shops you see in every other town and city, I was pleasantly surprised by the number of one-off independents, some tucked away down little side streets. There was no shortage of places to eat and drink, if fast food and Wetherspoons aren't to your taste.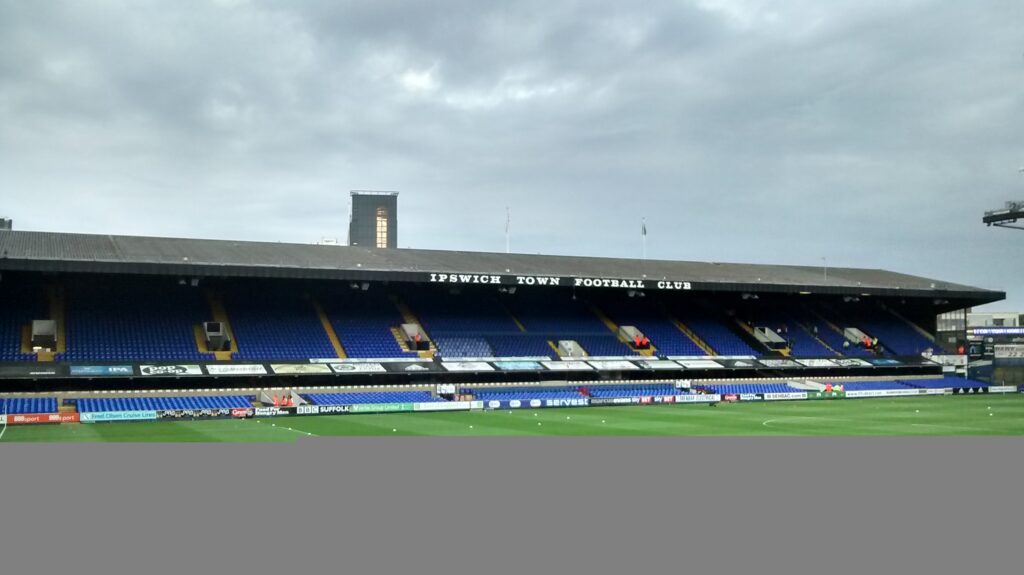 The NCP was right opposite the ground, and Portman Road is certainly an interesting one. The outside has a very 70s look, it felt like being in The Damned United; but when you get the inside it's lined with modern facilities and up-to-date plastic seating. A 2000s interior cased in a 1970s shell. Statues of Sirs Alf Ramsey and Bobby Robson stand outside, and both of the former Ipswich and England managers have stands named after them. There was a massive astro turfed fan zone behind the East Stand, great for any families wanting to while away the time until kick-off.
As for the game itself: first round League Cup ties are always something of a gamble. The tickets are cheap so it's a good excuse to tick off a ground on a budget, but you never know what you're going to get. Will you get two disinterested teams playing at training-match pace, or a go-for-broke attack fest? Two years ago I went to Dagenham in the first round to watch a crazy 6-6 draw, probably the best match I've ever been to; on the other hand I went to Oakwell the year before to witness a stagnant 0-0 after extra time draw. When the first few penalties in the shootout were missed I was started to genuinely worry I'd be there all night.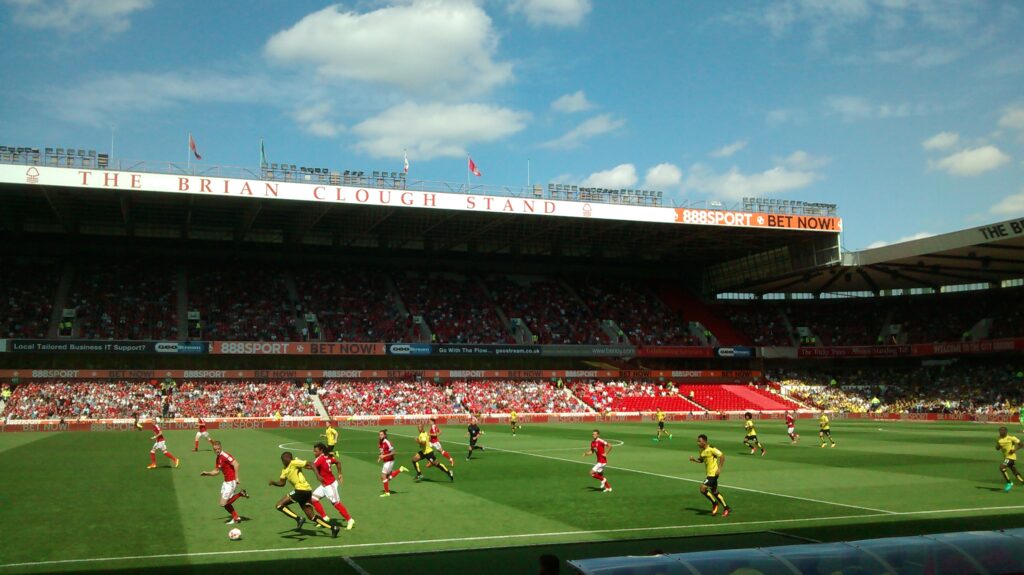 The other problem with early League Cup games is atmosphere. 17,370 went to Portman Road on Saturday; for this match a few days later, it had dropped to 6,858. With the fans scattered across all four stands, despite the best attempts of the corner of the Sir Bobby Robson stand and the away fans, the atmosphere was almost non-existent.
In fairness they weren't exactly treated to a festival of football. Both sides put out strong line-ups, but the Ipswich that played with attacking flair to score four second-half goals on Saturday didn't turn up for this one. Stevenage made life very difficult for them, they were extremely organised and defended solidly – pundits would say they were "well drilled". The only goal of the game came early in the second-half, the industrious Charlie Lee firing a shot from distance which was parried, and fell to Ben Kennedy to stab home from close range. A fairly scrappy goal for a scrappy game. Ipswich rarely threatened, a few nervy moments for Stevenage but if anything they had the better chances after going ahead.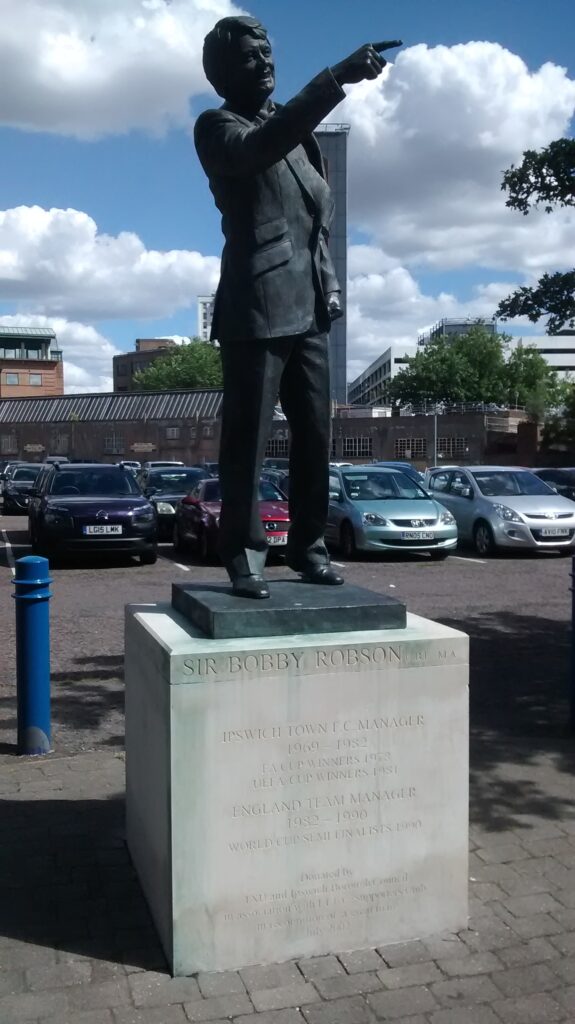 Stevenage were through to the next round, a disappointing display for Ipswich and their fans. To illustrate the kind of performance the Tractor Boys put in, the bloke and the young lad sat next to me decided to leave at half-time. Not the greatest of matches, but that's the way it goes sometimes when you're ground hopping. On the plus side, I had no trouble getting out of the car park afterwards. Every cloud.
Atmosphere 1/5: It's asking a lot for a good atmosphere from a first round League Cup tie, especially one played out in front of about a third of the crowd size compared to Ipswich's last match three days before. The fans in the Sir Bobby Robson Stand and the smattering of away fans tried their best, but generally the atmosphere was flat.
Location 4/5: Train station nearby, loads of parking at the ground, and only 5 minutes from town which has plenty of non-chain pubs and places to eat.
Programme 2/5: The usual "It's only early League Cup boys, let's run a massively reduced programme but make it only a tiny bit cheaper". £2 for 36 pages, a lot of which were adverts. A shame, what content there was was actually decent.
Character 4/5: Nice 1970s looking ground.
Value for money 4/5: Can't complain at ticking off a Championship ground for £12, especially one which ordinarily charges quite high prices from what I hear. To be picky, as it was a first round game against lower league opposition, £10 or sub-£10 tickets would have been good; would probably have got more of a crowd.
Overall 2/5: Despite playing a near full strength side, Ipswich just weren't at it. Decent stadium and town, just a shame about the game.
Keep up with Michael's 92 here and follow him on Twitter @michaelepilcher. If like Michael you fancy blogging about your experiences doing the 92 league grounds drop us a tweet to @the92dotnet.
Have you made the trip to the home of Ipswich Town? If yes you can add Portman Road to your 92 or if not plan your trip there: