Before the domestic season started an eager Michael Pilcher headed to the capital to witness history. The blogger from Kent made the trip to the renamed London Stadium as West Ham United played the first game at their new home.
Ground: London Stadium (77/92)
Game: West Ham United 3 – 0 NK Domzale
Date: 04/08/2016
 
After 112 years at their former home – 111 of it as Upton Park, before everyone suddenly started calling it the Boleyn Ground during the farewell season – the Hammers were starting life at their contentious new residence, the Olympic Stadium. Which, suddenly, was now the London Stadium; better for 'global branding', no doubt. It was only a few years ago I made my one and only trip to Upton Park, a ground with plenty of history. It was compact, with the fans fairly close to the pitch, and had great atmosphere and character. There were sellers outside selling pie n mash and traders selling badges and all manner of traditional memorabilia; you can imagine fans in the 60s and 70s making the same walk and doing the same things I was doing in 2012. It was what you would call a 'proper' football ground, despite the strange, theme park-esque plastic castle turrets they'd added outside one of the stands. No matter what your views on the move to the Olympic Stadium, from a business sense it was logical – there was little room or scope to expand Upton Park, so they were taking over an empty stadium for minimal rent, getting an extra 20,000 or so on the capacity. What is modern top level football if not a business?


 
I was actually a bit worried I'd struggle to tick off West Ham again anytime soon. Over 50,000 season tickets had been sold, the Juventus friendly completely sold out. I was starting to worry I'd have to buy one of their £40 memberships just to be in with a shot of getting a ticket. Surely they'd belike gold dust? I had a look on the West Ham website a few weeks before and this game was showing as sold out. I left it and then a couple of weeks later went back to look at a later league game; the website said NK Domzale tickets were on general sale 9am Saturday 30th. It appears as if they'd got some of the stadium ready earlier than expected. I created a log-on, signed in ready at 9… after a fifteen minute queue, I had my ticket. As easy as that. Not only that, I had paid a mere ten English pounds to witness the first ever match at the London Stadium. Admittedly I had to pay an extra 40% on top of that in "fees", but still, decent value for top tier stadia.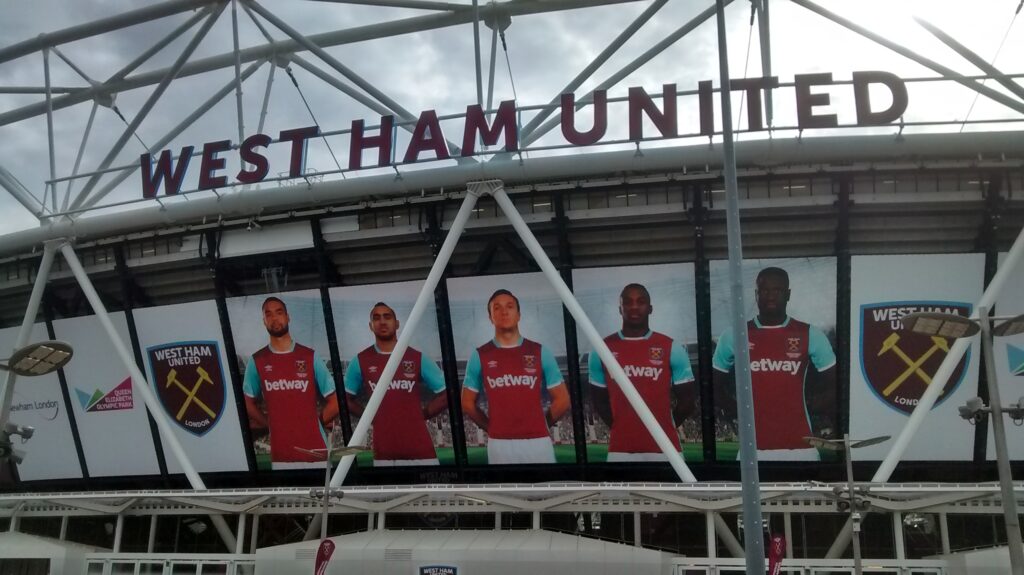 Thanks to a friend at work who did multiple trips to the venue for the Olympics, he told me of a route that meant it took just over an hour from where I work in Tonbridge to Stratford. When you initially get to Stratford tube station you have to go through Westfield Shopping Centre, and the directions to the ground – go past John Lewis, turn left at Jamie's Italian – are indicative of the modern football experience. Here you can pop into M&S on your way to the ground and pick up your own prawn sandwich en route – and, at £7.20 for a sausage and chips at the stadium, you're probably best off doing that. There's no traditional pie n mash outside West Ham anymore, instead you're offered Aberdeen Angus burgers, pick n mix stalls, popcorn…amongst numerous other culinary choices. This was almost like a festival experience: no matter where you turn, someone is trying to flog you extortionate food and drink.
 
The stadium itself is impressive once it looms into view, the big white bowl a familiar sight for anyone who watched any of the 2012 Olympics, alongside the striking Orbit sculpture. Builders worked round the clock to get the new West Ham United signage and branding up for tonight, with the plan in the longer term to envelope the stadium in the largest digital screens in Europe. The distinctive triangular floodlights around the stadium are no longer visible from the outside, but are still in use, having now been inverted; a couple of them had had bubble machines added behind them. The masses of green tarpaulin can't mask the rather obvious running track, although I can have no complains about my view from one of the upper tiers. This may have been because I was housed in one of the stands behind the goals, which have retractable seating which is left forward for matches – fans in the side stands may well feel a bit further away from the action. The capacity was about 6,000 down on its full 60,000 capability, with lots of scaffolding and unbolted seats in the lower tier of the Sir Bobby Moore Stand.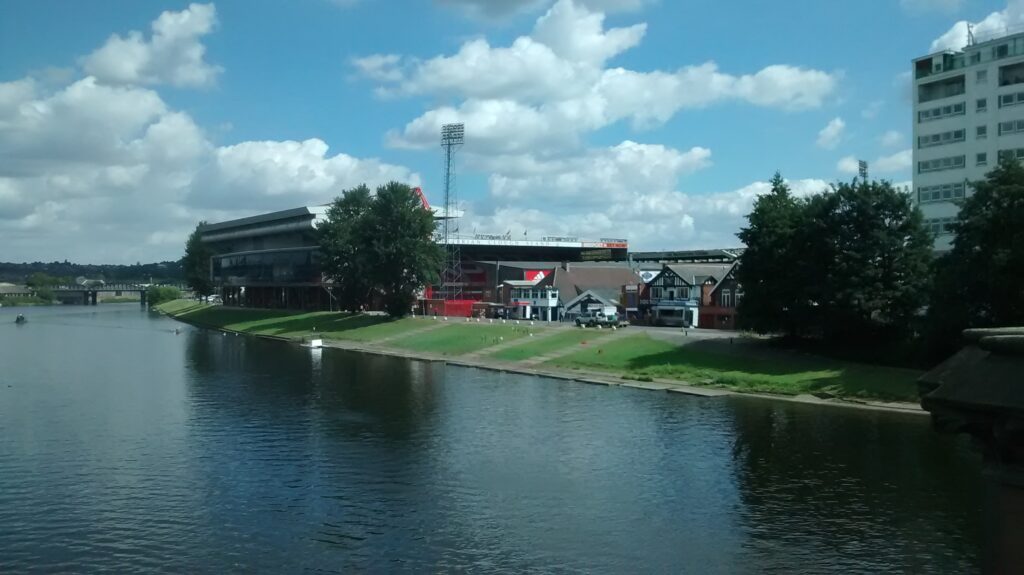 The match itself wasn't much to write home about, a comfortable win for a weakened West Ham side that never really needed to get out of second gear. Cheikhou Kouyaté had the distinction of being the first player to score at the London Stadium, tapping in early on, before doubling his tally and West Ham's lead mid-way through the half. The Hammers were now 3-2 up on aggregate and any early new stadium/new season nerves were dispelled as they continued to attack. Kouyaté was unlucky not to grab a hat-trick after narrowly failing to connect with a ball across the box, and their sustained possession was only further rewarded in the 81st minute when new signing Feghouli finished after a threaded Mark Noble pass. West Ham 3, NK Domzale 0.
 
Along with thousands of others I headed back to Stratford, helpfully Westfield had been shut off meaning we had to go the long way round. Probably sensible, but still something of an annoyance; thankfully once herded outside the station, we weren't kept waiting long. Back homewards I went, with West Ham ticked off again at the first opportunity. But this new home had a different vibe to the old, and not in a good way: move over pearly queens, the hipsters are in town now. Less pies, more pulled pork.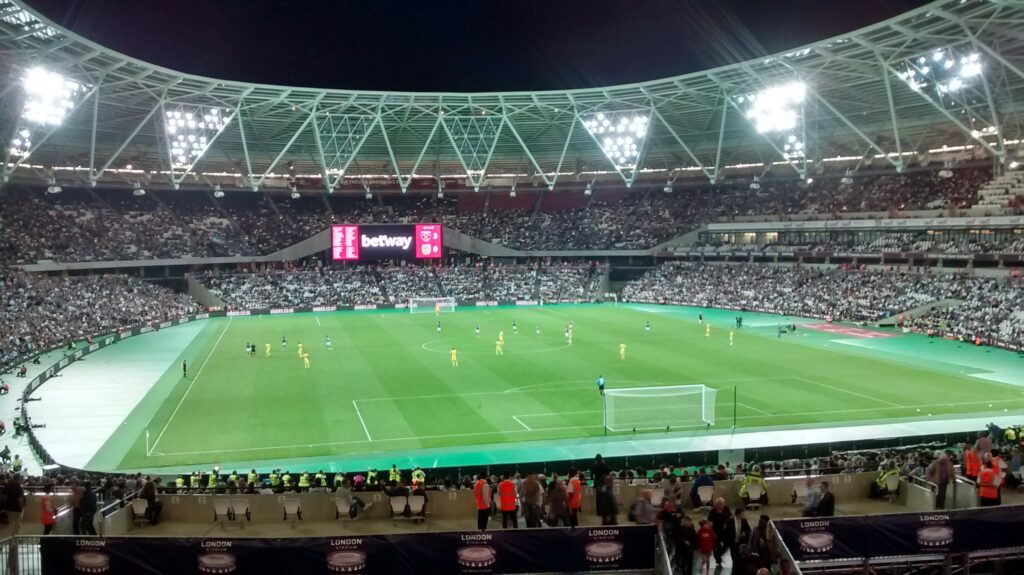 Atmosphere 2.5/5: The big test for the new stadium – how did it compare to their old home? There was a rousing rendition of 'I'm Forever Blowing Bubbles' at kick-off, but sometimes the sound gets lost in these big vast stadiums (see also The Emirates). There were what you might call pockets of atmosphere, in the East Stand in particular. There is potential, and it will be interesting to see/hear what the atmosphere would be like against Tottenham or Chelsea. Or Millwall.
Location 4/5: The website boasts it had 9 stations in close proximity; one of the main issues with Upton Park was the massive queue for the tube post-match. Of course as is human nature, everyone opts for the closest tube station, so Stratford tube station had the same issue, with thousands of people piling towards it. Thankfully the flow of commuters was well handled, and it wasn't as much of a hassle to get out afterwards as expected.
Programme 3/5: £3.50 for a very tidy looking programme. Not much in the way of content, though; not even any features on the new signings.
Stewarding 5/5: Friendly and happy to engage with fans, and handled the stadium debut well.
Character 2/5: It's big, it's vast, it's structurally impressive; but at the same time it's also a bit cold, a bit airy, a bit sterile. It's no Upton Park.
Value for money 4/5: £10 for the first game at the new stadium was a bargain. However, there were £4 of fees chucked on top, including £2 for the 'privilege' of printing my own ticket at home. A bit cheeky, but £14 all in for a Premier League ground is decent value.
Overall 3/5: It looks nice, but has a very corporate air as opposed to the more traditional surrounds of the Boleyn. And that is modern football: it's not about the fans anymore, the fans that were brought up to support The Iron generation after generation; it's about the day trippers and the football tourists, willing to buy overpriced food while taking selfies on their iPads.
Keep up with Michael's 92 here and follow him on Twitter @michaelepilcher. If like Michael you fancy blogging about your experiences doing the 92 league grounds drop us a tweet to @the92dotnet.
Have you made the trip to the new home of West Ham United? If yes you can add the London Stadium to your 92 or if not plan your trip there: