8 April 2017 is a date that will always hold special significance for the92.net blogger Michael Pilcher. A scorching hot day that felt more like mid-July than early April at the Hive was where Michael completed his journey to join the sacred 92 club. With over 30 blogs sharing his experiences it feels like we've been right there with him on the final third of his quest. We caught up with Michael to take a look back and reflect…
Groundsman: Firstly congratulations on completing the 92! Which was your final ground and how did you commemorate the occasion?
Michael: Thank you! Barnet's The Hive was my 92nd ground, which I commemorated by getting a group of mates along to join me for the game and a few drinks before & after. It was a bright sunny day and I got to meet my all-time favourite footballer Curtis Weston in the club bar after the game, so the day couldn't have gone much better really. (My blog on that magical day is here).
Groundsman: What was the first ground you ticked off your list?
Michael: Being a Kentish man my earliest games were all at Priestfield. My first ever game was a centenary match against Arsenal in August 1994; the first trip that counted under Ninety-Two Club rules i.e. a competitive game was a 3-0 win over Cambridge in Division Three a year later.
Groundsman: How long has it taken you to join the 92 club?
Michael: Technically it's taken 22 years with that first competitive visit to Gillingham in 1995, but I'd say I've been actively 'doing the 92' for about six years. I did 18 grounds in 2011/12 which was my personal best, and that pretty much doubled my count at the time so must have been the year that the idea really took hold.
Groundsman: Which ground was your favourite over the course of the journey?
Michael: A very tough question. I've enjoyed the vast majority of the 92, especially the quirkier grounds with more character like Blundell Park or Brunton Park.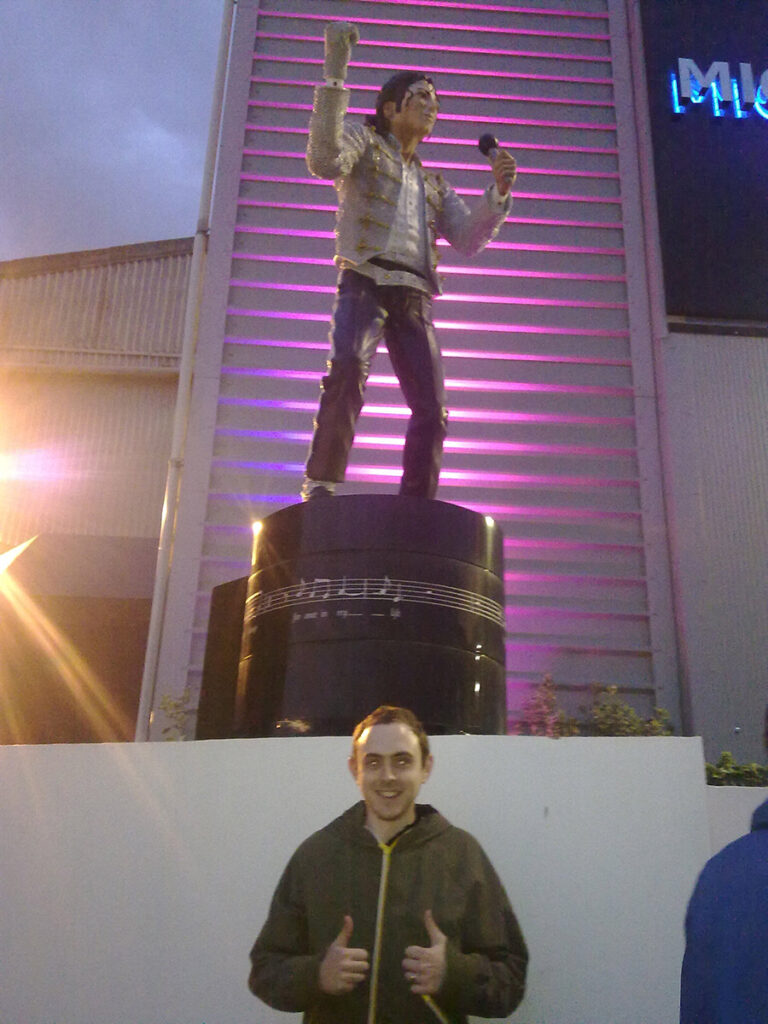 The ones that always seem to stick out for me though whenever I get asked this are Craven Cottage, Hillsborough and Fratton Park. Appearance-wise I'd go for the Cottage with its pavilion and, at the time, Michael Jackson statue. The latter two grounds were both tremendous and had the added bonus of an incredible atmosphere when I went; as it seemed the better day out and I saw a more frenzied game, for the all-round package I'd probably go for Fratton Park.
Groundsman: And your least favourite?
Michael: Colchester's Weston Homes Community Stadium. Soulless, difficult to get to, nothing anywhere near it, it just seemed the epitome of the bland identikit modern stadium.
In terms of bad experience, honourable mentions go to a trio of grounds. Anfield was my most expensive ticket at £45 and I watched a weakened team lose 1-0: the famous Kop atmosphere was incredible for five minutes, until Liverpool conceded and then it was 85 minutes of silence whilst long balls were lumped hopelessly towards Andy Carroll.
Wycombe's Adams Park was a decent little ground, but watching Gills get relegated there on the final day after a 36/1 set of results sent us down was bleak. As for Rodney Parade…don't get me started. I'm still very bitter, and harbour a bit of a resentment towards Newport County.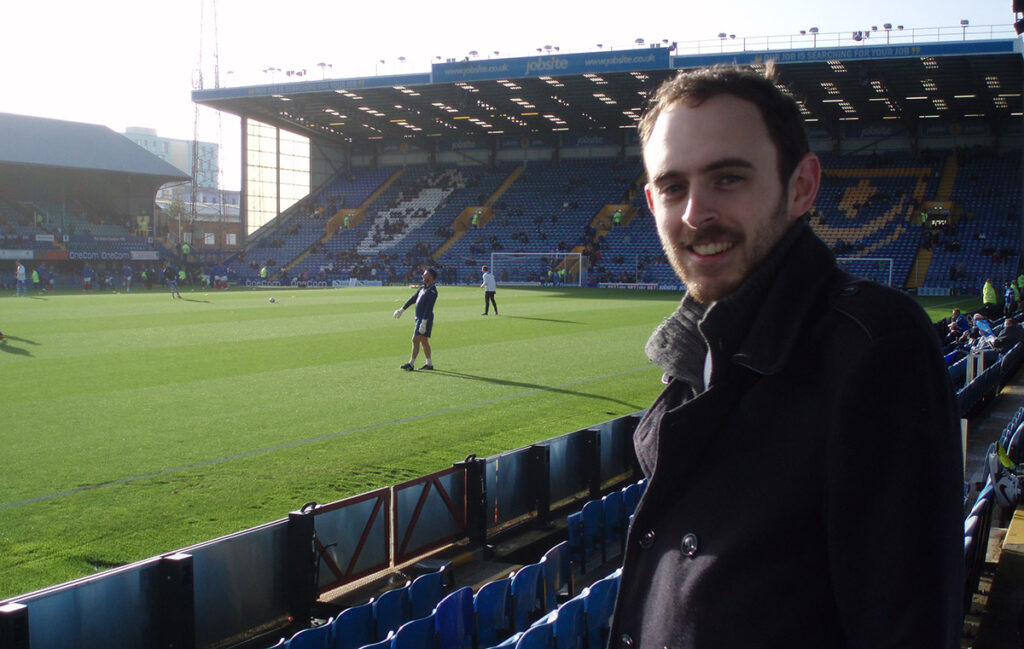 Groundsman: What are the lasting memories of your travels?
Michael: 'Travels' seems to be the operative word, racking up just shy of 24,000 miles all told. Lengthy coach journeys, missed train connections thanks to customary rail delays, and sitting in traffic on long drives: all parts of the character-building, patience-testing groundhopping experience.
There's been a lot of plotting and planning with each ground which geekily I have to admit I've quite liked: researching the area, looking out for ticket offers, working out the best ways to travel, trying to combine trips into one weekend (or, as with Sheffield United and Doncaster, ticking off two grounds in one day).
I've been all across the country and, whether it be a bit of local culture, history or nightlife, there are some great towns and cities out there that I wouldn't otherwise have got to explore.
I've witnessed some truly amazing games that will live long in the memory, amongst the goal-fests were the 8-2 at Old Trafford, a 6-6 at Dagenham (possibly the best £10 I've ever spent!) and a 4-4 at Field Mill at my penultimate ground.
There have been some lows – the sodden trip to Newport abandoned at half-time an obvious one – but plenty of highs with some great games, goals, grounds and atmospheres. I've shared some brilliant days out with friends and family which I'll look back on fondly.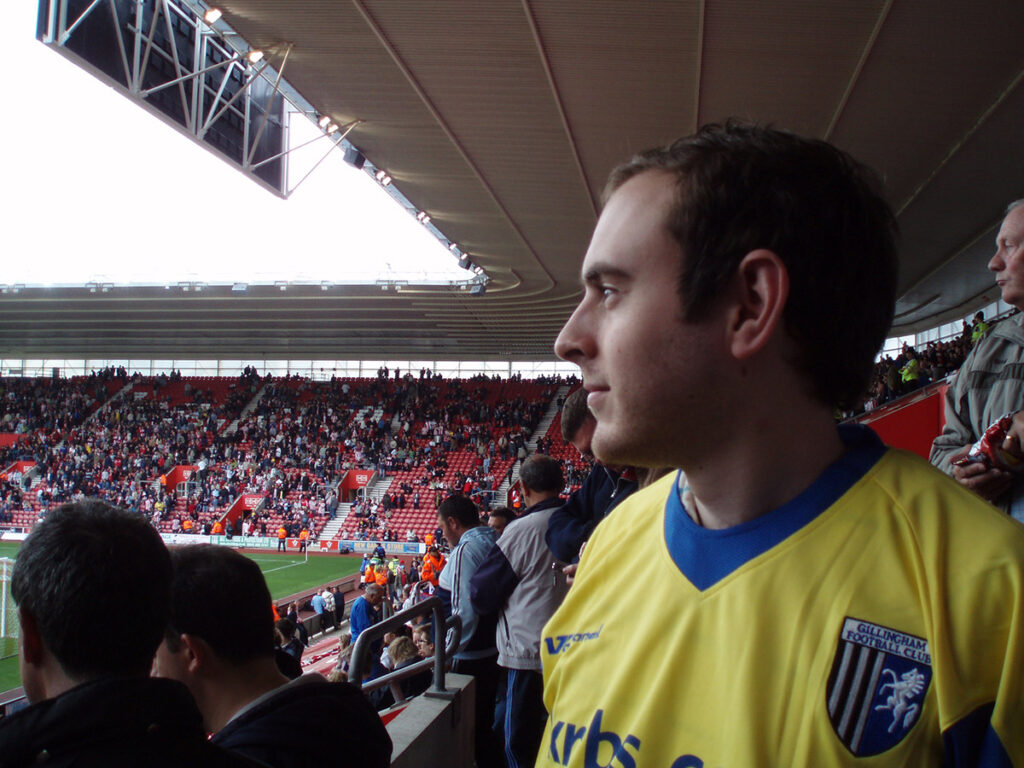 Groundsman: What future groundhopping plans do you have?
Michael: Stamford Bridge and Elland Road are two grounds I did very early on which are the only ones I have no photos of, so I'd like to re-visit those at some point. I also feel like I have unfinished business with Newport after I only got to see one half of a match there, assuming they stay up I'll possibly go back. Aside from that, I'll be planning to top up my 92 each season, and think I might start to do more non-league grounds – there are lots of clubs in and around Kent I've not yet been to.
My twin daughters (aged 6) are on eight and five grounds respectively on their counts so, who knows, if they ever develop my ground obsession there may be lots more re-visits in the pipeline longer term…
Groundsman: Finally, as we all know the 92 can sometimes only last a season if relegations and promotions go against you – who will you looking to come up from the National League?
Michael: I'm torn on this one – on the one hand I quite like the idea of clubs coming up that I've already done so I can sit back, but I know I'd really miss not having some new grounds to go to. Lincoln are now confirmed as champions, so in Sincil Bank I'll definitely have at least one new ground for next season.
I was hoping Dover would come up through the play-offs just to see another Kent club in the league, plus it'd be quite easy for me to get to, unfortunately that hasn't materialised. Aldershot's Recreation Ground was one visit I never got around to doing when they were last in the league, it's not too much of a trek so I'd settle for a trip there instead.
Thanks to Michael for taking the time to reflect on his journey to the magical 92 club. You can take a look through Michael's 92 here and follow him on his future groundhopping adventures on Twitter @michaelepilcher.
If like Michael you fancy blogging about your experiences doing the 92 league grounds drop us a tweet to @the92dotnet.
Are you on a journey to the 92 club? Use our free website to keep track!